Graffiti Art for Home Decorating, Modern Wall Decorating Ideas from Graffiti Zone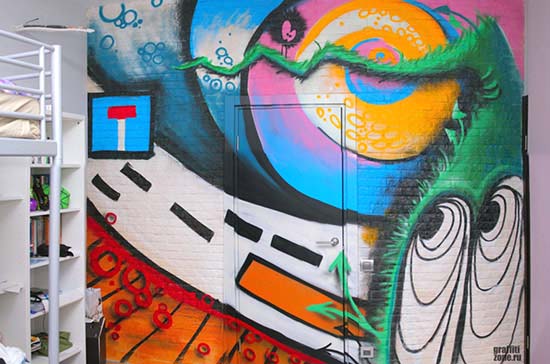 Kids room decorating ideas and wall painting designs
MODERN WALLPAPER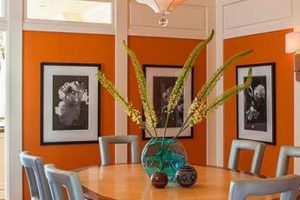 A creative graffiti art team Graffiti Zone promotes graffiti painting for house exterior and interior decorating, creating unique modern homes and apartments in Russia. Graffiti artists from Moscow offer gorgeous graffiti designs, filled with the joy, positive energy and fun for all fans of this contemporary art.
Each graffiti artwork is an opportunity to express  the beauty, pleasant feeling and thoughts in an unusual and modern way, – the artists say, – offering amazing wall decorating ideas for any room in the house, – living rooms and children bedrooms, dining rooms and kitchens, bathrooms and balconies, game rooms and studio apartments.
Wall decorating with one of a kind graffiti designs look impressive and bold. Each custom made graffiti design demonstrates their unique talents, blending best graffiti fonts, characters and figures with human emotions, youthfulness, popular decorating themes and enthusiasm of graffiti artists.
Wall mural painting ideas for stylish decorating
Best paint colors and color preferences for room decorating
Graffiti art, wall decorating ideas
Wall decorating with graffiti painting is great contemporary art that influences modern interior design trends and comes into home decorating. Graffiti art transforms home decorating ideas, bringing creativity and unexpected solutions into modern interior design.
People want to make their home interiors more beautiful, cozy, interesting, unique and welcoming. Graffiti artists take the challenge.
There are many different wall decorating ideas and techniques, available for creating beautiful interior design today, but contemporary graffiti artists offer a unique, surprising and fresh way of wall decorating instead of using traditional wall paint, stenciling designs and wallpaper.
Matching interior design colors, furnishings and paint color schemes
If your heart yearns for something bigger and brighter, if you want to add a contemporary artistic touch to your home interior design, graffiti painting is a perfect wall decorating idea for your home.
Graffiti art can enrich living room decor and add more interest and charming decorative accents to your family room, kitchen, dining room or bedroom. Wall decorating with graffiti painting is especially great for teenage bedroom and young kids room design.
Painting old heaters and cast iron radiators, stylish accents in retro style
Bright painting ideas for decorating trees
Bright, modern and creative interior design adorned with graffiti art looks contemporary, fresh and dynamic, celebrating your or your kids personality and favorite decorating theme. Graffiti painting technique is a stylish and popular way to design exclusive surfaces and create amazing wall decorating for beautiful homes and offices.
Unique wall decorating with graffiti art can turn home interiors or an office into a real art gallery, making you and your visitors feel more comfortable and energized. Graffiti painting technique changes the way room looks and feel, bringing the dramatic transformation into your office or home interiors and surprising your guests.
Graffiti art for home decorating are designed by Graffiti Zone, a team of young artists from Moscow.

More from wall decoration

Ceramic tiles are beautiful elements of modern kitchens which are not just functional interiors for cooking, but the open living spaces...
and enjoy free articles sent to your inbox