Bright Painting Ideas for Decorating Trees, Creative Backyard Ideas
---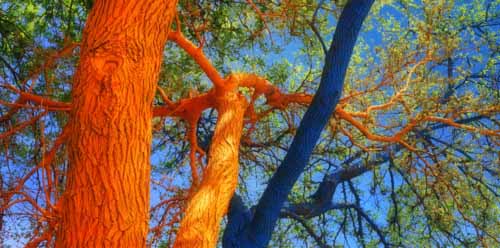 Colorful painting ideas create bright and cheerful designs. Painting tree trunks and branches in bright colors is an unusual and creative way of transforming your backyard designs and gardens, adding an artistic touch to yard landscaping.
Australian artist Konstantin Dimopoulos paints trees trunks and branches in rich sapphire blue color. His project Blue Trees is one of green ideas that bring people's attention to the environmental problems and saving the forests. The artist uses safe for trees paint for decorating and create impressive natural installations.
Blue painting symbolize unusual. Blue paint decorating is a way to address global issues and provide a visual inspiration for change. Even if the set of these problems is bigger than the power of human influence, the artist wants to communicate the idea that people can contribute to changing the environment in a positive way.
Blue paint for decorating trees
Blue paint for decorating trees
Painting ideas for decorating trees
Painting tree trunks and branches in blue color
Decorating with blue paint
Tree branches painted blue color
Many people like painted trees that artist Curtis Killorn has been installing around Colorado. Colorful and bright painting ideas dramatically change the landscape, creating dead tree sculptures.
These unusual ideas are inspiring and can be used for transforming backyard designs, adding decorations that look like modern art.
Dead tree painting ideas
Creative painting ideas for dead trees
Blue paint, decorating ideas for dead trees
Green paint and decorating ideas for dead trees
Red and blue paint colors, painting dead trees
20 painting ideas for decorating trees
by Ena Russ
last updated: 05.04.2012