Glass Top Coffee Table Ronda Blending Chic Simplicity with Unique Furniture Design Style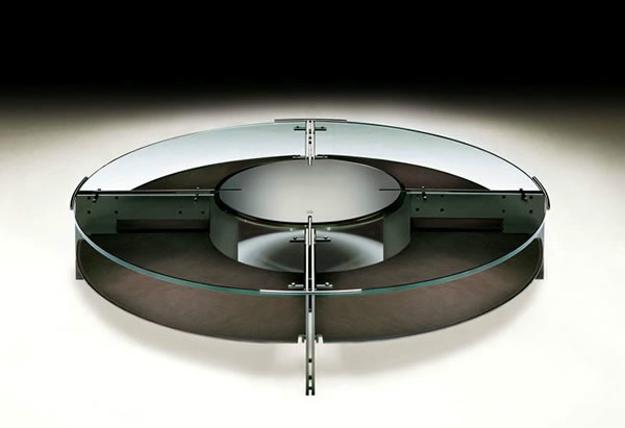 Round glass top coffee table with metal details and unique base, modern living room furniture
Glass top coffee tables are perfect for spacious and bright interior design. Glass top coffee tables with shelves allow to use unique home decorations and create intimate room decor with spectacular displays. The Ronda Coffee Table is a modern living room furniture item that is fabulous, innovative and elegant. The glass top coffee table blends the traditional round shape and luxurious materials with creative and unique furniture design ideas to add a beautiful centerpiece to modern living room designs.
The Ronda Coffee Table is manufactured by Tresserra and demonstrates a creative spin off of a very traditional and familiar furniture piece for living rooms. The glass top coffee table is a perfect for adding light and original design to modern living rooms while creating functional, simple and elegant living space. This traditional round coffee table with a glass top feels exclusive, showing off unique details and bringing a futuristic feel into contemporary living room designs.
The round shape and glass top provides a beautiful surface to arrange furniture around it and create an attractive seating area to converse or relax with family and friends. The meticulous attention to detail, unique furniture design ideas and beautiful materials turn the round glass top coffee table into a versatile, luxurious and gorgeous addition to modern living room designs in many style.
Modern glass top coffee table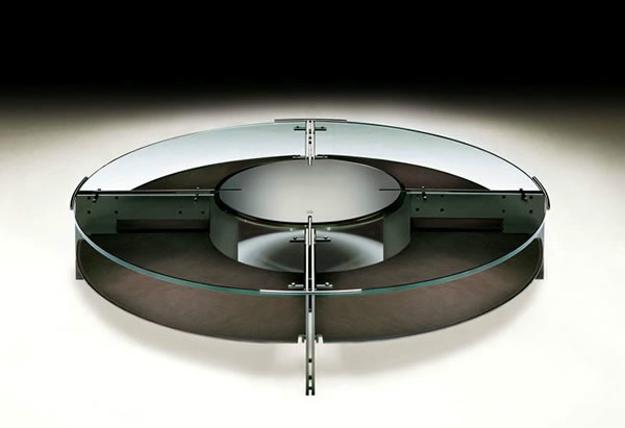 Traditional in form, the glass top table looks contemporary, blending futuristic elements and flair of amazing details into attractive, functional and modern furniture design. This coffee table creates a wonderful first impression and can brighten up interior design in many ways.
Accented with a glass top and a glass center, the Ronda Coffee Table from Tresserra, www.tresserra.com/  is ideal for traditional and contemporary living room designs that blend the elegant simplicity and chic in home furnishings.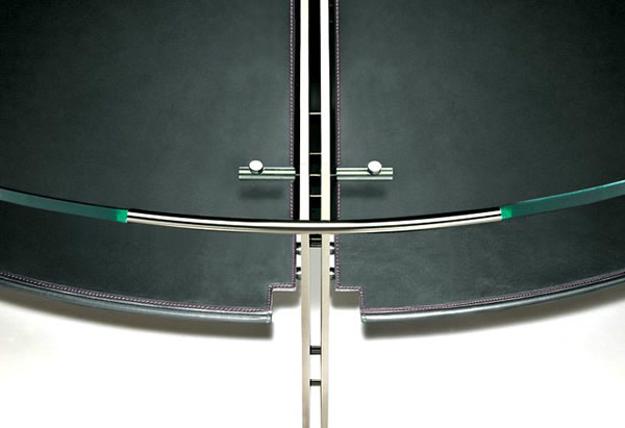 The round glass top coffee table features a sturdy and stylish base design. Its base resembles a beautiful modern cross which gives the table design depth and interesting look.
5 ways contemporary coffee tables improve modern living room designs
Modern coffee tables reinventing round shapes for distinctive interior design
20 contemporary coffee tables, tips for selecting coffee tables for modern interior decorating
Every modern living room design needs a coffee table. Every interior decorating project needs an interesting, stylish and unique furniture piece that can make a stunning focal point. This coffee table offers a blend of versatility, functionality and beautiful appearance and can work as a elegant focal point for modern interior design creating simple, charming and inviting seating areas with other modern living room furniture pieces.
More from modern furniture

Weave furniture design blends traditional techniques and modern trends in decorating with handmade items. Using natural ropes and twines, you can...