Ergonomic Desk for Young Kids Study Area, Healthy Kids Room Design Ideas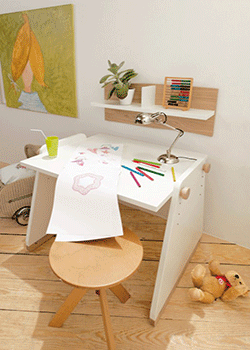 Adjustable height wood desk and stool design
MODERN WALLPAPER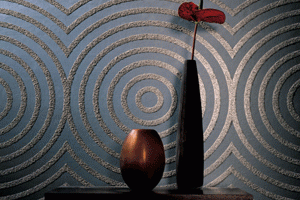 A modern study area with a writing desk for a young kid should be properly designed, ergonomic, comfortable and attractive, providing healthy seating positions and complementing kids bedroom furniture and decor style. A computer table or a writing desk with a chair for children activities should be made of environmentally friendly materials, functional, durable and safe. Young children's health depends on the quality of kids bedroom furniture as one of the factors.
A young student grows, and a student desk with a chair should grow with a kid. Young children, especially physically active, get tired very quickly, seating at a writing desk or a computer table that can not be easily adjusted for various positions. Parents need to organize the study area for their child and equipped it with the properly designed kids bedroom furniture, ergonomic writing desk and kids chair, or a computer table, that ensure the correct position for a young student.
Comfortable kids furniture and good organization of a study area in modern kids bedrooms help save good posture and improve back health, or correct it. Uncomfortable kids furniture, computer desks and chairs or poor student desk design can make it worse. Ergonomic and adjustable kids bedroom furniture, that is functional and comfortable for young children, is a very important element of modern kids room design.
Modern kids furniture for a study area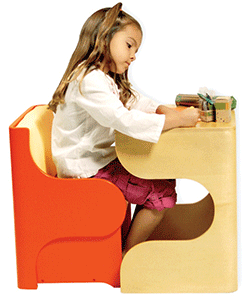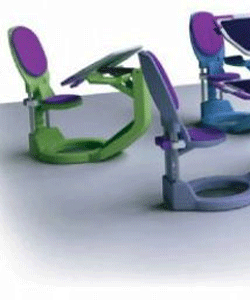 Writing desk height
Growing with kids furniture is the best choice for young students. Adjustable and ergonomic furniture design is healthy and fun to use.
The height of a writing desk and kids chairs sizes depend on young students height and weight. The proper desk height for an average primary school child, who is 100-115 cm (or 39 – 45  inches) tall, should be correspondingly 45-48 cm (or 18 – 19 inches.)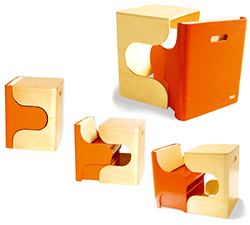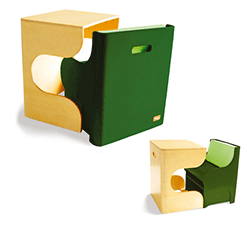 The ideal writing desk height is at the level of the diaphragm, when a child is seating. In this case the distance from the eye to a piece of paper or a book on the writing desk is about 30 cm (or 12 inches.) To check the distance between kids eyes and the student desk top, ask your child to sit down, put his elbow on the writing desk top and look at you. If the student desk height is right, the tip of the thumb should be at kids eyes level.
Modern kids furniture design ideas
For 120-150 cm (47 – 59 inches) tall kids their writing desk height should be between 55-65 cm (or 22 – 26 inches) and the proper distance from the student desk top to the chairs seat is correspondingly 20 -30 cm (or 8 – 12 inches.)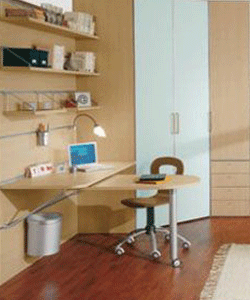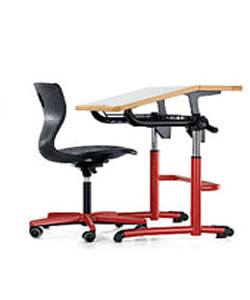 Student desk size
Kids furniture, functional design ideas for fun and smiles
The size of the working surface of a writing desk or computer desk depends on kids age, personal interests and activities. 60 by 120 cm (or 24 by 47 inches) student desk has a large enough desk top surface for young student activities.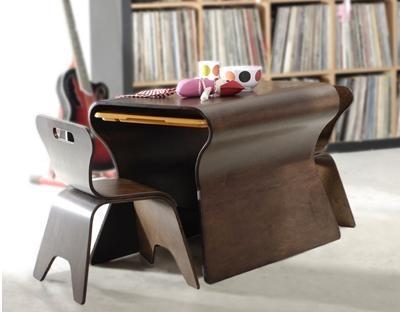 Space under student desk
Kids need at least 45 by 50 cm (18 by 20 inches) space under a student desk top to move feet comfortably. Pediatricians recommend to choose ergonomic chair design and comfortable student desk, that has a top with an adjustable slope.
Student desk design
The ergonomic kids furniture design decreases the pressure on young kids back. Preteens and teens can use an ordinary writing desk or computer desk with horizontal top design.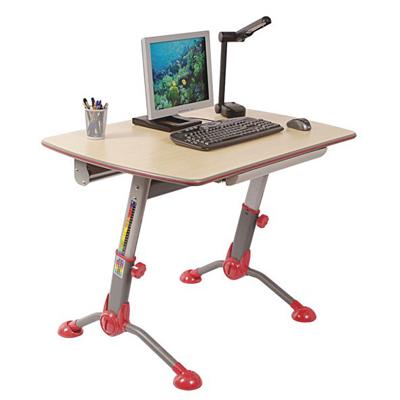 Modern kids furniture, tables and computer desks that have two parts, – one is for working on computer, another is a writing desk, is a good choice for a young student. It is helpful, if a computer desk has storage drawers or shelves, where a child can organize books, pencils, notebooks and small items.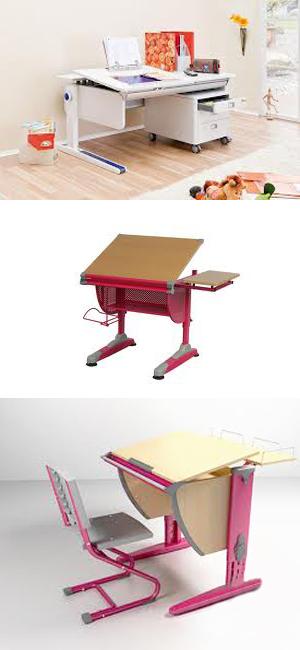 Writing desk lighting
Kids room design: understanding kids nature
The best position for the kids writing desk is near the window. A student desk should be well lighted from the left side light source, creating a comfortable studying area for the right handed kids, and from the right side for the left handed students. A modern writing desk lamp should be positioned on the left or right side of a student desk correspondingly.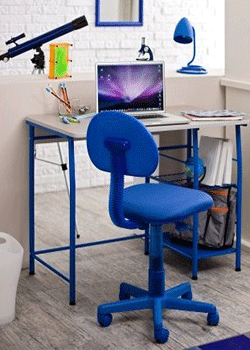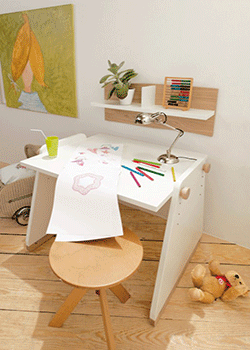 Buying kids desk
Interior decorating from toddler room to teen quarters
Children grow, and their computer table or student desk and chairs should grow with them. If you have a large family with small kids or if you are buying a student desk just for two-three years to use, then a computer desk or a writing desk and a chair, designed for young children, are fine to buy. Soon your preteen will not be comfortable with computer desk designed for small children and you will need to buy a new one.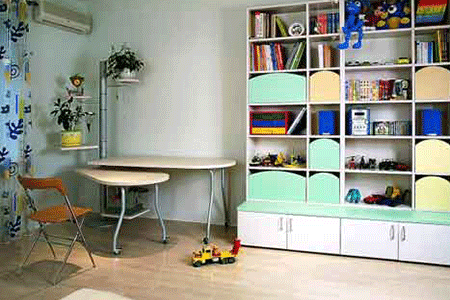 Purchasing a student desk, that has the adjustable height feature, is a great alternative for a growing kids bedroom. A writing desk or a computer table with adjustable height will serve your child for a longer period of time and save you money on kids furniture.

Here are great ideas for kids toys storage and wall decoration with small cars that everyone would love. DIY organizers, like...
and enjoy free articles sent to your inbox