Dulux Color Trends 2012, Popular Interior Paint Colors

Decorating Ideas

Room Colors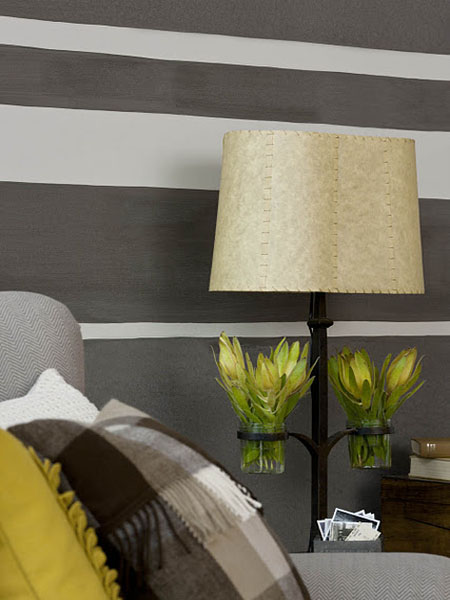 Neutral paint colors and horizontal stripes on walls, modern interior decorating ideas
wall paint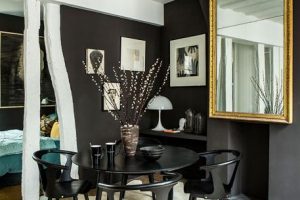 Dulux color trends 2012 include pinkish purple, rich red interior paint colors, bright blue tones, relaxing green with warm golden yellow and comforting brown, elegant silver, black and gray interior paint colors. The reseach shows that rich red, blue, green, golden and brown colors, combined with neutral paint colors, are expected to be the most popular interior decorating color combinations in 2012.
The Dulux color reseach team offered six key color trends for interior decorating in 2012: Time-Honoured, Immerse, Carnivale, Re-set, Raw and Nurture.
Add the modern room paint color Tangerine Tango, proposed by color trends experts from Pantone, and classic white and black color combination to create a palette of the most popular interior paint colors for room decorating in 2012.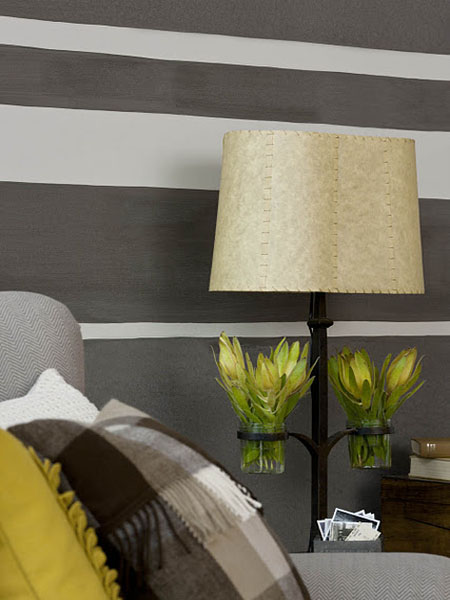 6 color trends from Dulux
Color trends and popular interior paint colors
Dulux color experts suggest beautiful, pleasant and soft shades of deep red colors, as a stylish and bright choice for modern interior paint colors that feel cozy and warm.
Red wall paint for living room decorating
Red paint colors are combined into the  Time-Honoured palette of nostalgic for old days interior paint colors.
Popular interior paint colors from the Immerse palette add cooling freshness to decorating color combinations, bringing wonderful shades of rich blue room colors and bluish purple color shades, inspired by the ocean waves beauty.
Blue wall paint for dining room decorating
Modern reddish purple and reddish pink color shades create the cheerful Carnivale color palette with purple and light purplish blue tones.
Horizontal pink stripes on walls, stylish bedroom decorating ideas
Bold, bright and vibrant interior paint colors from the Carnivale palette bring the optimism and energy into room decorating.
Light gray, white and pink-red room colors
Neutral paint colors, decorating with beige tones
Soft white, light gray and beige tones, combined with these bright room paint colors, create warm and comfortable atmosphere, adding playful and romantic flavor to balanced and relaxing interior decorating.
White and gray stripes on walls, modern painting ideas for living room decorating
14 modern interior paint colors
Best paint colors and color preferences for room decorating
The classic room paint colors, – white, silver, gray and black, create the elegant Re-set palette of modern room paint colors for 2012. Neutral paint colors allow to focus on natural light and a sense of space for comfortable, light and airy interior decorating.
Black and white painting ideas, neutral paint colors
Calming and relaxing palette Raw includes natural interior paint colors that are inspired by shades of untreated wood, earth and metal. The rust color tones, combined with light gray, soft white and black room paint colors, are perfect for interior decorating in elegant minimalist style and relaxing eco style.
Yellow green interior color combination
Paint colors for home staging, cream beauty
The green Nature palette offers natural room paint colors, inspired by trees and grass.
Green wall painting ideas, modern interior decorating color combination
Warm green and yellow color shades bring a sense of serenity into modern interior decorating. Calming white cream colors add cooling freshness to golden yellow and warm green room paint colors.
Color trends and popular interior paint colors for modern room decorating

Modern house design in Japanese style celebrates the functionality and elegance of minimalism. Airy, bright rooms look inviting and comfortable. Natural...
and enjoy free articles sent to your inbox