Creative Apartment Ideas Transforming Small Spaces into Stylish Home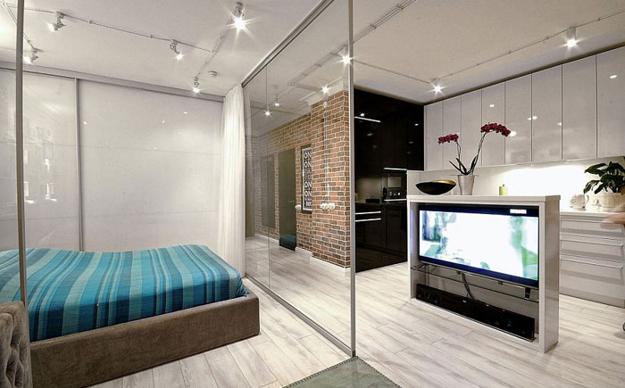 Glass partition walls, exposed red brick wall design, contemporary lighting
room dividers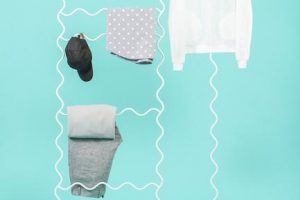 Modern ideas for decorating small apartments and homes blend popular techniques for increasing small spaces visually and stylish accents, like glass walls and exposed brick wall design, space saving furniture and compact bathroom and kitchen design. Lushome presents a wonderful interior design and decorating project by Russian architects that give great ideas for decorating small apartments and redesigning small homes.
Modern ideas for decorating small apartments and homes, combined with light interior colors, white paint colors and home furnishings in off-white colors, maximize small spaces and give an airy feel to interior design. Creative designs and stylish accents, spacious layout and space saving solutions for furniture placement and storage allow to use valuable small spaces efficiently and create beautiful homes.
This modern apartment interior design is envisioned by architects from Perm Allarts Design. The living spaces look surprisingly large and comfortable, offering a great apartment for modern lifestyle.
3 small apartment ideas creating stylish and functional homes
Small apartment ideas blending functionality, French chic and bold room colors
Modern apartment ideas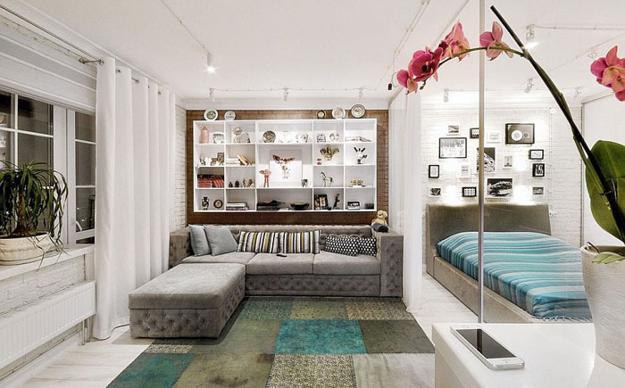 Exposed red brick walls are painted white, visually stretching small spaces and creating a nice background for displaying photography art. Black and white room decor is elegant and classy with a vibe of contemporary Scandinavian homes.
Whitewashed brick wall design in rooms bring the unique texture and decoration pattern into modern interior design. Interior decorating is simple and functional, blending elements of contemporary luxury with minimalist style and original details for personality and style.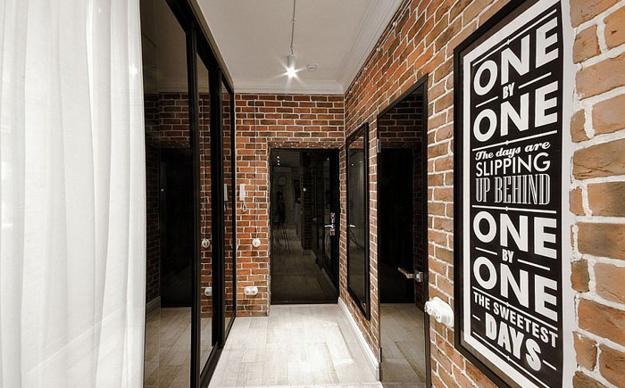 The bedroom design is defined by glass walls and lace curtains that separate a bed from the rest of the apartment spaces. An upholstered headboard and black-n-white photographs give character to bright small bedroom design.
Small apartment ideas and purple color accents
Bright interior design and ideas for small apartment decorating in Scandinavian style
Glass wall partitions divide the small apartment, adding contemporary style to small kitchen design, living room area and small bedroom. Light curtain fabric is used for creating charming room dividers that are inexpensive, practical and stylish.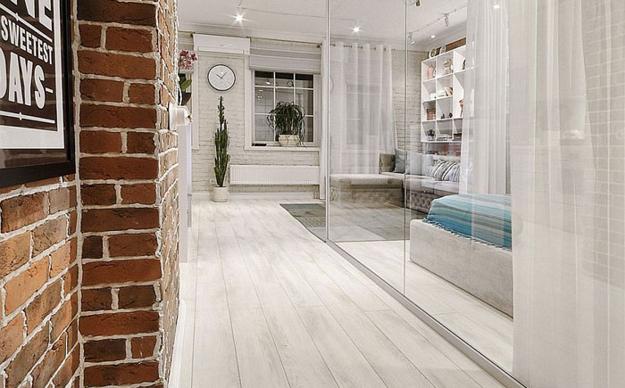 Freestanding cabinet with the TV panel allows to see shows from the bedroom and living room areas. The small bedroom design features glass elements that allows a nice view of the photography art gallery.
Light interior design and decorating ideas in Scandinavian style
Space saving apartment ideas and storage furniture for decorating small rooms
Natural materials, stone and brick are soften by adding light curtain fabrics to interior design. Black-n-white decorating ideas are strikingly beautiful, while making interior design feel brighter and lighter. A huge wardrobe is a nice addition to small spaces. A large wardrobe adds more comfort and improve functionality of the small apartment.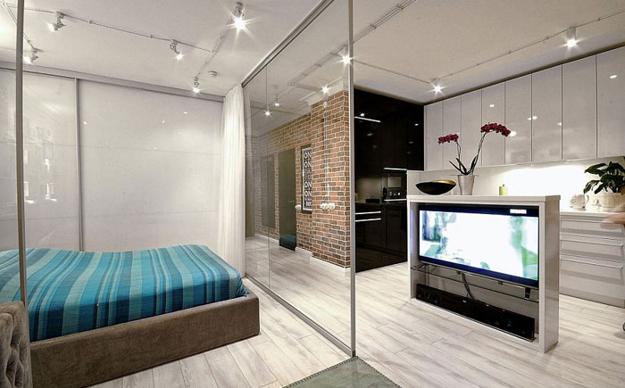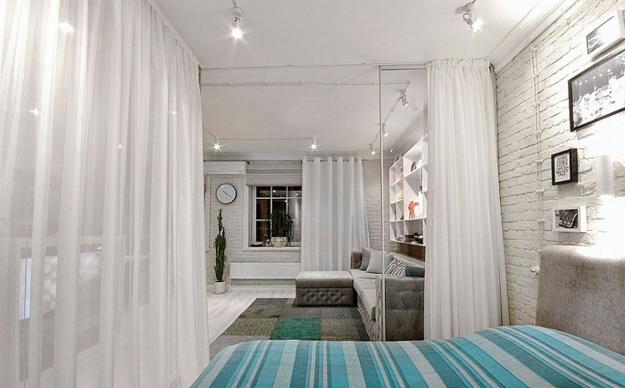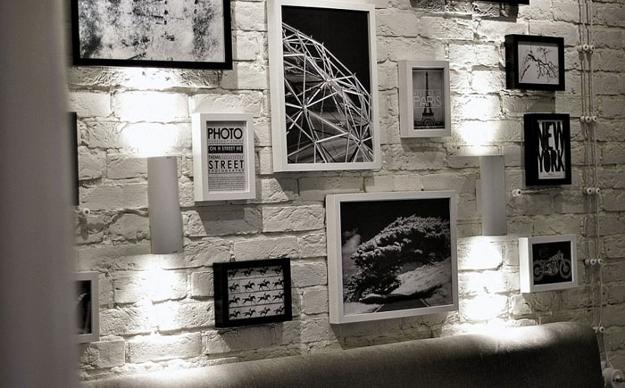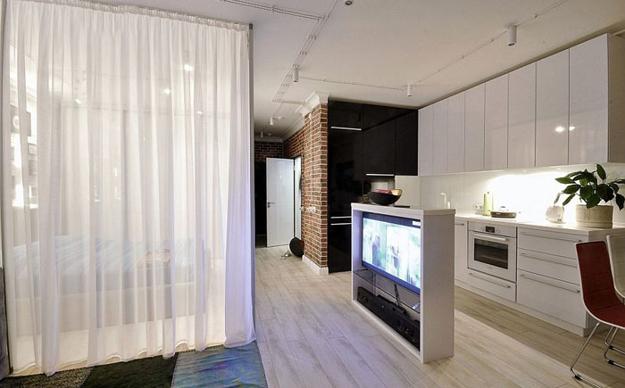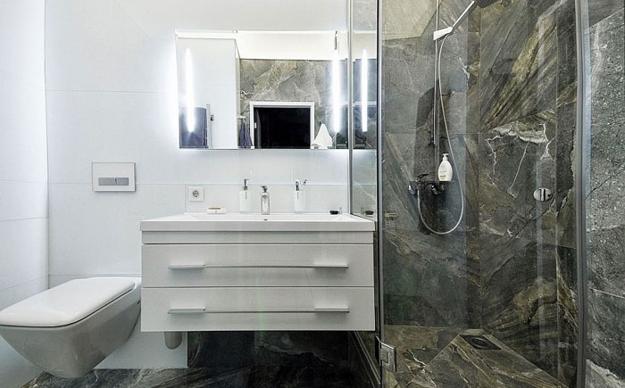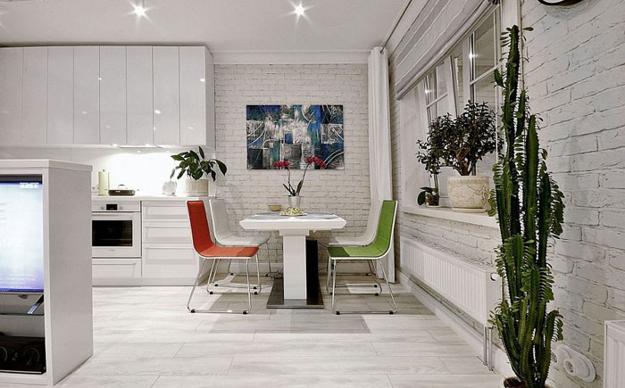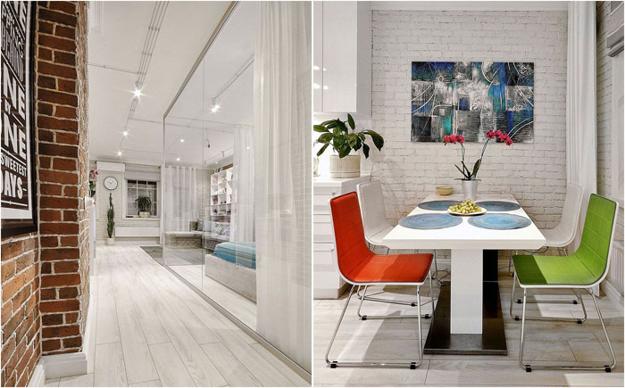 More from apartment ideas

Unusual interior design is exciting and inspiring. We can wonder how people get their ideas for creating an original interior design,...
and enjoy free articles sent to your inbox