Floating Candles, Great Modern Ideas for Fall Decorating Inside and Out

Decorating Ideas

Holiday Decor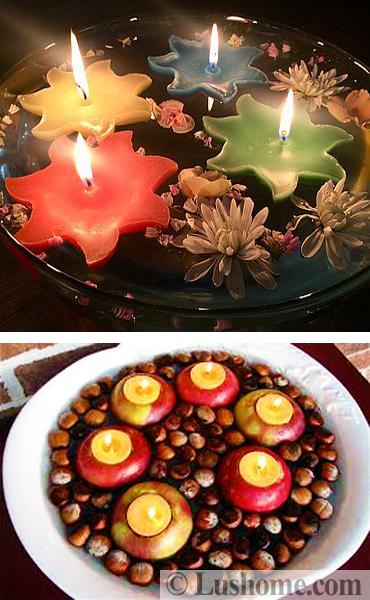 Fall decorating with floating candles centerpieces
candles centerpieces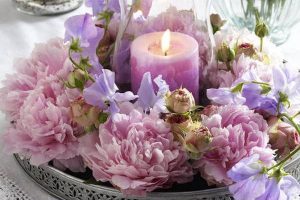 Candles centerpieces always create a great ambiance. Floating candles are especially beautiful. They set the romantic mood, and the water reflects the mesmerizing glow. Fall leaves, branches, berries, pine cones make perfect additions to floating candles centerpieces. Perfect for Thanksgiving decorating and cozy nights, the modern candles attract the eye and produce a pleasing, calming, and uplifting effect.
Small candles that float on water look beautiful with autumn leaves and fall flowers. Pebbles add a natural feel to these candles centerpieces. Apples work as floating candle holders. Berries give a touch of bright color, and twigs create a gorgeous play of light and shadow. Floating candles centerpieces have a movement that provides interest and hypnotize the viewer.
Autumn leaves and candles make a pretty duo for eco-friendly fall decor
Candle centerpiece ideas for Thanksgiving decorating
Fall leaves and candles, table centerpieces
Floating candles centerpieces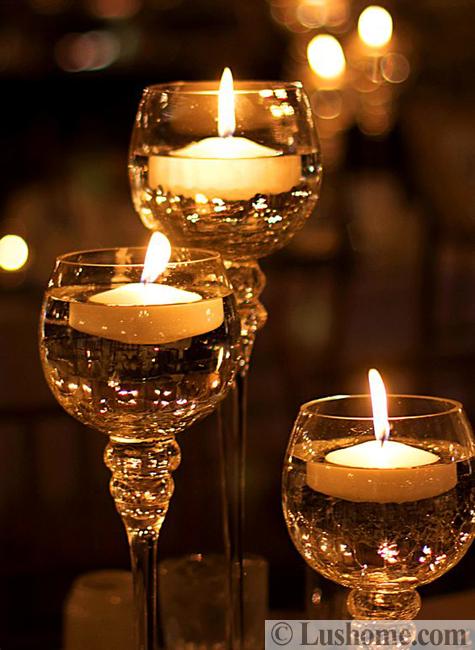 Fall holiday tables with floating candles look strikingly beautiful. The candles, available in lots of different colors and shapes, add unique, romantic, and warm accents to table decoration. A water candle display makes a great Thanksgiving table centerpiece. The soft glow and floating accents attract attention enriching holiday tables decor.
How to create beautiful Thanksgiving tablescapes, fall decorating tips
Artichokes and candles, centerpieces to impress your guests
Apples and candles, DIY centerpieces for holiday tables
Thanksgiving table centerpieces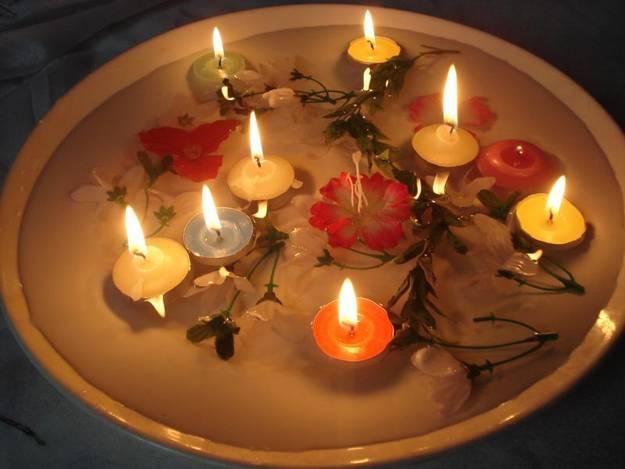 To create a stunning table centerpiece with floating candles, find a glass container that satisfies your fall decorating theme. A wide-open top glass vessel is the best to produce fascinating reflections. Glasses and crystal bowls or polished ceramic and metal vases may work as well.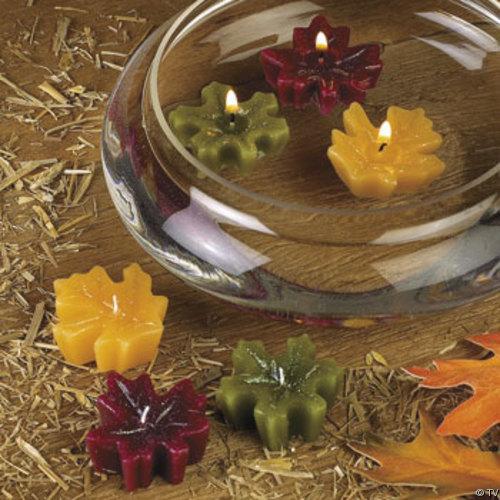 Choose the color and style of the floating candles to go in the bowl. They look beautiful in the water with fall leaves and autumn flowers in contrasting colors. Neutral colors of twigs, pebbles, and pine cones work with all candle's colors. Sphere-shaped, pumpkin-shaped, or leaf-shaped candles are perfect for Thanksgiving decorating.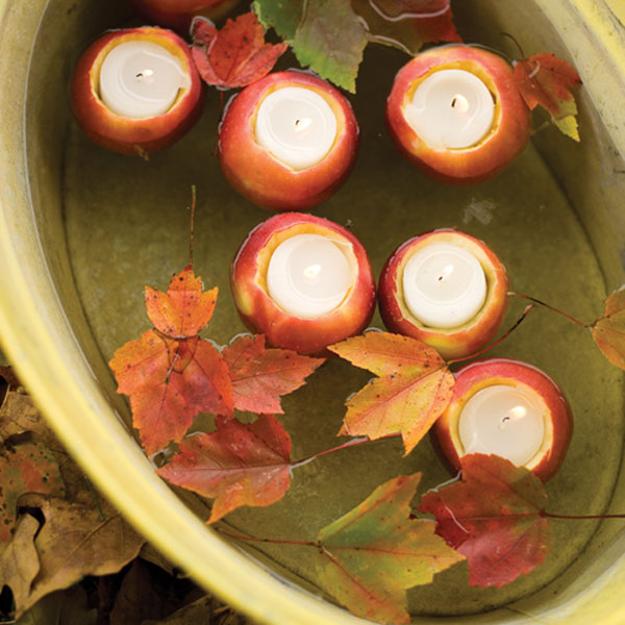 Set up the display, add some water to the bowl, add flower petals or leaves in a contrasting color. To make the floating candle centerpieces really impressive, surround the bowl with more autumn flowers, seasonal vegetables, fruits, or fall leaves.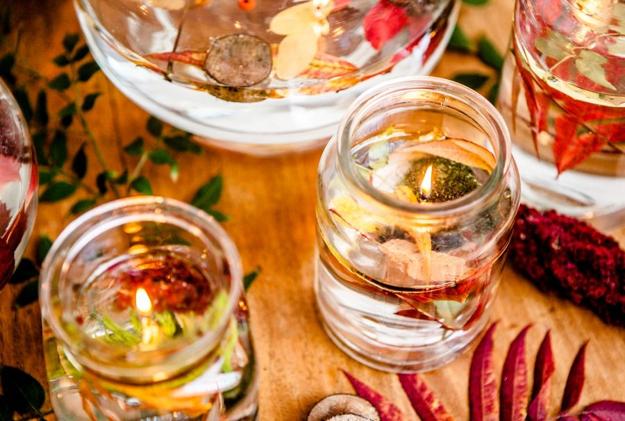 Candle shapes and colors
Water candles are generally small, like flattened balls with a short wick. Also, you can find them in autumn-inspired shapes, beautiful flowers, stars, and fruits. The most popular color for these candles is white, but lighter yellows and orange colors work well for fall decorating. Also, purple and deep red color shades look beautiful with white fall flowers like mums and apples.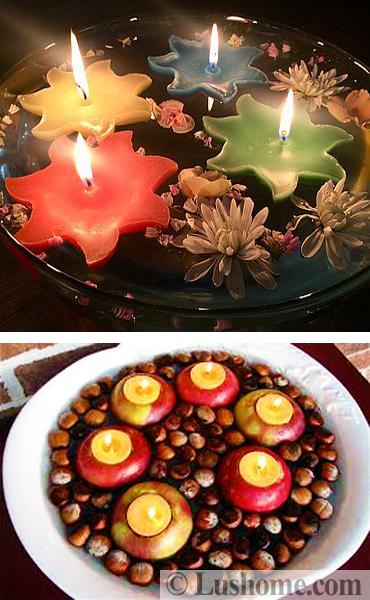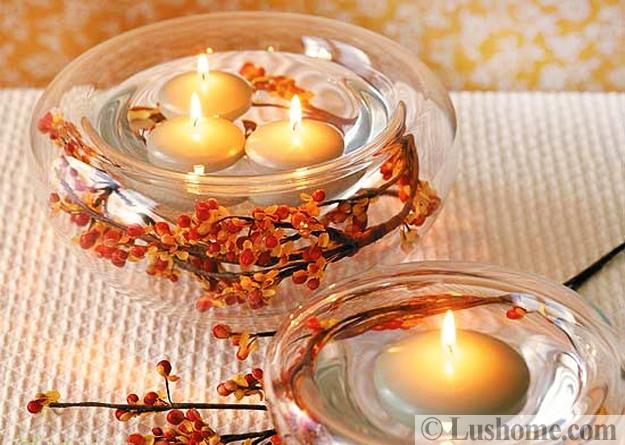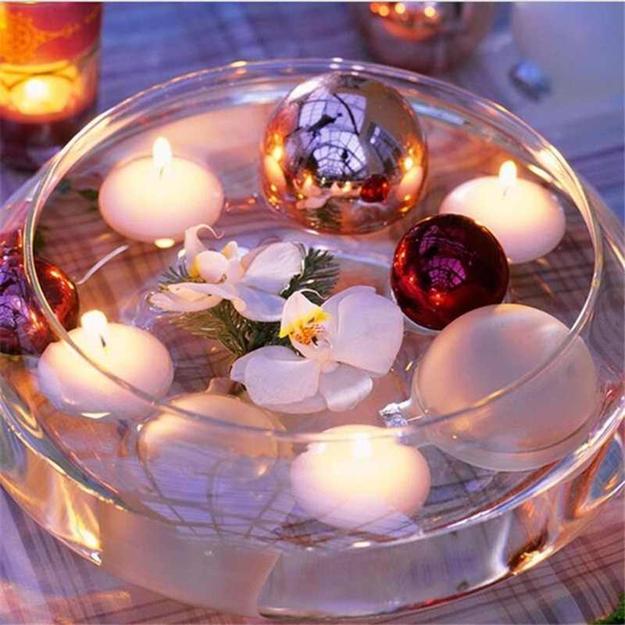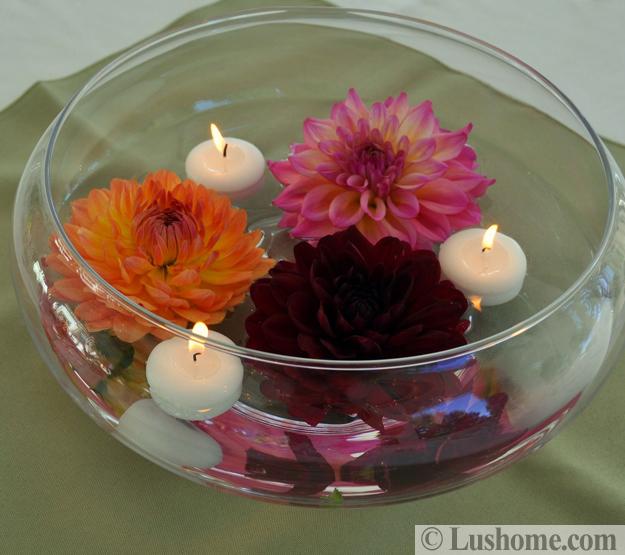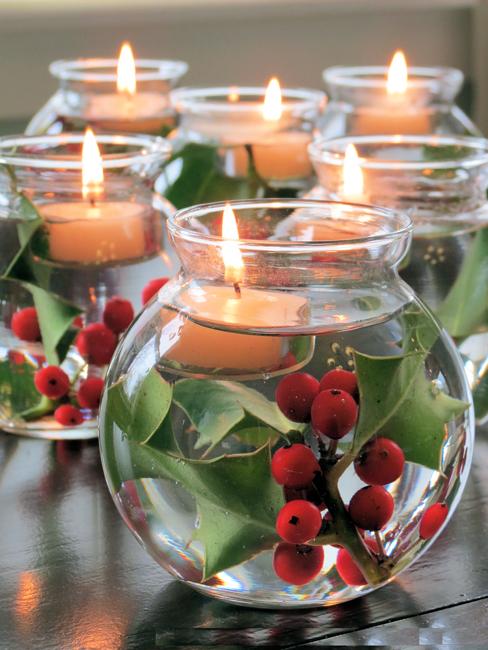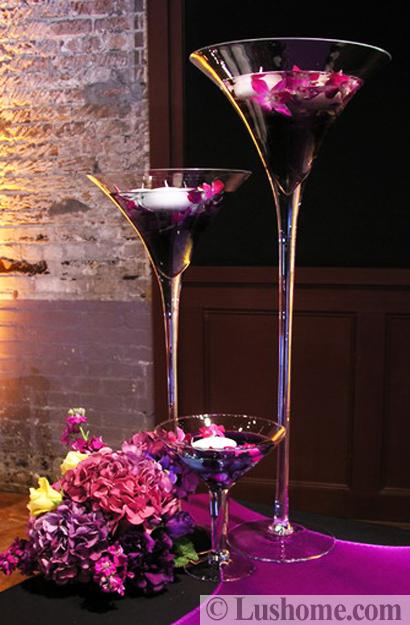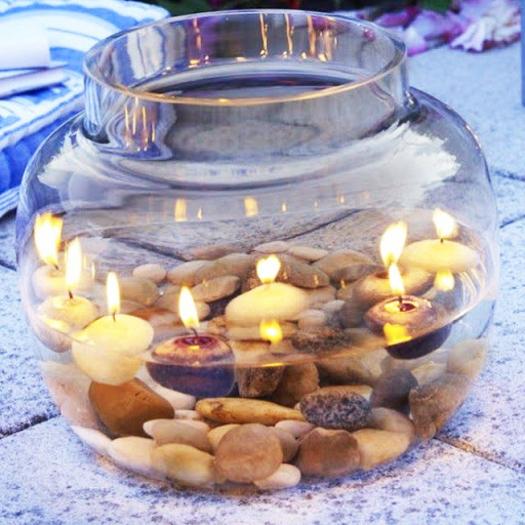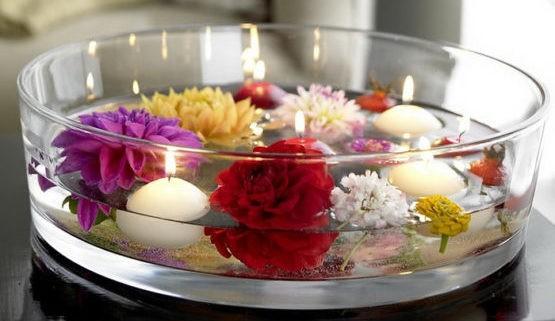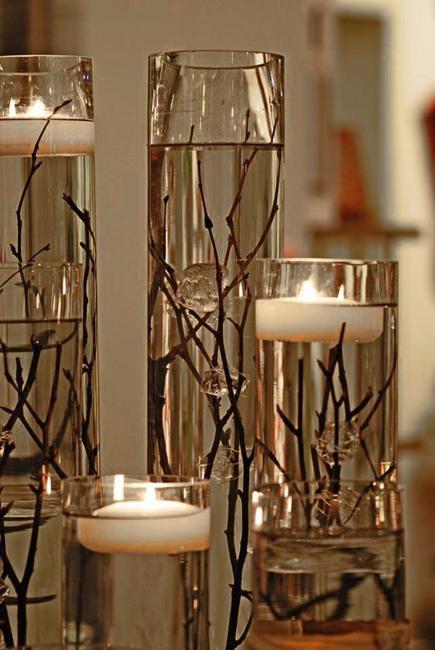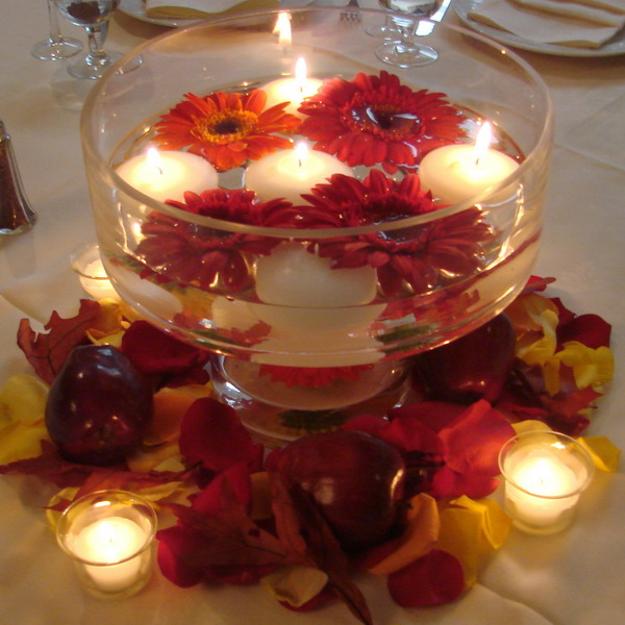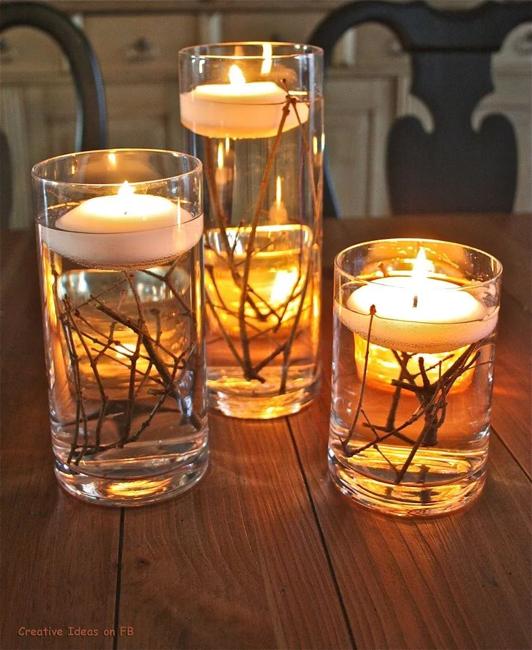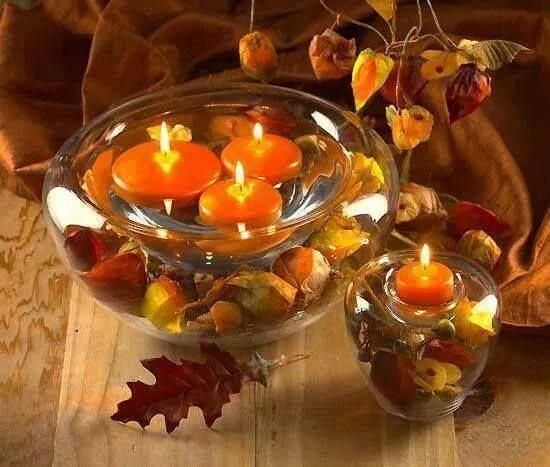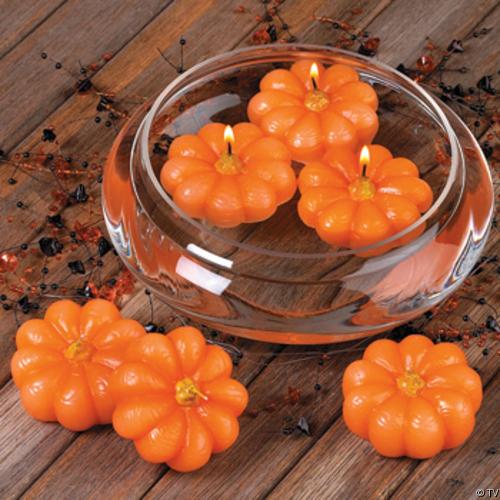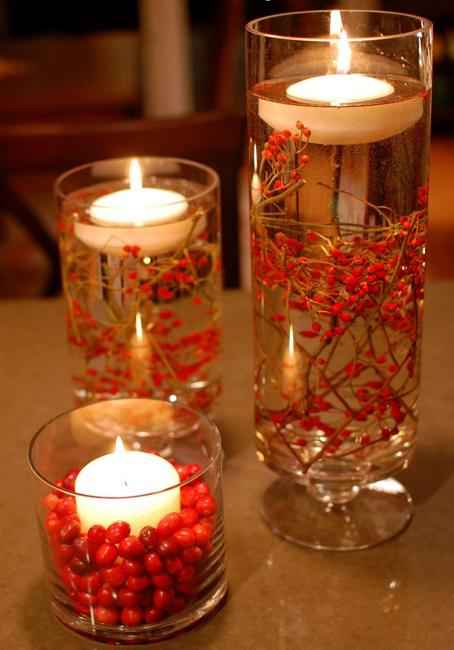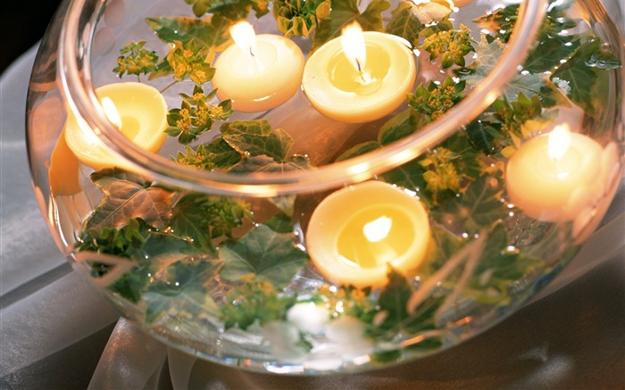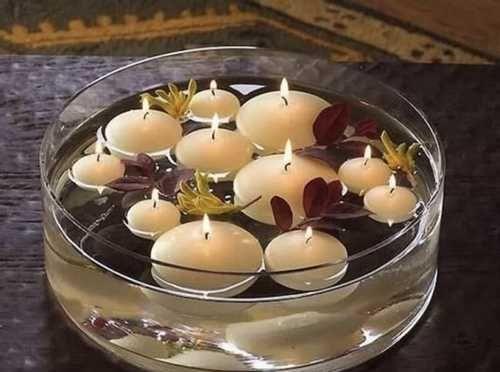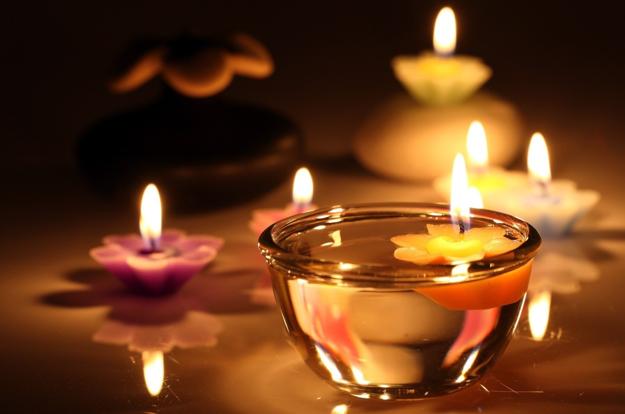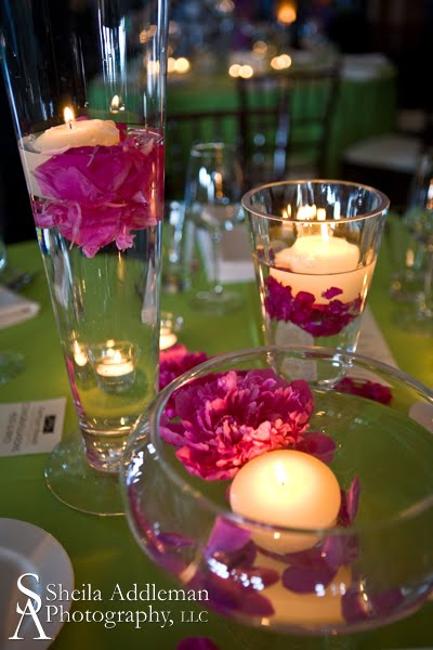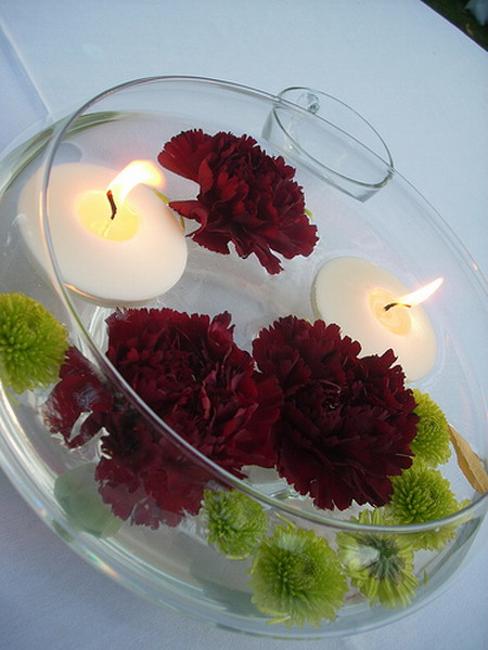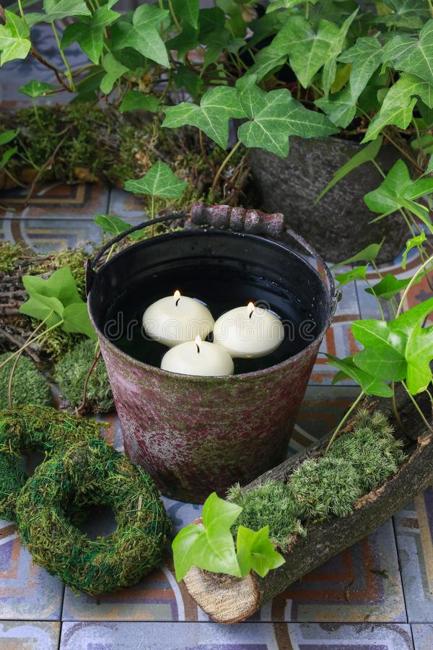 More from make decorations

Creative Easter ideas offer many quick and easy techniques for spring eggs decoration. Instead of dyeing eggs, try decoupage turning Easter...
and enjoy free articles sent to your inbox