Contemporary Chairs from Velichko Velikov, Unique Furniture Design Ideas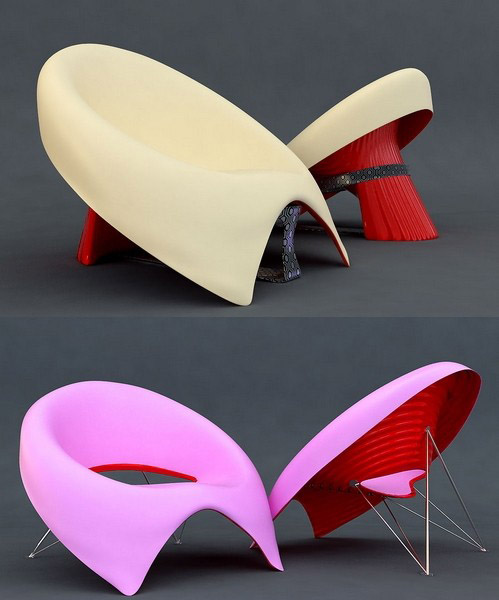 Contemporary chairs, inspired by a shirt and a tie, unique furniture design ideas
Contemporary chairs from TIE Lounge Chair collection are inspired by a shirt and a tie sets and come in various colors and patterns. Velichko Velikov, who works in London, created unique furniture pieces for interior decorating in  contemporary style.
Contemporary chairs have a leg that looks like a tie. Decorating patterns remind of shirt fabrics. The designer offered bright and contrasting color combinations, that blend with unique furniture design ideas, creating one-of-a-kind contemporary chairs.
There are less formal chair designs without a tie also. These contemporary chairs demonstrate exciting fabrics and bold colors, like pink, red and orange, adding a playful flavor to unique furniture design ideas and creating youthful and energetic mood.
TIE Lounge Chairs
Contemporary chairs, inspired by a shirt and a tie, unique furniture design ideas
Lastika chair
Earlier the designer developed a colorful and cheerful Lastika chair for the famous Italian furniture manufacturer LAGO. Light and airy, Lastika chair is made of stretching stripes, bright and colorful high quality rubber bands that are connected in the center of a seat.
Colorful and simple Lastika chair design looks like a tender flower, but has a rigid framework demonstrating unique furniture design that is light and very stable.
Colorful tubber bands for creating flower-like contemporary chairs Lastika
Playful and comfortable contemporary chair makes a great addition to any room in contemporary style. Living room design and dens, kids rooms and studio apartments, offices and cottage porches will look gorgeous with colorful contemporary chairs from V.Velikov.
Contemporary furniture design, unique chair with hair
Cubba Bubba chairs and table set
The project Cubba Bubba Chairs was  supposed to present five different contemporary chairs with a table, but the final set includes one chair which is a table also, offering multifunctional furniture design ideas that can be used for various purposes in many combinations.
Unique furniture design ideas, a set of cntemporary chairs and a table that creates of one furniture piece
Cubba Bubba Chairs are a conceptual project that offers one multifunctional and unique furniture piece, a contemporary chair-table that can be turned to become a new furniture item. You do not need to fold and unfold, transforming chairs and a table. Miniature chairs would be great for kids rooms.
BioMorph organic design, contemporary chairs
Interior designers present their chair masterpieces
Unique furniture design ideas from Velichko Velikov

Snowflakes are perfect Christmas decorations and eco gifts that you can make in an infinite variety of sizes and designs. White...