12 Green Ideas Adding Grass to Modern House Design and Interior Decorating
---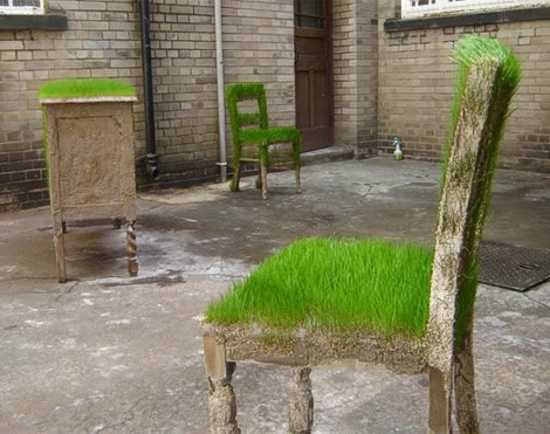 Green ideas influence modern house design and interior decorating, bringing growing glass, moss and trees into eco homes and offices and creating amazing architectural designs, house exterior and interior walls, furniture, floor decor and accessories.
Growing grass, moss and trees decorate green roofs and patios, fences and walls. Window sill designs and tiles for floor decoration with growing grass bring the nature inside. Indoor plants and green grass change interior design, creating peaceful atmosphere and beautiful green color shades to modern interiors.
Designers grow grass on floor tiles, interior walls and table tops creating indoor gardens and unusual home decorations. Chairs and bathroom storage containers, wall art and decorative vases with growing grass and moss make a statement and add charm to modern interior design and home decorating in eco style.
Growing grass for interior decorating in eco style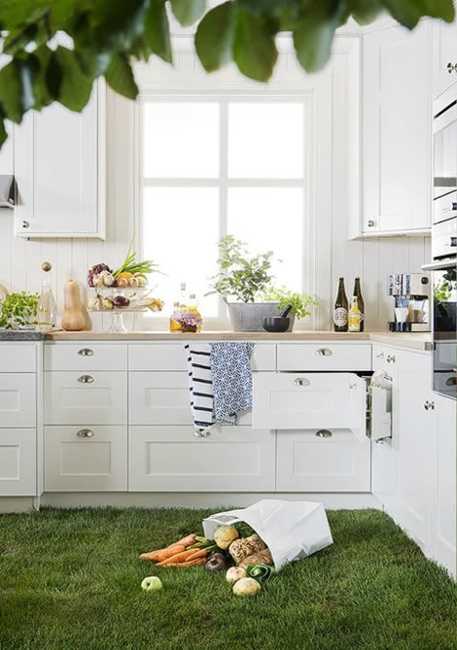 Living green carpet, created by Caramel Architects, Austria and tile designs with growing grass from Spanish designers enhance modern kitchen interiors and living room design in eco style. Living carpets and grass tile designs are wonderful green ideas that change modern interior design and home decorating, adding natural texture and green color to soften winter decorating ideas and jazz up decorating color schemes.
JAILmake Studio offered simple and practical ways of adding green color and leaf texture to modern interior design and decorating. The traditional planters, used as table legs, combined with wall shelves or wooden table tops with metal frames to support green leaves on stems, create beautiful console tables and dining tables for interior decorating in eco style.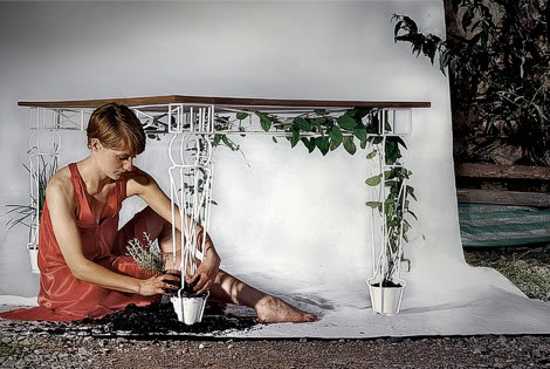 Dutch designers from Studio Gorm created a living island for eco friendly interior decorating with green indoor plants. The exchange of energy, water and waste, efficient use and recycling are great green ideas for modern kitchen interiors.
Picnyc table, dining table with green grass top
25 amusing green design ideas bringing growing grass and moss into modern eco homes
Amazing contemporary lighting design with indoor plants growing upside down
Das Haus at Imm Cologne, sustainable design and green interior decorating with indoor plants
Nature and technology are combined in a symbiotic Flow that creates the circle of plants life, – nutrition and water, growth, getting ready for human consumption, death and decay, which provide nutrients necessary to sustain the new plant life. Green ideas define this design, allowing to grow edible herbs and decorative indoor plants in pots placed right under drying dishes.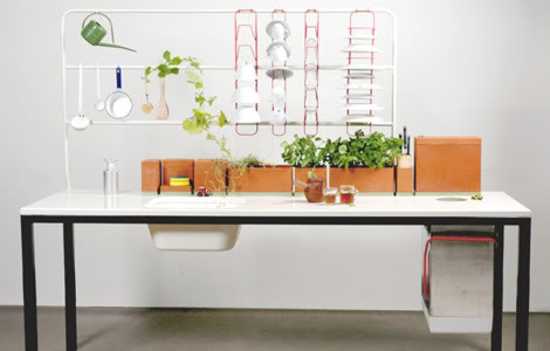 Green ideas for house design and interior decorating in eco style

There are hundreds of reasons to recycle metal parts, old cookware, wires, tools for creating unique designs and decorating your office...