Stylish Orange Color Schemes for Vibrant Fall Decorating

Orange Color

Room Colors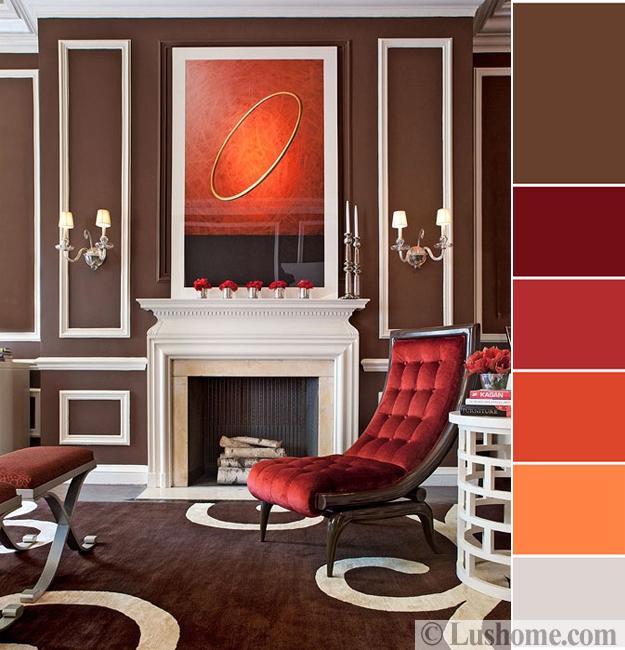 Living room design with brown walls, reddish peach, orange, and dark red accents
fall colors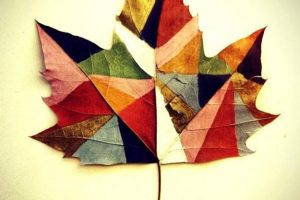 Green colors are perfect partners to orange hues. Orange and green color schemes are traditional, but timelessly modern interior decorating choices. Also, orange colors look gorgeous with black, dark gray color tones, deep red hues. Lushome tips and ideas will help add beautiful orange color to your rooms with existing home furnishings while stylishly matching your decor colors.
Vibrant greens, dark, leafy green hues, pale and dark green pastels, and grayish tones are fabulous choices to match orange hues. Browns, red color shades, and orange color schemes create universally appealing, warm, and cozy fall decorating. Burgundy red, pinkish-orange color shades, red wine colors are romantic and feminine. Mixed with dark gray color, black or chocolate brown color shades, they create modern interiors that look stylish, bright, and comfortable.
Fall decorating with orange color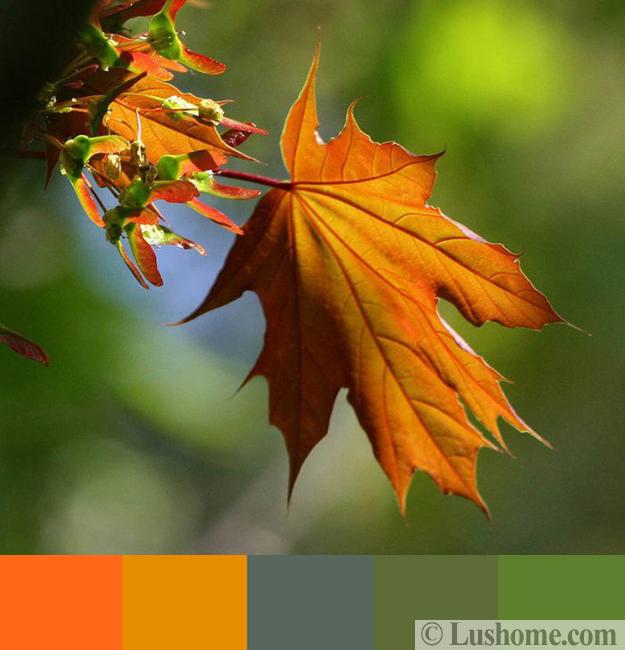 1. Muted green colors
Adding orange color to bedroom decorating in fall
Orange color and dining room decorating ideas
You can use fresh, vibrant greens, yellowish green or muted tints together and create a beautiful room with a touch of warm orange. A good rule of thumb is to refer to a few muted hues and to use at least two or three of them with bright and optimistic orange. Do not mix pastels with the muted colors. Add white and black for sophistication.
2. Dark red and orange color scheme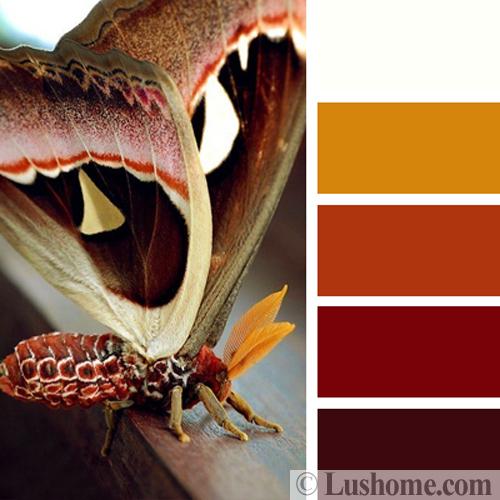 Add black, dark brown, and deep red color shades to the soft oranges to create drama, ultimate comfort, and sophistication. Here are orange-brown butterfly color palette for creating relaxing, cozy, and warm color schemes for modern interior design.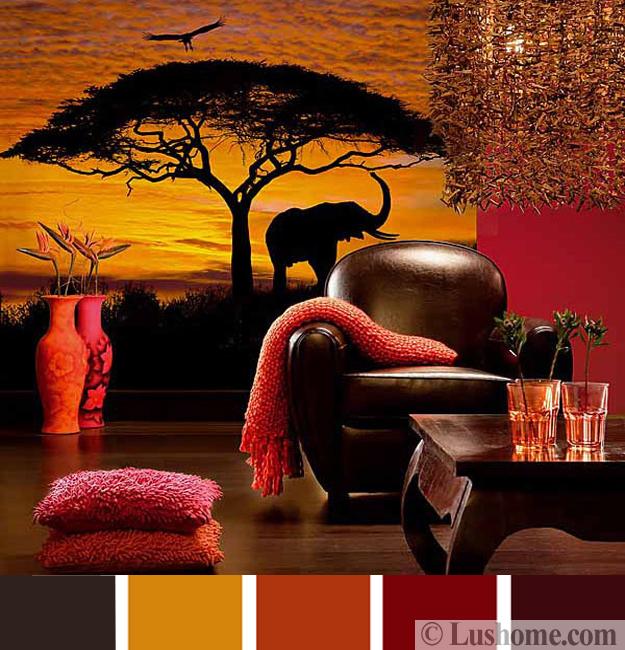 3. Romantic pink, orange, red wine, brown color combinations
Bright orange color shades in modern interior decorating
Blending orange and brown colors into modern and beautiful rooms
Comfortable brown colors, warm, purplish red shades mix beautifully with tangerine orange and pink hues. These colors allow creating an attractive monochromatic color scheme for your welcoming and romantic home decorating.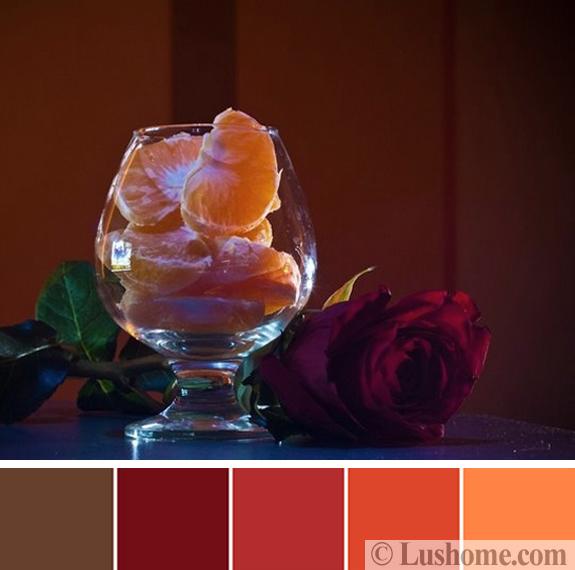 Brown walls with creamy white accents, reddish pink upholstery and flowers, orange artworks and white paint for fireplaces create warm, elegant, and modern living room with a brown floor rug and accents in beautiful, dark red color.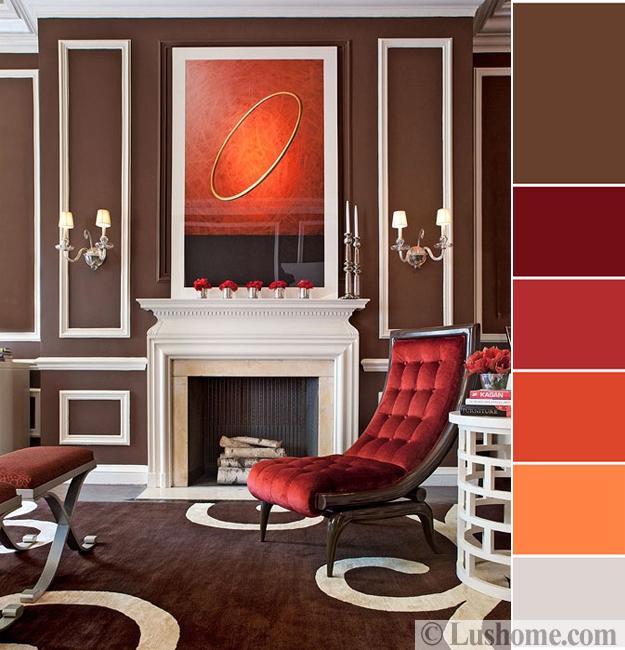 4. Yellow, orange and green color scheme
Five beautiful orange color schemes inspired by nature
How orange color can add personality to dining room decorating
Fall flowers are beautiful inspirations for interior decorating colors. The combination of mustard yellow and bright yellow hues, bold orange, creamy white, and green pastels is fabulous, perfect for fall decorating. Quiet and elegant moss, leafy green, and milky-green hues look fresh, festive, energetic, comfortable, and beautiful with yellow and orange colors.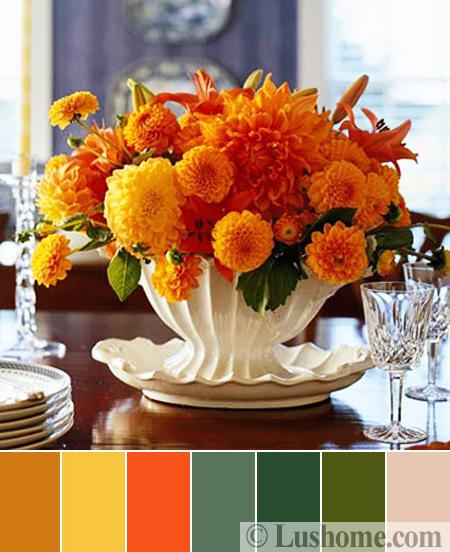 Perfect for table decoration or interior decorating, these traditional fall colors work well together offering beautiful color schemes for cozy and inviting interiors.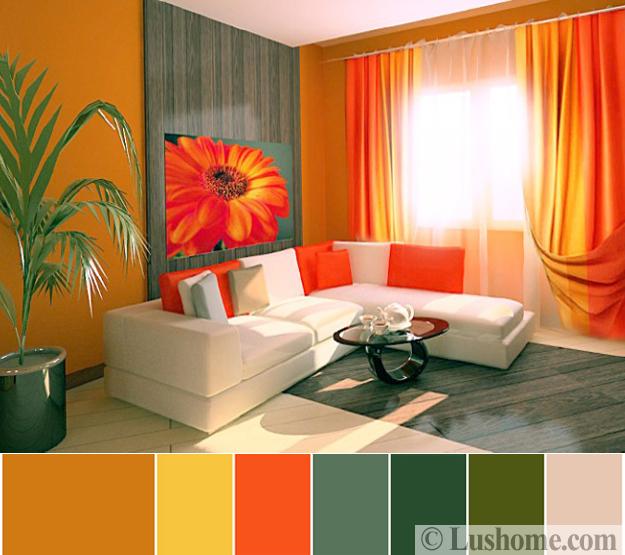 More from fall decorating ideas

Fall floral arrangements are perfect for Thanksgiving decorating. Fall flowers show off traditional hues and unexpected winks of pink, white, and...
and enjoy free articles sent to your inbox