Stenciling Images and Patterns on Walls and Furniture, 21 Charming Room Decorating Ideas

Decorating Ideas

Home Staging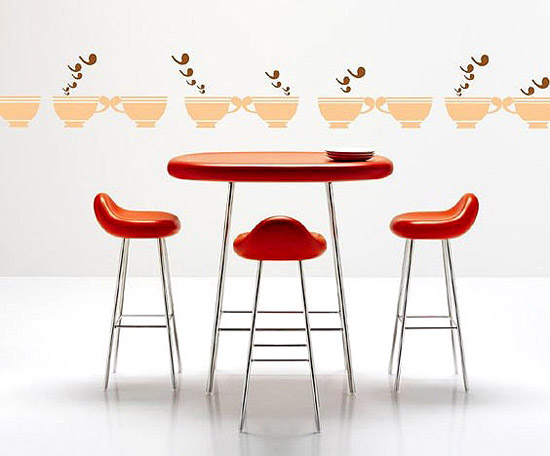 MODERN WALLPAPER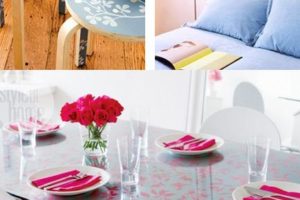 Stenciling is an easy way to add personality to room decorating, reproducing nice images or patterns again and again. Stenciling is quick and simple, so anybody can create beautiful and unique ceiling or wall decor, windows, doors, shelves and furniture decoration with a paint.
Stenciling is a cheap and impressive room decorating idea. A little imagination and time dramatically transform your ceiling and walls. Stenciling is offering a wonderful craft projects for wood furniture painting to add a personal touch to room decor.
Stenciling is a great room decorating technique for all interiors. Art painting and stenciling bring pleasant images and interesting patterns into room decorating and home staging, creating colorful ceiling or wall decor and striking doors, shelves or furniture decoration.
Room decorating ideas with stencils
Images and patterns are transferred onto the ceiling, walls, doors, shelves or furniture surfaces with a round brush with stiff sort bristles, sponge, spray or roller, filling the empty spots with large or small images and patterns.
Window frames, and doors, shelves and furniture, mirror frames and small accessories can be decorated, using a stenciling technique.
The ceiling and wall stenciling is perfect for children's room decorating.
Acrylic paints are excellent for stenciling. They are easy to work with and nontoxic.
Using acrylic paste or fine decorative plaster for interior decorating allow to create amazing 3-dimensional images and patterns, adding form and texture to room decorating.
Wall mural painting ideas for room decorating
Stencils for the art and craft projects and ceiling or wall painting can be purchased in home improvement, art and craft stores. Stencils are different in thickness and methods of attachment. There are templates for decorative plaster also.
Large stencils can be split into several small parts for easy application. Small self-adhesive stencils work well for ceramic, glass or smooth painted surfaces of the ceiling, walls, windows, doors, shelves, furniture.
Thick stencils are better for creating wall murals and decorating large surfaces, as they can be used several times after washing. Stencils prices depend on the type of the size and complexity of images and patterns.
Mirror sticker, wall decor ideas for spacious room decorating
Stenciling tips
There are certain techniques of stenciling the ceiling, walls, doors, shelves and furniture. Practice make stenciling perfect. Self-adhesive  stencils, painting on a smooth wall surface and applying two thin coats of paint are best for beginners.
Before stenciling with a paint, the wall surface should be marked with a pencil, creating horizontal or vertical reference lines and the geometry of wall decoration.
Chalkboard paint for dressers, modern furniture painting and decorating ideas
Use a brush in a quick up-and-down movements to dab paint onto your stencil, preventing paint getting under the edges. A sponge and a small roller work well also.
Start wall panting on the edges of the stencil, working into the centre. It prevents paint getting under the edges. Remove excess paint with a sponge, paper or cloth.
Hand painted wall tiles, simple decorating ideas for old bathroom and kitchen
Load the brush lightly, so that the bristles are covered evenly. Wait for the first thin coat of paint to dry before applying the second coat. Wait fpr the paint to dry before removing the stencil.
To create colorful images and patterns for ceiling and wall decor or window, door, shelf and furniture decoration use more than one paint color, selecting paints that match your room colors and applying each paint after waiting the previous one to dry.
Use tape to mask off areas of the stencil you don't want in a particular color. Small mistakes can be corrected with a fine brush.
While stenciling images or patterns, the round brush must be kept strictly perpendicular to the surface. A roller is convenient for painting images and patterns on large stencils, just remember to remove the excess paint.
Modern wall decoration, 11 simple diy wall decor ideas
Making stencils
Stencils for ceiling and wall painting, or for windows, doors, shelves and furniture decoration can be made of plastic film. Old X-rays are great for making stencils for your room decorating also.
Wall decoration with stripes width and direction
Door, wall and wood furniture painting ideas

Painting images and patterns on the ceiling, walls, windows, doors or shelves and furniture decoration with stencils are good ideas for kids rooms and apartment decorating. Stenciling is quick and and simple. It does not require any special skills or tools. Stenciling create unique and interesting room decorating, adding color, pleasant images and patterns to home decor.

Modern house design in Japanese style celebrates the functionality and elegance of minimalism. Airy, bright rooms look inviting and comfortable. Natural...
and enjoy free articles sent to your inbox