Hand Painted Wall Tiles, Simple Ways to Decorate Old Bathroom and Kitchen Tiles

Decorating Ideas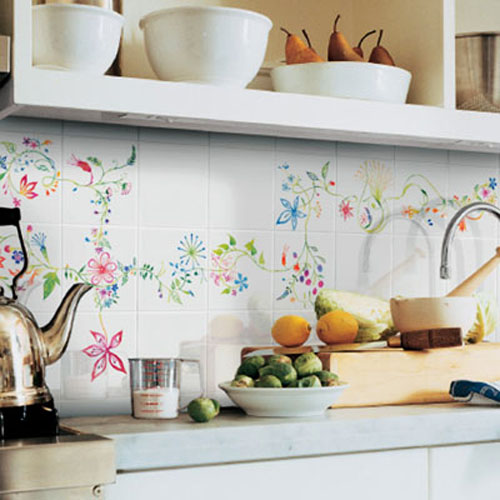 White kitchen tiles decorated with floral painting in pink, blue and green colors
tile designs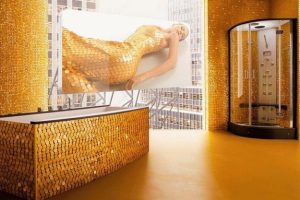 Hand painted wall tiles in your bathroom and kitchen are simple and modern interior decorating ideas for making an immediate visual impact. Unique wall tile designs are a way to make a strong statement and give your bathroom or kitchen decor an artistic touch.
Hand painted wall tiles grab the attention. Decorative painting in colors that match your existing bathroom or kitchen decor creates elegant and harmonious home interiors and dramatically transform the way your wall tiles look. (Matching interior design colors)
Decorative painting turns plain ceramic wall tiles into mini masterpieces, offering charming and creative additions to your beautiful bathroom or kitchen decor. Hand painted tile designs turn dated wall tiles into eye catching, unique and modern wall decoration.
Painting wall tiles
White kitchen tiles decorated with floral painting in pink, blue and green colors
If you like the uniformity of tile designs select bathroom and kitchen tiles or painting patterns for your old wall tiles that will bring rhythm and repetition into your rooms.
Top 10 tile design trends, modern bathroom and kitchen tiles
If you decide to buy new modern wall tiles for your bathroom or kitchen decorating, just remember that hand painted wall tiles with geometrical patterns and uniform motifs will fit together almost seamlessly, adding classic look to your customized bathroom or kitchen decor.
Simple ways to paint wall tiles
For creating a quick and easy painting pattern, dip a whisk broom into the paint, approved for bathroom and kitchen tiles, and do a check mark, short stripes or an arch patterns, leaves, berries or simple flowers here and there, spreading color and surprising accents across your wall tiles.
Modern interior decorating with stripes
Another simple idea is to use a string mop to throw paint spatters onto the wall tiles, creating fresh look. Also you can use more than one color at the same time for adding colorful or monochromatic tile designs with the shades of your favorite colors and making your bathroom or kitchen tiles look more interesting and cheerful.
Money saving tip
Replacing old bathroom and kitchen tiles are not simple projects. Painting wall tiles is less expensive than buying hand painted tiles and replacing existing tiles with new ones. If some problems are found under old wall tiles, you can spend much more money on your bathroom or kitchen decorating.
Also painting ceramic wall tiles allows you to create a customized look for your bathroom or kitchen decor. Hand painting gives you flexibility to decorate your rooms with your favorite colors and wall tile designs.
Modern wall stickers and painting are great ways to refresh your bathroom and kitchen tiles. When you want to create new wall tile designs again, you remove wall stickers or change the color  and design details by re-painting your bathroom and kitchen tiles, having fun and saving money on interior decorating.
More from decoration patterns

Throw pillows in various colors, designs, and patterns are one of the easiest ways to refresh your room design and inject...
and enjoy free articles sent to your inbox