Staging Home Interiors, Entryway, Small Spaces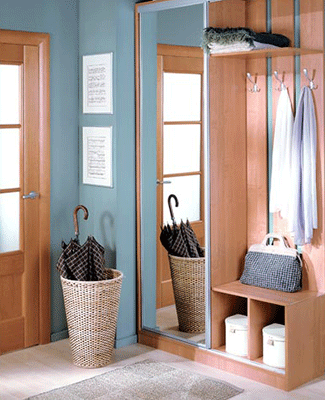 Interior design ideas for small rooms, decorating small places with large mirror and light blue paint
small spaces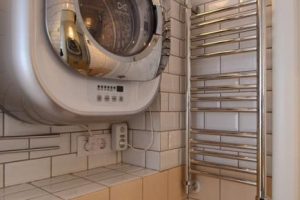 Simple staging techniques can be successfully applied to decorating small spaces, including entry rooms, small bedrooms and bathrooms, for creating more spacious, attractive and functional interiors. Staging home interiors is different than decorating. When staging, you are not adding furniture and accessories, but decorating your rooms with what you have in the house.
Home staging approach saves money and makes decorating small places easier. Home interiors look so good after staging, that people enjoy the comfort and good look of dramatically changed small places, and may not want to move from their beautiful and comfortable homes.
Color is important for decorating small rooms, a tiny bathroom, a dark foyer or a narrow hallway. Neutral and light interior design colors that match and coordinate well with the rest of the home make small spaces size less noticeable. Pleasing and  modern wall paint colors, especially light color tones, make small spaces look more brighter and more elegant.
Home staging and decorating small spaces, spacious entryway decor, light paint colors for small rooms
The visual illusion of more spacious house can be created right at the front door by organizing, decluttering your small entryway and decorating it light. Removing all footwear from the entry room floor, clothing from a coat rack and getting rid of excess wall clutter add more space. Your entryway should not look like self storage place.
Removing tall shoe storage furniture pieces from a small entry room helps visually increase the entryway dimensions. Free space creates the invitation, brings more comfort and makes the entry room look functional, modern and pleasant.
Staging home interiors, small entryway decorating
If your entryway is small, 10 simple and effective home staging techniques can visually extend its dimensions and balance proportions, creating lighter, brighter, more spacious and attractive entryway decorating design.
Decorating small spaces with light, home staging, modern entryway decorating ideas, mirror and light paint colors
1. Remove large shoe storage cabinets, wide and tall entryway furniture pieces from your small entry room.
2. Use open shoe organizers in your entryway closet. Keep it as empty as possible. Open shoe storage shelves do not take a lot of space and create the illusion of larger entryway storage space.
3. Free of shoes entryway floor, decluttered walls and a small hall bench create airy, welcoming and functional  interior. Keep the entryway floor empty, if possible, when home staging your property for sale. (Creative ideas for decorating empty walls with clutter)
4. Store winter boots, jackets, hats and gloves somewhere else, keeping the entryway furniture and closet half-empty. Get rid of clutter and old clothing from your closets to make your home interiors and storage more comfortable.
5. If you need a shoe rack or a cabinet in the entry room, choose low and narrow shoe storage design for staging a spacious entry room.
6. A low storage bench and few stylish empty hooks on the wall make the entryway area look lighter and larger.
7. Diagonally installed floor tiles create long stripes and expand small spaces.
Decluttering, light paint colors and mirrors for small home interiors staging and decorating small spaces, modern entryway decorating ideas
8. Well lit home interiors, including your home entry room, light wall paint and light entryway furniture colors create the illusion of more spacious home interiors.
9. Reflecting the light glossy flooring, glass decor items or large floor tiles add spaciousness to your entry design and other small spaces.
10. Placing a mirror on the wall, particularly on the wall that is opposite to a window or lighting fixtures, is a simple staging technique that can be used for decorating small spaces to increase their dimensions visually.
Modern entryway decorating ideas and home staging tips:
8 modern home ideas for entry and hall redesign
Feng Shui home, front door and entry decorating
Foyer decorating ideas, furniture and modern paint colors for foyer
Interior design ideas for small rooms, decorating small spaces with large mirror and light blue paint, simple entryway decorating ideas

Here are great ideas for kids toys storage and wall decoration with small cars that everyone would love. DIY organizers, like...
and enjoy free articles sent to your inbox