Foyer decorating ideas, furniture and modern paint colors for foyer

Entry | Hall | Mudroom

Room Colors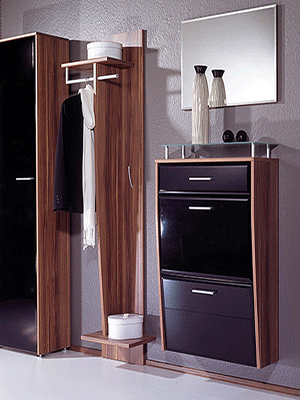 Contemporary entryway furniture and decorative accessories
entryway ideas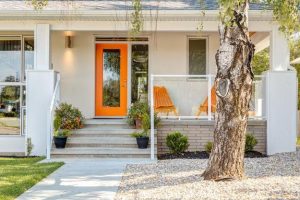 Modern foyer decorating ideas, comfortable entryway furniture, functional storage and interesting wall decoration create pleasant and inviting foyer design. Also foyer lighting and small decor accessories are important elements of attractive foyer decorating. Your mood and emotional balance depend on many factors, including work, relationships and weather. After a busy day you want to return home and relax. The foyer is the first room you see when come home.
Attractively decorated entryway welcomes you, your family members and visitors, and invites to enjoy your house or apartment. Entryways are usually small, so foyer design and decorating ideas can not be missed. Comfortable entryway furniture,  nice wallpaper patterns or creative wall stencils, modern paint colors and interior decorating, bright foyer lighting and effective storage are parts of welcoming foyer design.
Entryway, decorated in style, according to your tastes, preferences and modern interior decorating trends, feels warm and stylish. (Read about 8 modern home ideas for entry and hall stylish redesign.) Functional shoe storage, interesting decorative accessories or fresh paint colors improve your mood. Bright foyer lighting also plays an important role in setting the tone and atmosphere for the rest of your day.
Elegant foyer decor, furniture, modern foyer decorating and wall paint colors
Choosing foyer decorating ideas, selecting paint colors or wallpaper patterns for your foyer design depend on your entryway size, existing furniture and home style. Foyer decorating ideas are the reflection of owners' tastes and lifestyle.
However, there is one thing that works for all foyers: your entryway furniture and foyer design should match, support and emphasize your apartment or house design concept, decorating ideas and style. (Matching interior design colors: furniture and paint color schemes)
Traditional foyer decorating ideas and design
If you decide to redesign your entryway and buy new shoe storage furniture or change foyer lighting, it gives you an opportunity to create a completely new look. If you are going to utilize what you have at home, then you can select modern wallpaper or paint colors for your foyer design or create a dramatic change with wall stencils and unusual painting ideas.
Modern entryway, wall decorating ideas, contemporary foyer decor
Choose what you personally like, just remember that the purpose of  foyer decorating is not only to design a pleasant and welcoming place for you, but to create a friendly invitation for your family members, friends and visitors also. Following 5 basic decorating tips, you will create foyer design that is attractive and welcoming to all.
Contemporary entryway furniture and decorative accessories, modern foyer decorating
Foyer decorating tips:
1. Choose decorating ideas and colors that will not make your foyer design look smaller. Light paint colors or striped wallpaper patterns help create more spacious room design. (Room decor with stylish stripes illusion.)
2. Create a color combination that feels relaxing and calming. Light cool colors feel less dynamic.
3. Select foyer decorating ideas, wall decoration and decorative accessories, that reflect light for spacious and bright foyer design.
4. Use warm and cold paint colors or combine large and small wallpaper designs for changing your entryway proportions and visually balancing its shape. Warm and dark paint colors, impressive decor items and large wallpaper design details bring decorating elements closer to a viewer. Cold and light colors push objects further away from a viewer.
5. Think of using different paint colors or various color tones to enhance your foyer design, visually changing its proportions.
Wall decorating ideas, stenciling design and modern foyer decorating colors
Foyer decorating ideas – modern paint colors
Modern foyer paint colors for stylish painting design: light gray, blue-gray, emerald green, bone, white cream, light yellow, golden, purple, black, purple-gray-brown, pink and red.
Related to foyer decorating:
Shoe storage for staging spacious entry
Modern decorating colors for fall-winter 2010-2011
Feng Shui home, front door and entry decorating
Modern foyer decorating, lighting design and paint colors

Here are great ideas for kids toys storage and wall decoration with small cars that everyone would love. DIY organizers, like...
and enjoy free articles sent to your inbox