Recycling Tripods and Washing Machines for Contemporary Floor Lamps, Unique Lighting Ideas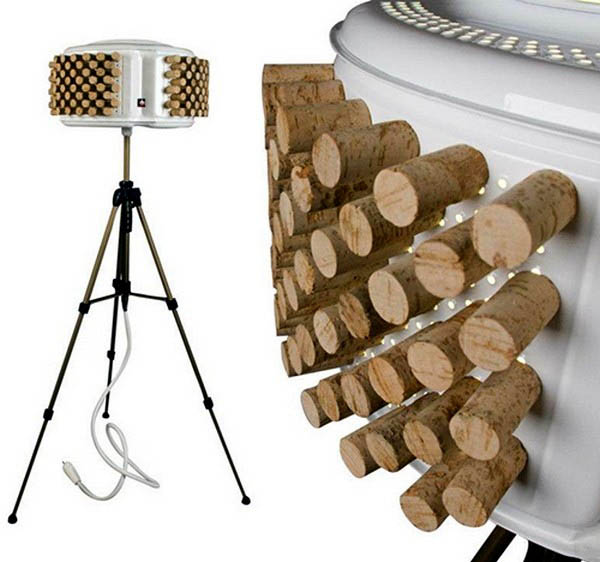 Recycling wine bottle corks, old camera tipods and broken washing machine parts
recycled crafts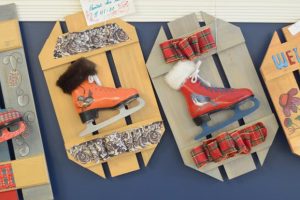 Camera tripods and broken washing machines can be blended into unusual and creative contemporary floor lamps for unique interior decorating. Decluttering homes and recycling clutter items for making striking home decorations are wonderful ideas that support eco friendly green living concepts.
Modern torchieres Rewashlamp from designer To Martins are made of camera tripods and washing machine drums, and decorated with various items from pieces of fabrics to wine bottle corks. Unique lighting ideas from Portuguese designer are a creative way to recycle used and broken household items for decorating home interiors.
Recycling old and broken household items for home decorations is one of modern design trends, which is surprising and very interesting. Clutter items are a great material for designing unique lighting fixtures and home decorations also.
Innovative washing machine, green technology for modern homes
Contemporary floor lamps made of recycled items
Unique lighting design ideas, recycling for home decorations, modern interior decorating ideas
Washing machine drums make large and impressive lamp shades. Perforated drums are excellent items for decorating with similar or various objects. Different decorating materials used for drum decoration create the entire collection of unusual contemporary floor lamps Rewahlamp.
Small and large tripods provides stability to lighting design, making lamps safe and convenient for interior decorating.
Recycling wine bottle corks, old camera tripods and broken washing machine parts and creating unique lighting for modern interior decorating
Creativity and artistic vision, patience and a sense of style help design unusual and attractive lighting fixtures and home decorations for decorating home interiors in extravagant eco style.
Pendant light fixtures made of corrugated paper, contemporary lighting design
Contemporary floor lamps, torchiere for modern homes
Rewashlamp rewashlamp.com/ collection of contemporary floor lamps is made of camera tripods, washing machine parts and wine bottle stoppers, measuring tapes and metal brushes, pieces of decorative fabrics and faux fur.
Floor lamp made of camera tripod, washing machine and plastic balls for ping-pong
Anything can be used for creative interior decorating, from scarves to plastic balls for ping-pong, measuring tapes and pieces of fur.
Interior decorating with contemporary Arc floor lamps
Modern lighting fixtures, top 10 contemporary lighting design trends
Modern torchier made of camera tripod, washing machine part and measuring tapes
Recycling and designing unique items for impressive and stylish interior decorating are great craft ideas that help unleash creativity and support green living ideas.
Recycling for unique furniture and home decorations
Plastic recycling, cheap home decorations made of plastic bottles
Unique furniture design for recycling car junk yards parts
Recycling ideas for modern lighting design
Amazing lighting design can be easily changed, bringing another texture or color to room decor and creating an eye catching focal point for interior decorating.
Creative recycling ideas
Hotel experience in redesigned old planes
Recycling decor, old shoes for green plants
Unique lighting design ideas, modern chandeliers made of recycled items

Recycling is a creative, Green, modern way to create something new, exciting, original, stylish for your home interiors. Do-It-Yourself projects are...
and enjoy free articles sent to your inbox