Pendant Light Fixtures Made of Corrugated Paper, Contemporary Lighting Design from Graypants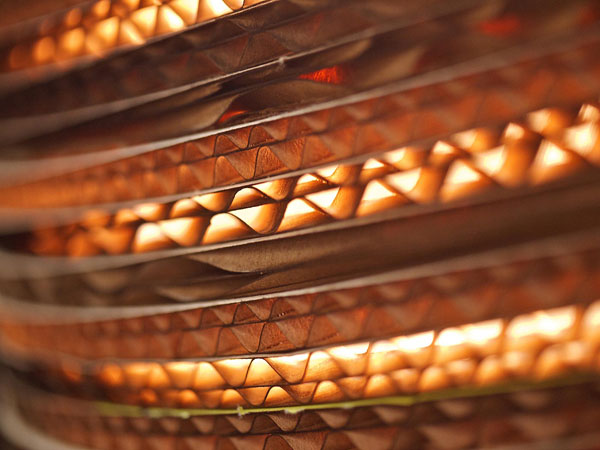 Recycling paper and corrugated cardboard boxes for lights, unique lighting design ideas
MODERN WALLPAPER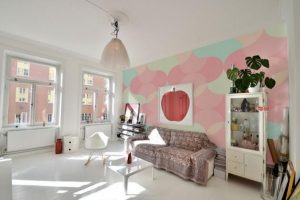 Pendant light fixtures, made of corrugated paper, come from Graypants, offering creative ideas for recycling paper. The impressive and unusual set of contemporary lighting fixtures are inspired by mysterious planets in the Solar system.
Pendant light fixture design ideas came out of our fascination with the giant planets, especially the largest planet Jupiter, the fifth from the Sun. Corrugated paper texture enriched the contemporary lighting design, creating soft glowing light and unique look.
Contemporary lighting design ideas reflect the round form of the planet and its best known feature, the great red spot, referenced in the assembly of this scraplight. Four largest moons discovered by Galileo to accompany Jupiter, inspired contemporary lighting fixtures in various sizes.
Colorful paper craft ideas, contemporary wall art, paper flowers
Pendant light fixtures, interior design trends
Pendant light made corrugated paper, green ideas for reusing and recycling paper
Pendant lights, made of corrugated paper, reflect the planet and moons from largest to smallest, giving the names Ganymede, Callisto, Io, and Europa to pendant lighting fixtures.
Recycling paper and creating contemporary lighting is an interesting green design idea, that can be used for a new business or interior decorating in eco homes.
Contemporary lighting fixture design ideas, inspired by planets in the Solar system
Expensive and unique pendant light fixtures can be purchases as a set of five contemporary lighting fixtures, that includes the largest light Jupiter, or individually.
Recycling paper and making snoqflakes, winter craft ideas for kids and adults
Paper lanterns, Sakura Flower lamps
Recycled corrugated paper is an excellent materials for creative and unusual lighting design. Talented guys at Graypants, www.graypants.com/ have molded corrugated cardboard scraps into a gorgeous set of contemporary lighting fixtures, recycling paper and creating unique items for interior decorating.
Handmade lighting fixtures for eco homes, creating ideas for recycling paper and corrugated cardboard boxes
Some pendant lights are modeled after giant planets that share the Solar system, other contemporary lighting fixtures are shaped like beans, discs and bells, adding striking decorative accents to interior decorating.
21 ideas for making alternative Christmas trees to recycle clutter and save money
Eco friendly Christmas decor, recycled and edible decorations
Spherical in shape and attractive, pendant light shades are made entirely from reused cardboard boxes. All of lampshades are handmade and vary slightly in shape, color and size, offering one-of-a-kind interior decorating for contemporary homes.
Recycling paper and corrugated cardboard boxes for lights, unique lighting design ideas
More from lighting design

Modern bathroom design trends bring beautiful tub forms, colorful sinks, and beautiful, fine materials that reflect advanced technologies. Colorful bathroom sinks,...
and enjoy free articles sent to your inbox