Pet House from Moissue Combines Versatile Milk Box Design with Weightless Cardboard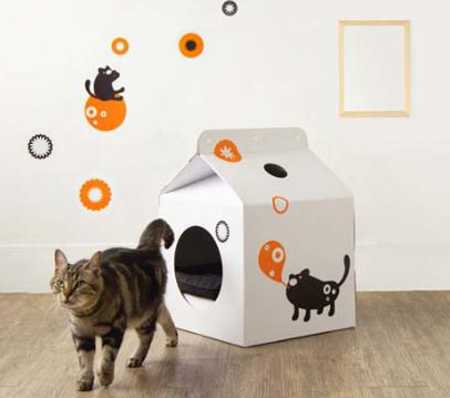 Diy cardboard cat house, simple small pet house design
pet furniture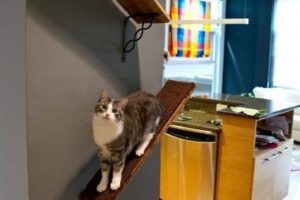 Small pet house design from Chinese company Moissue is light, practical and inexpensive. The pet house is a blend of milk box design and weightless cardboard material that creates an easy to assemble and carry around house for a small pet.
This interesting and unusual pet house may inspire you to design something similar for your pet. Here is a milk box diagram. Fold all of the score lines except for the single diagonals next to the pour spout. Apply adhesive to the tabs on the side and the bottom flaps. Do not put adhesive on the pour spout unless you want to completely seal the box.
Interesting design for cats and small dogs look familiar and fresh at the same time. Light weight of cardboard and the ability to fold the pet house into a flat piece for traveling make this design especially attractive. If you add a cut out for a handle on the top of this cardboard house, you can carry your pet anyway very comfortably.
Modern cat houses, furniture design ideas for small pets
Black cat wall stickers, modern interior decorating ideas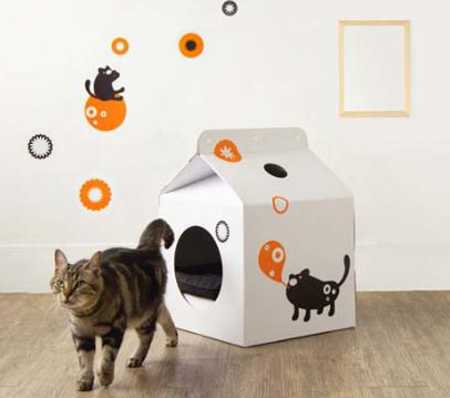 Great for a pet parties or traveling with pets, this small pet house design is cheap and convenient. Simple and easy to make, elegant and comfortable for a pet, it is a great ideas for diy project.
White color is inspired by milk color, but the pet house can be made in all bright hues. White color is versatile and neutral, allowing to personalize pet house design as pet owners wish.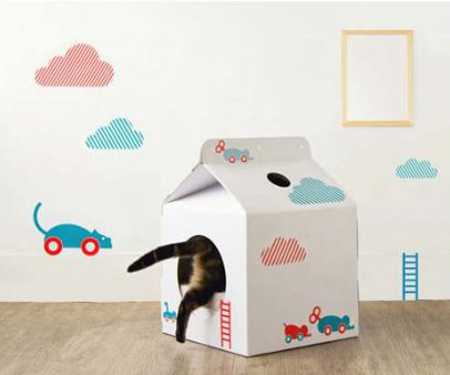 This is a wonderful idea for preparing inexpensive but very special gifts for friends, or just enjoy these simple craft idea to create a cute pet house for your cat or small dog.
Modern cat furniture, playful pet furniture design
Cat tree design ideas, simple DIY cat furniture
Recycling cardboard for making small pet houses are a great green idea and an excellent recycling paper project for all who support green living.
Paper craft ideas, making cat house

What time is it? It's singing bird o'clock! This unique timepiece is bringing the fresh vibe into spring decorating, making elegant...
and enjoy free articles sent to your inbox