Outdoor Wicker Furniture Collection from Dedon, Innovative Outdoor Furniture Design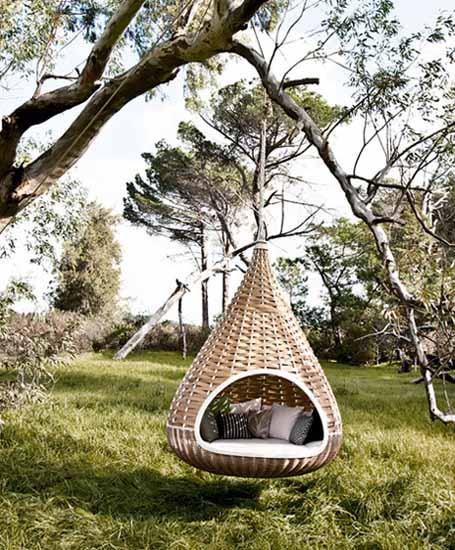 Hanging outdoor daybed and hanging hammock chair designs add luxury and fun to outdoor spaces
outdoor furniture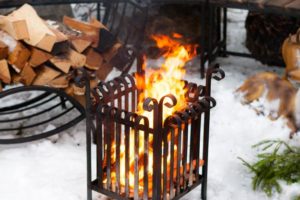 Contemporary wicker furniture sets can be made of traditional natural materials and attractive man-made materials. Latest trends in outdoor furniture design and manufacturing bring new innovative materials that allow to experiment with unusual shapes and add strength and durability to outdoor wicker furniture pieces.
Outdoor furniture collections from Dedon, the German company that is one of the leaders in production exclusive, comfortable and elegant outdoor wicker furniture, is made of synthetic fibers Hularo. These man-made fibers look like natural material, but create super durable outdoor wicker furniture pieces for years to serve.
Hularo is an excellent material for patio and garden furniture. The color does not fade in the sun, and wicker furniture items made of these fibers can withstand temperatures from -50 ° C to +60 ° C without any damage.
Zen Circus chair design, hanging hammock chair for exercising
Designer chairs and hammock from DVision
Outdoor daybed designs
Leaf shaped outdoor daybed, contemporary outdoor wicker urniture design
Innovative outdoor furniture design, leaf shaped outdoor bed
Beautiful outdoor furniture sets, made of this unique fiber, feature a high resistance to physical shock and elements, allowing to enjoy outdoor seating and daybed designs year round on decks, patios, porches, in sunrooms, pool areas and outdoor rooms.
A hanging bed or outdoor seating furniture piece Nestrest is wonderful for relaxation or a nap. Perfect for porches, outdoor rooms or interior decorating, this outdoor wicker furniture item adds luxury and fun to kids rooms and porches, garden and backyard designs.
Hanging outdoor daybed, beatiful outdoor wicker furniture piece from Dedon
An innovative hanging bed Nestrest, looks like a bird nest, providing a cozy cocoon. You will enjoy the cute and inviting outdoor daybed on weekends and vacations. Innovative, comfrtable and attractive, these outdoor furniture items blend the comfort and functionality of a traditional hammock and a small daybed, offering gorgeous decorative accents to your porch, deck, patio, garden and backyard designs.
Ergonomic hammock for indoor and outdoor living spaces
Hushamok, baby hammock bed, nursery decor ideas
Designers working with Dedon drew the inspiration from the nature, noticing beautiful organic shapes, texture and color of bird nests and using them for creating amazing hanging hammock chairs and outdoor daybed designs for their Nestrest collection.
Hanging outdoor daybed with pillows
Outdoor seating furniture and hanging hammock chairs from Dedon are more than just functional pieces of outdoor furniture. They look like artworks. The hanging hammock chairs and daybeds Nestrest are almost architectural structures that remind a gazebo, which add an artistic touch to porch, deck, garden or backyard designs and provides tranquil retreats for rest, meditation and enjoying peaceful time outside.
Garden furniture for outdoor rooms, Vesta Fire Table from Stone Forest
Portable and sectional patio bar furniture, light outdoor home bar designs
The hanging hammock bed Nestrest is woven of a durable synthetic fiber 4 cm (about 1 1/2 inches wide) which creates a strong sturdy weaved shelter and makes the construction breathable and pleasant. Free swinging and spinning of the cocoon around its axis give a person a sense of peace and solitude, perfect for relaxation and rejuvenation.
Hanging outdoor daybed and hanging hammock chair designs add luxury and fun to outdoor spaces
The hanging hammock bed is woven around an aluminum frame and weighs about 100 kg (about 220 lbs.) Nestrest designs can be painted in natural rattan color or white. The hanging hammock chair and daybed can be installed on the ground and used as free standing outdoor furniture pieces also. The hanging hammock set includes a comfortable mattress and small pillows.
Outdoor furniture for dining and seating areas

A house without a roof is in California. The house design is envisioned by Craig Steely Architecture and provides beautiful outdoor...
and enjoy free articles sent to your inbox