Contemporary Furniture from DVision, Designer Chairs and Hammock
---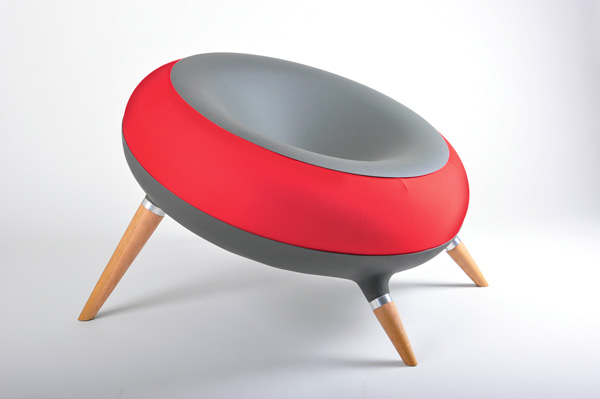 Contemporary arm chairs with donut like cushion frame in red and gray colors
The latest collection of contemporary furniture design, that includes unique chairs and a hammock, are outstanding and exciting. Contemporary furniture in bright colors from d-VISION look interesting and innovative, comfortable and cheerful.
These contemporary furniture pieces look eclectic and bright, perfect for adding stylish decorative accents to modern interior design and outdoor rooms decorating.
Soft cushy chairs that fold into a box, a tuffet-style stool and amazing arm chairs with a donut-like under cushion seat frame bring creative inspirations and unexpected combinations into modern interior design.
Contemporary furniture from Wild Design, unique furniture design ideas
Plastic and wood, two modern furniture design ideas
Contemporary chairs
Contemporary arm chairs with donut like cushion frame in red and gray colors
d-VISION is an internship program for Product Development and Industrial Design, targeting the project that foster the next generation of outstanding industrial designers.
The objective of this program, as expressed by the initiator of the program Mr. Sami Sagol, Owner and Chairman of the KETER Group, is to strengthen the competitive edge of the Israeli industry in the international arena by setting new standards of excellence for Product development and Design.
Unique furniture design with soft round cushions in red and gray colors
The strategic premise is that success in the global markets requires talented product designers who have been exposed to both valuable hands on experience and state of the art professional know-how.
Contemporary chairs from Velichko Velikov, unique furniture design ideas
Contemporary chairs, colorful Ally collection by German designers
d-VISION, www.d-vision.co.il/ is a unique, bold pioneering program. The interns (15 each year) enlisted in this program will commit to 2 years of intensive training and work. The interns will receive individual guidance and support.

Modern interior design trends come and go, and it is impossible to change your home interiors fast enough following them. To...