Contemporary Chairs, Colorful Ally Collection by German Designers
---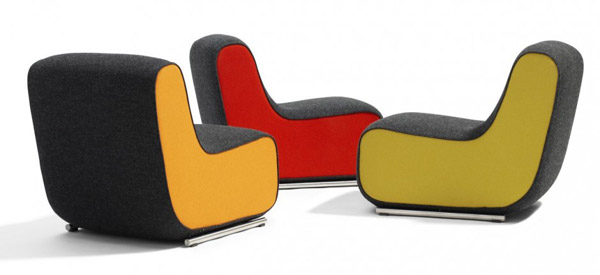 Modular furniture design ideas from German designers, contemporary chairs for sectional sofa
Contemporary chairs from Ally collection are a nice way to add bright color to interior decorating, creating cheerful atmosphere. Modular furniture pieces, combined together, create a large sofa, perfect for modern interior decorating in classy neutral colors with bold accents.
Colorful contemporary chairs with black seats are created by two German designers Hertel and Klarhoefer, www.hertelklarhoefer.de/for the Swedish company Bla Station. Simple ans elegant chair design brings organic soft curvy form and unique texture into modern interior decorating.
Ally is the collection of bright modular furniture items, contemporary chairs that are sections of a large sofa. These contemporary chairs can be used individually or linked together, creating a comfortable sofa for a large group of people.
Living room sofa and chairs, modern furniture design trends
Modern sofa, top 10 living room furniture design trends
Modular furniture design ideas from German designers, contemporary chairs for sectional sofa
Made of moulded polyurethane foam, they offer comfortable, simple and colorful modular furniture pieces for space saving, interesting and modern interior decorating, bringing dynamic colorful accents into rooms.
Inner frame is made of styrofoam and wood. Strong and durable outer frames are made of stainless steel. Convenient built-in magnetic linking helps create perfect modular furniture for large rooms.
Modular furniture, black sectional sofa made of contemporary chairs
Modular furniture design ideas
Modular shelving, wall decorating ideas
Modern sectional furniture design,Free Flow sofa

Bright home interiors and amazing views of the ocean make this beach house a dream place. Large windows, light, neutral room...