---
---
Modern Kitchen Accessories for Comfort and Style, 25 Bright Kitchen Decor Ideas
Attractive kitchen accessories add more comfort and style to modern kitchens, improving your mood and emphasizing kitchen decor with functional and pleasant details. Modern kitchens look plain without exciting accessories, which bring trendy colors and create the atmosphere of coziness, making kitchen furniture and decorating ideas look inviting and comfortable.
Kitchen decorating includes all elements that you use for other rooms in your house: modern interior paint colors, stylish textiles for the windows, wall panels, clocks, vases, paintings, crafts and house plants. Modern kitchens are places for cooking meals, socializing and entertainment, and kitchen accessories reflect the specific functions, bringing functional and beautiful items and easy to clean materials into modern kitchen design and decor.
Beautiful tableware and accessories are great for kitchen decorating. Elegant glasses, fine china, colored glass or ceramic vases are functional and attractive way to add unique shapes and colors, designing modern kitchen decor. Several painted plates, glass bottles or jars for food or spice storage fill the kitchen interior with warmth and charm.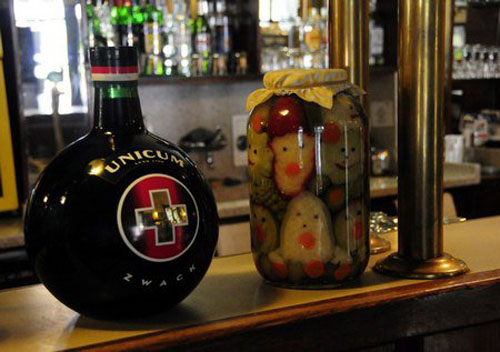 Kitchen decor styles
Select kitchen accessories wisely, in accordance with your kitchen design style. Ceramic jars and bowls, decorative copper pots and painted porcelain plates are perfect for country kitchen decor style. Fine English china and crystal, floral and green leaf patterns are great for kitchen decor in classic style. High-tech and contemporary kitchen designs can be complimented with just a few items. Simple geometric forms, gray, black and white colors, steel or colored glass add contemporary look to kitchen accessories.
Homemade kitchen decor ideas
Preserved vegetables and fruits in decorative bottles are beautiful kitchen decorations that can be bought or made at home. Such items easy to find in the store or make your own.
Glass bottles with branches or flowers, seashells, several layers of decorative colored sand or beans look gorgeous on kitchen shelves. Glass bottles and jars, filled with citrus fruits, olives, red pepper or edible herbs can make any modern kitchen design feel softer and look more colorful.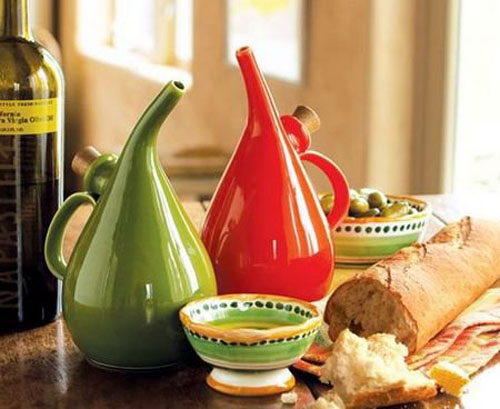 Decorative wall panels and clocks, personalized with your own designs and jazzed up with bright colored beads, noodles or beans, look charming and unique also.
Kitchen decor in classic style, Provence or country style will look bold with items decorated with the decoupage technique. Plates, vases, boxes for cereals or spices, and pieces of furniture with unique designs dramatically transform your kitchen decor, adding your personality to the interior. The decoupage technique is associated with vintage accessories, bringing nostalgic mood and adding an interesting story to your kitchen decor in classic or country style.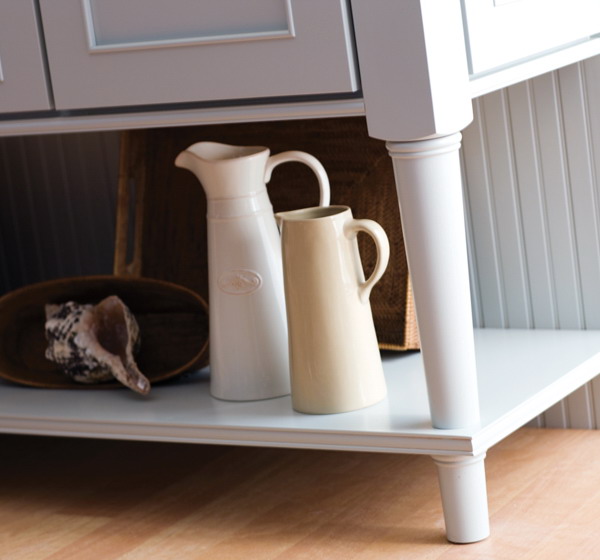 Storage cans and glass jars with tea, coffee beans and cereals are excellent kitchen decor ideas. Instead keeping them in bags hidden in kitchen cabinets, you can add beautiful glass jars, metal and ceramic containers to your modern kitchen decor.
Declutter and add spice to kitchen decor ideas
Ladles and salad spoons, old keys or a wooden ladder work well for country style kitchen decor. Shiny metal objects are perfect for contemporary kitchen designs, and attractive kitchen accessories made of wood and ceramics make classic kitchen interior look gorgeous and interesting.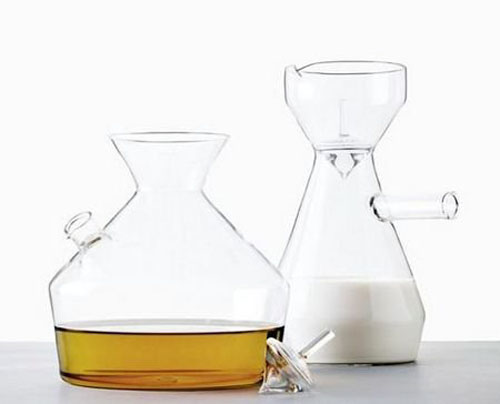 Bottles with vegetable oil, vinegar, cans and glass jars with spices and sauces make meals more tasty and wonderfully decorate kitchen shelves. Old beautiful containers and glass bottles in original form bring more flavor to any modern kitchen decor. Some spices, fruits and vegetables can be stored in open bowls and baskets, filling your kitchen interior with pleasant aromas.
Decorative bowls and old plates are nice kitchen decor ideas that add a splash of color, complimenting other kitchen accessories, like curtains, cookware, chair pads, tableware or tablecloth with napkins. Neutral kitchen colors can be brightened up with colorful textiles, plates and vases, or house plants, changing the way your kitchen interior looks and feels and adding bright cheerful tones to your kitchen decor ideas.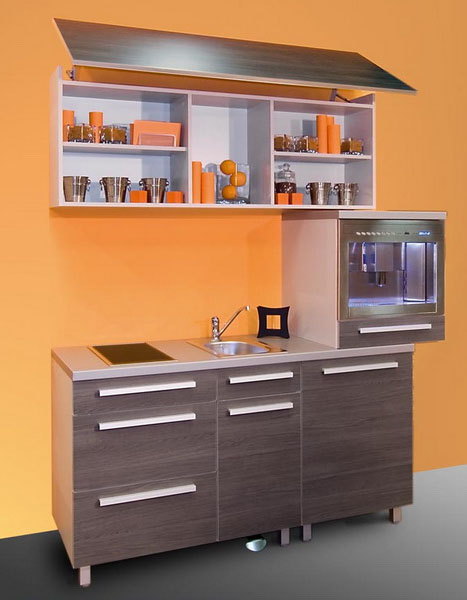 by Ena Russ
last updated: 13.07.2012
and enjoy free articles sent to your inbox