Modern Furniture for Kids Creating Stimulating Interior Design and Playful Kids Room Decorating
---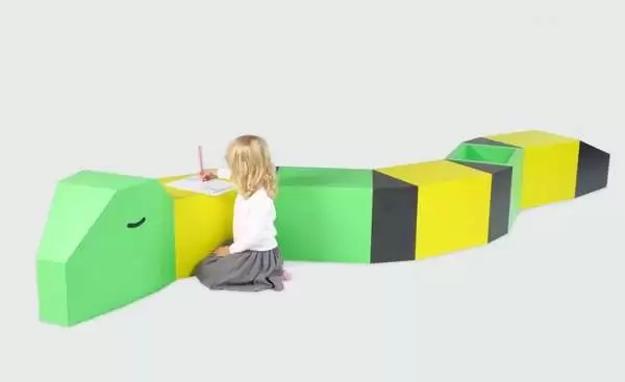 Unique furniture design idea, the combination of colorful boxes for kids storage
Modern furniture for kids bedroom design is a nice way to add items that stimulate and delight children, creating interesting and functional interior design and decor for them. Modern furniture for kids, blending creativity with functionality, helps personalize children bedroom decor and brighten up interior design with original and amazing furniture pieces.
Unusual furniture design teaches children to think creatively and be resourceful to use other furniture pieces as toys. Unique furniture for kids rooms allows designers to express themselves and encourages kids to develop the imagination, stimulating  brain and creating fun environment to grow, study, work and live.
Interesting, functional and modern furniture for kids, like kids tables and stools, upholstered furniture pieces that look like familiar animals, insects and birds, unique lighting fixtures and unusual home accents, make children excited about their bedrooms and truly enjoy creative kids playroom ideas.
Creative design ideas in modern furniture for kids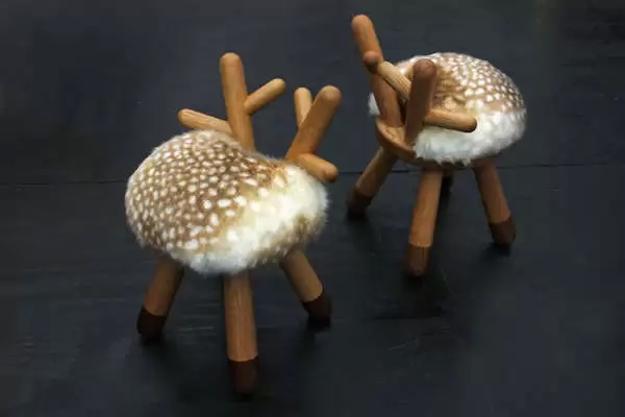 Here is a collection of fabulous furniture for kids rooms. Modern designers believe that functionality and originality give children bedroom designs a unique feel of a customized playground, lift the spirits, and develop their imagination. Beautiful, original, colorful and functional pieces of creative children furniture are great for cheerful and playful interior design and decor for kids.
Funny stools Bambi Chairs features deer horns. The unique chairs are created by Japanes designer Takeshi Miyakawa. Fur seats and painted wood furniture parts add warmth and a sentimental feel to this children furniture design idea. Soft texture, blended with solid oak wood furniture parts, creates beautiful, durable and attractive piece of children furniture.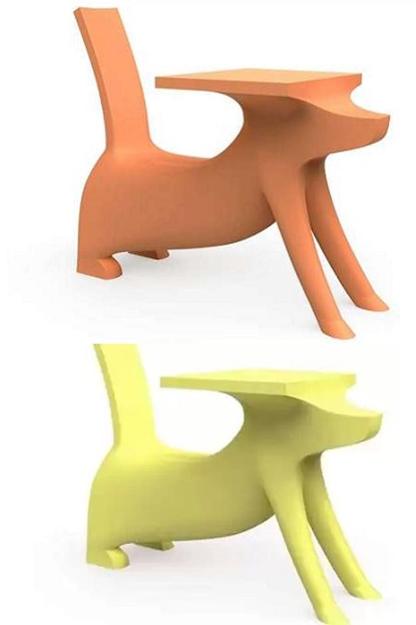 The bright student desk from Philippe Starck adds an original form to kids decor ideas, helping young students to enjoy home assignment and feel playful, not boring wile doing home work. Children are very fond of animals and lo0ve dogs, so this creative furniture design idea will be appreciated.
Creative furniture for kids, functional pink flowers and hearts decorations for girls room design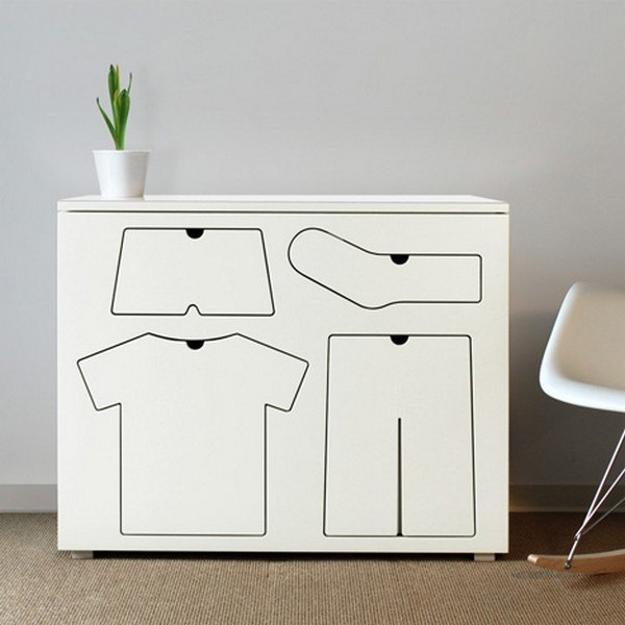 Peter Bristol created storage furniture for kids that will please their parents also. The Training Dresser is a storage cabinet with images of clothes. It is designed to teach kids to be organized and keep things in order.
20 gorgeous poufs for creative and colorful kids room design and interior decorating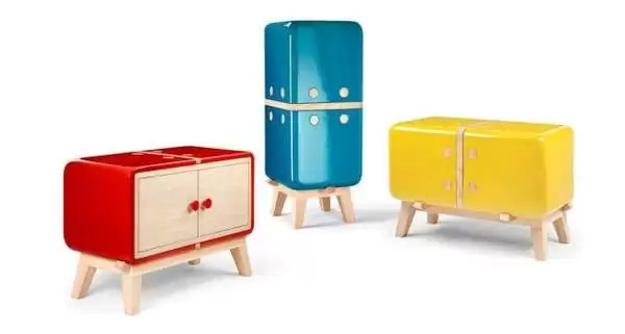 Children furniture items from the collection KERAMOS Cabinet are colorful, original and versatile. These storage furniture pieces are suitable for a young kids room and teenage bedroom designs. Bright and unique furniture design adds gorgeous accents to room colors and helps create functional and modern interior design and decor for kids. Wooden cabinets are decorated with glazed ceramic tiles in various beautiful colors. Inspired by dominoes, the designers from La Castellamonte and Adriano Design studio created the limited edition collection of 99 pieces.
Contemporary lighting design for modern kids bedroom decorating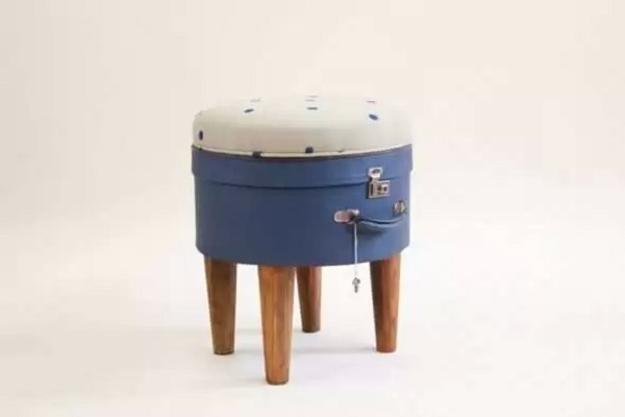 Perfect for little girls, the Stool with a Secret storage space looks like a vintage suitcase or a leather hatbox which is suitable for seating. Katie Thompson presented this original, soft and pleasant stool for adding a retro touch to kids room decorating. Made of natural or eco friendly materials and fabrics, this furniture design is ideal for children bedroom designs. Thick short legs add stability to the stool which can be used as a chair, ottoman or a side table. It costs 122$ and weighs 8 kg.
Modern children furniture for kids rooms, top 15 creative kids tables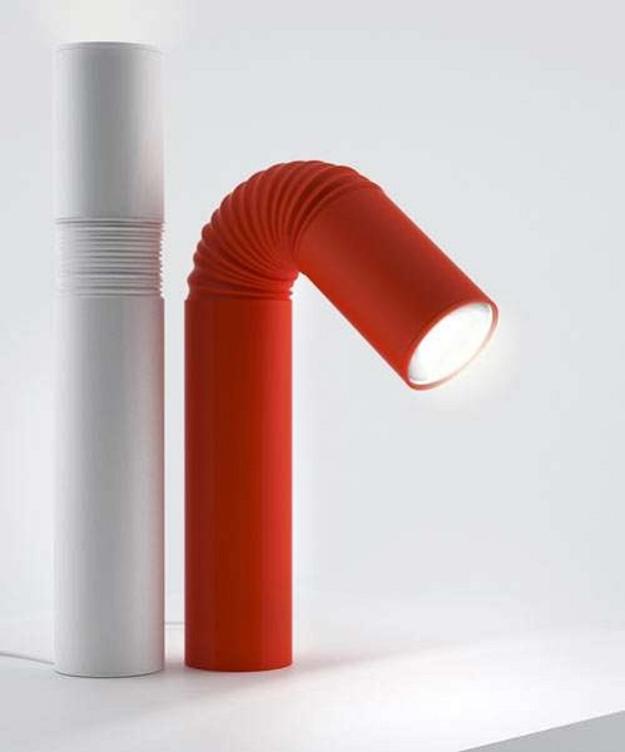 Cocktail straw table lamps are created by industrial designer Maxim Maximov. The familiar shape and organic design are blended for this interesting and attractive lighting fixtures for kids rooms. Suitable for baby room or teenage bedroom designs, the table lamps offer a versatile and stylish item for furnishing kids rooms. Its flexible metal frame allows to choose the direction of illumination.
Children bedroom decor, playful kids bed and room decorating ideas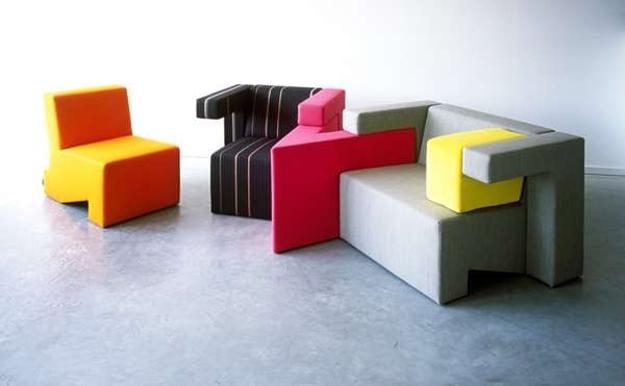 Upholstered furniture for kids from Studio Lawrence offer a great modular furniture set which helps create unique and comfortable interior design and decor with items that look like playful blocks. Colorful chairs can be combined and transformed into a large curvy sofa which can be decorated with block-like pillows to give a family room or children bedroom an amazing and unusual look.
Modern kids furniture, playful kids room decorating ideas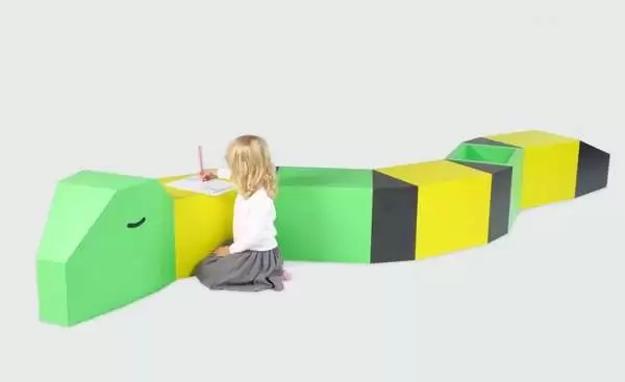 French designer Guillaume Castagne believes that children furniture is supposed to stimulate and develop the imagination. The original kids table in a caterpillar shape features modular elements that can be used as storage boxes in kids rooms.
Happy kids room design, comfortable and colorful interior decorating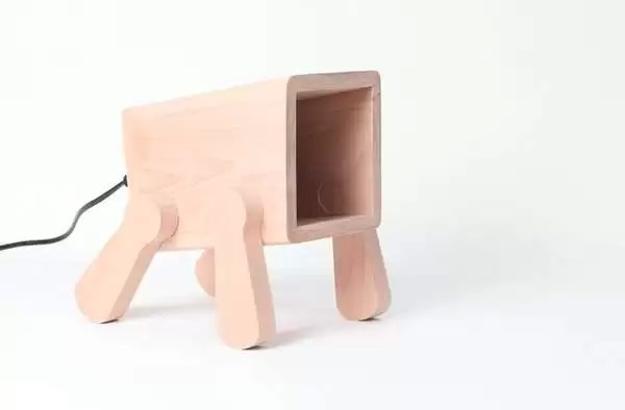 The Frank Lamp is a unique lighting fixture designed by Pana Objects, based in Thailand. Rotating legs allow a puppy to sit, lie down or paw, adding more fun to kids room decorating.
Modern kids room decor, playful furniture design for children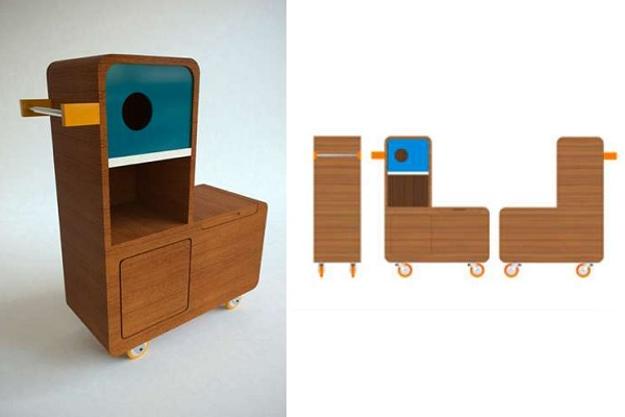 The Quackie  is a large wooden cabinet that can be used as kids storage furniture. Versatile and functional, the wooden cabinet is suitable for a baby room and young children bedroom decorating, or can be added to teenage bedroom decor or interior design for adults. The wooden cabinet from E-Glue design studio, based in France, is a hybrid of modern furniture piece and kids toys on wheels in vintage style.

Modern kids room design offers many beautiful themes. Trees on walls are one of the romantic decorating ideas that come to...