Modern Chandelier Reinterpretation by Denise Hachinger, Unique Lighting Design Idea
---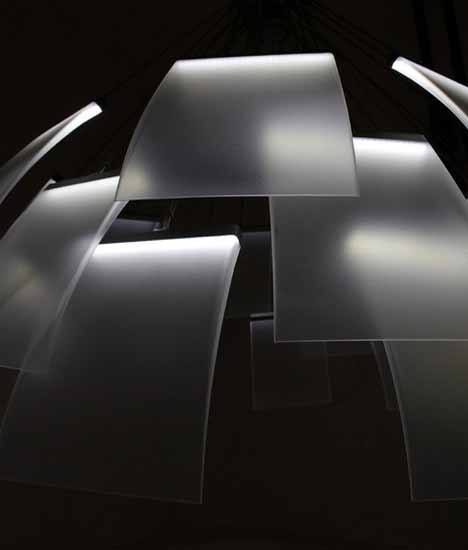 Contemporary lighting fixture that change its shape
This modern chandelier is an innovative reinterpretation of lighting fixture that demonstrates creative and unique lighting design ideas that are winning Best of Design Plus Award. Unusual and impressive lighting fixture open new opportunities in creating contemporary lighting fixtures for modern lifestyle.
This modern lighting fixture, designed by Denise M. Hachinger is an interesting interpretation of the chandelier that brings a breath of fresh air and to the classic desgn. Opening and closing lighting design is functional and very decorative, perfect for comfortable contemporary home interiors.
To adjust the amount of light, the Kronleuchter chandelier can be closed to diffuse light and change the mood in the room. The flower like chandelier opens to illuminate an entire room and create brighter environment.
Modern chandelier design trends
Lighting fixture designs to magnify home beauty
Award winning unique lighting design
Contemporary lighting fixture that change its shape
A stylish contemporary design is multifunctional, decorative and sophisticated. A German designer created a unique chandelier that is perfect for any room or tasks. Her lighting design undergoes a mechanical transformation from a closed shade to an open shape that look dramatic and bright.
When the modern chandelier is closed, the light is focused, creating a contemporary lamp shade. Lamp hangings allow to customize the lighting design.
Designer lighting, award winning unique lighting ideas
Beautiful, light and dynamic lighting design that changes its shape is excellent for interior decorating in any style and creating airy, bright and comfortable rooms.
Crystal chandeliers from Lolli e Memmoli, modern lighting fixtures
Best ceiling lighting fixtures for your living room design, modern chandeliers


Bright home interiors and amazing views of the ocean make this beach house a dream place. Large windows, light, neutral room...