Micro Small Bathroom Design Ideas from Spiritual Mode
---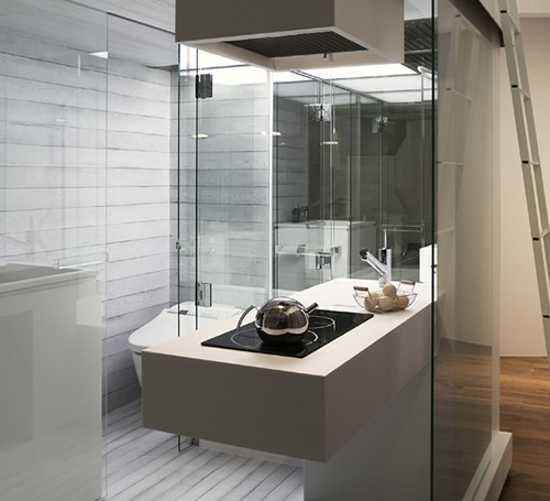 Compact modern bathroom adjusted to a kitchen unit in the room
Latest trends in small bathroom design bring glass walls that include bathrooms into an adjacent kitchen unit in the room, maximizing small apartment or home living space. Contemporary bathroom design with attractive fixtures becomes an integral part of room design that makes small homes and apartments look more spacious, functional and comfortable.
Space saving bathroom design with white fixtures, separated by glass walls from a small kitchen unit in an adjacent room, looks unusual, but functional and attractive. Glass walls reflect the light back to the room, highlighting the space saving contemporary interior design and studio apartment style.
Very small bathroom designs Subaco from Japanese company Spiritual Mode, www.spiritual-mode.com/ are stylish and appealing, and come with traditional or glass walls. Tiny bathrooms are comfortable and functional, perfect small apartment ideas.
Small bathroom remodeling and staging ideas
Space saving small bathroom design
Micro small bathroom design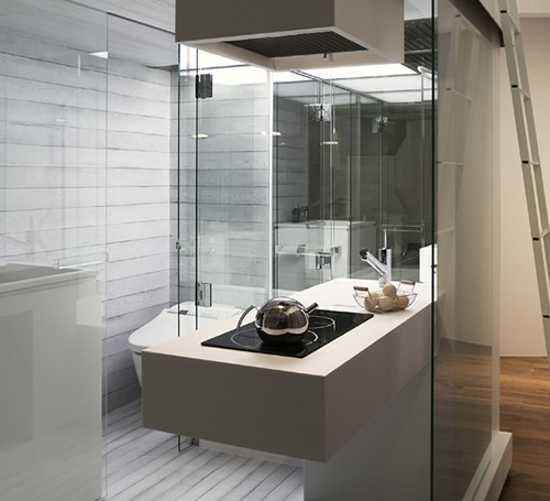 Small bathroom collection Subaco includes space saving toilets, tiny bathtubs, showers, sinks and even washers that can be arranged on 6. 5 sq ft floor area, which allows to live without compromising on style, design and function.
Compact small bathroom design can be stretched vertically, creating storage or placing a washer higher on the wall. The idea behind these compact bathrooms is that the bathroom is a necessary place, so small space it occupies should appropriately reflect that ideology.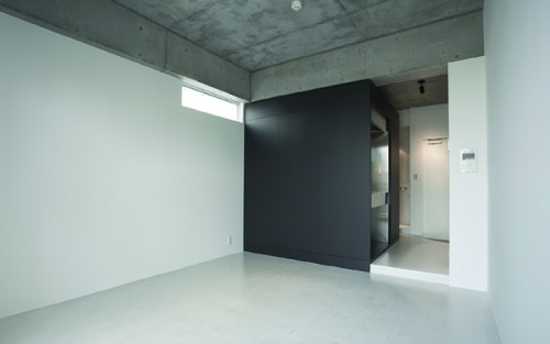 The designers wasted no space by making their models no bigger than 6.5 square feet.Very compact, functional and stylish bathrooms are ideal for city apartments and small homes. Workspace and living space are what is most important for any urban apartment, and in that regard the Subaco bathroom design gets to the point.
Modern bathroom design ideas, soaking tub, rejuvenating experience
New bathroom tub design ideas, contemporary bathroom design trends
Micro small bathrooms from Spiritual Mode are great for tiny apartments and homes, especially which decorated in a modern minimalist style. With a constant growth of urban property prices and a lack of affordable living spaces, micro small bathrooms are smart apartment ideas to create a small, but stylish home.
by Ena Russ
last updated: 27.08.2012