New Bathroom Tub Design Ideas, Contemporary Bathroom Design Trends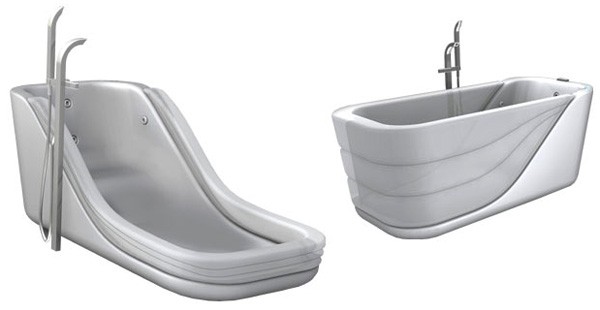 Inflatable bathroom tub for people with disavilities, convenient contemporary bathroom design ideas
small bathroom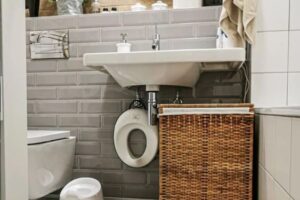 Contemporary bathroom design trends bring interesting space saving solutions for small rooms and eco friendly products that save energy and water, and combined with convenient improvements, make bathtub and shower designs more comfortable and pleasant to use.
Contemporary bathroom design implements new technology and innovations, creating beautiful  and spacious bathrooms or cozy and functional small rooms with smart, inflatable or space saving bathtubs and comfortable showers that make life easier.
Designer Su Pin Chia proposed the bathtub with an inflatable side. This smart bathtub with an especially designed structure allows easy access, which is perfect for people with disabilities and the elderly people.
Modern bathroom design, trends in bathroom tubs, 12 designer bathtubs
Modern bathrooms, 8 bathroom design trends 2012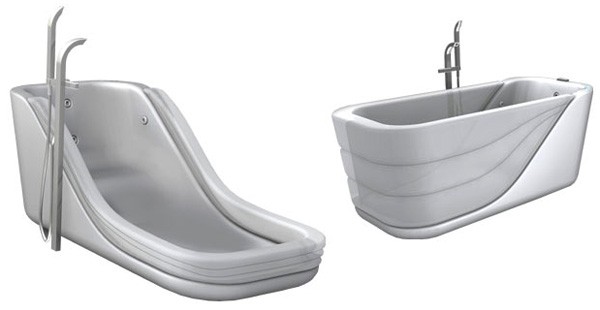 A built-in powerful pump inflates the jacuzzi bathtub side very quickly, creating a large luxurious bathroom tub to enjoy the air massage.
Space saving bathroom tub design idea
Designer Dominik Chojnacki developed a jacuzzi bathtub with a leg and unique shape for small bathrooms. The bathtub SPAcer is an interesting new bathtub design idea of vertical storage. The beautiful bathtub shape is inspired by drops of rain, the designer says.
Space saving ideas for small bathrooms, contemporary bathroom tub design trends
Green bathroom tub design idea
Another interesting bathtub design idea is developed by Lenci Design www.lencidesign.com/offering a remote control eco friendly bathroom tub Sorgente with underwater lighting and a convenient shower.
Water saving bathtub design ideas, eco friendly products and green technology for contemporary eco bathroom design
A special filtration system allows to save water and protect the environment, making this bathtub design eco friendly.
Eco friendly contemporary bathroom tub with LED lights
New bathroom tubs, wood, glass and steel bathtubs for modern bathroom design
Contemporary bathroom tub designs details
More from modern bathroom

Remodeling bathroom interiors is an essential part of creating a modern home. A beautiful, functional, well-planed, and modern bathroom design affects...
and enjoy free articles sent to your inbox