Mexican Style Garden Designs and Yard Landscaping Ideas

Decorating Ideas

Outdoor Living

Plants and Flowers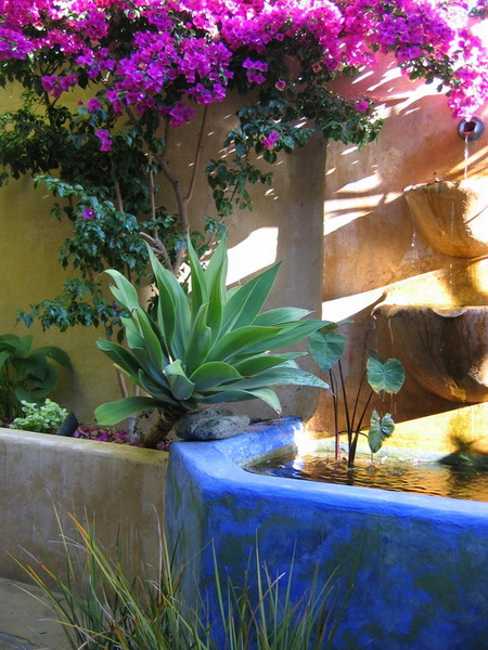 water features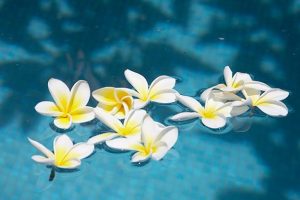 Garden designs in Mexican style look elegant and rich, focusing on people enjoying outdoor living spaces. Backyard designs in Mexican style reflect the Hispanic cultures and create welcoming outdoor rooms for socializing, dining and entertaining. Mexican gardens are courtyard style with a water feature, a dining area and flower beds. Garden designs are inspired by various Mexican landscapes from lush tropical forests, to desert and coasts.
Mexican courtyard garden design and backyard landscaping ideas may mimic favorite places in Mexico, adding plants and yard decorations inspired by the relaxing and beautiful coasts of Mexico, the spectacular mountains or northern deserts. The dining and socializing area is the central place of the Mexican garden design, and it includes a small outdoor kitchen, handmade brick BBQ and dining furniture.
Garden designs in Mexican style give a feel of colonial design with nature inspired colors, local plants and flowers in terrra cotta pots and vases. Handmade ceramic tiles in earthy tones, like terra cotta, orange, brown and red color shades can feature nature inspired designs, the sun and cacti. Backyard designs in Mexican style have comfortable and unique furniture.
Top 10 trends in backyard landscaping, garden design and outdoor home decorating
Beautiful landscaping ideas and backyard designs in Spanish and Tuscan styles
Garden designs in Mexican style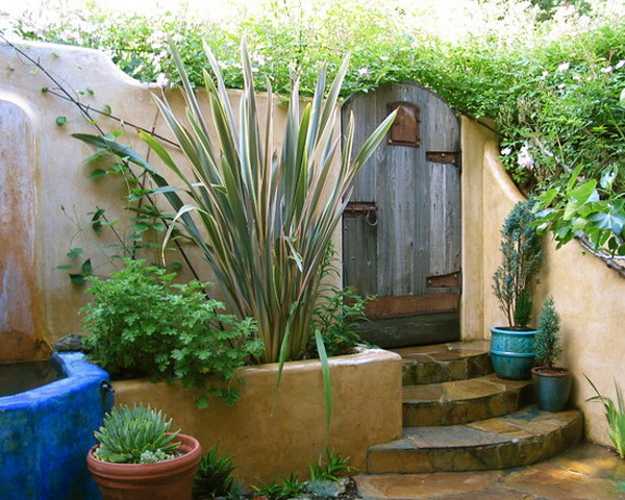 Wrought iron dining tables and outdoor lights, or handmade of rustic wood dining furniture pieces are welcoming and functional. Terra cotta flower pots and a small water feature, like a small fish pond or a fountain made from old terracotta containers, add tranquility and natural feel to garden designs and backyard landscaping ideas in Mexican style.
Cacti and exotic tropical plants are the most spectacular element of colonial garden design in Mexican style. Lots of cacti and tropical plants, lemon, orange, nut or banana trees, add Mexican style to backyard landscaping, of course, if your climate allows. A small vegetable garden for growing your own vegetables add functionality to backyard landscaping, offering a greater experience than visiting a supermarket.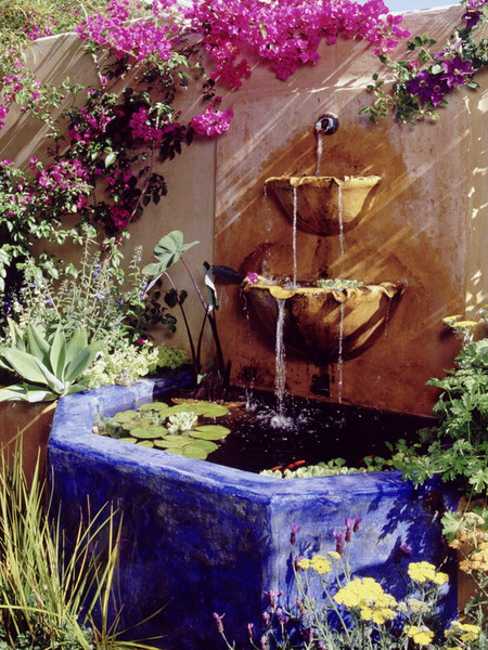 Blooming flowerbeds and aloe vera and flowering agave plants, large arrangements of hanging baskets, blend blooming plants and lush vegetation, vreating lovely garden designs in Mexican style with fuchsia, golden trumpet,hibiscus, hosta, orchid, acacia, caladium, rex-begonia vine.
Contemporary small garden design, creative yard decorating ideas
Handmade chair made of branches adding Mexican flavor to furniture design
Bright wall frescos and pottery add traditional yard decorations to backyard landscaping in Mexican style. Wrought iron gateways and ceramics with painted traditional patterns, Aztec style colorful decorative cushions and tablecloths add bright color combinations and distinct look to beautiful backyard designs in Mexican style.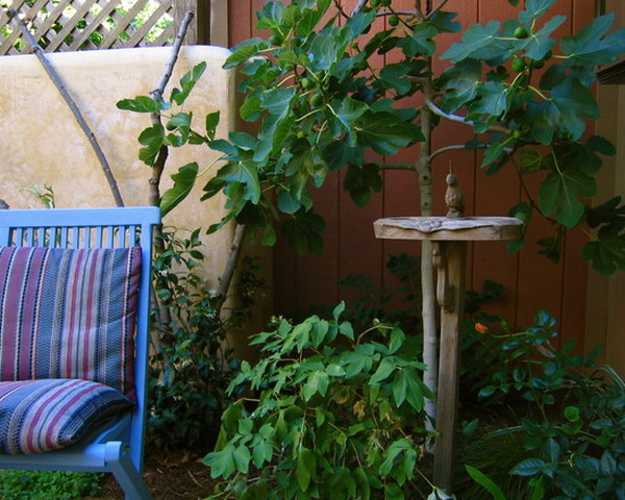 Thatched straw roofs and wooden pergolas make the dining areas cozier and add unique decorative accents to garden designs in Mexican style.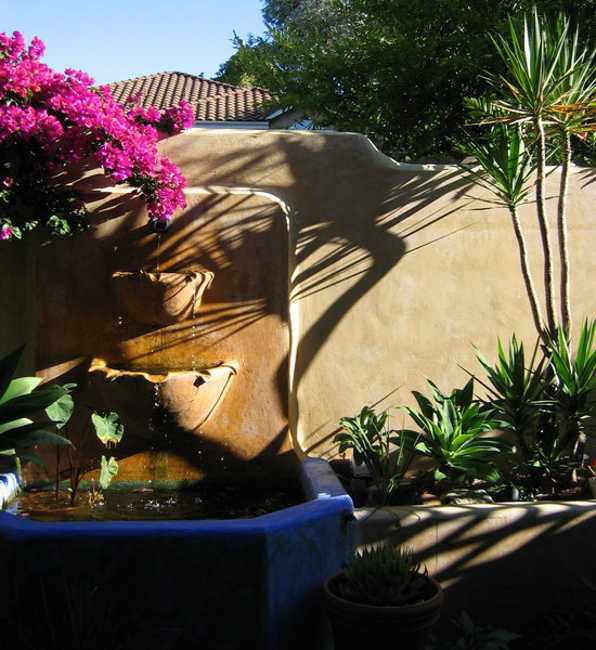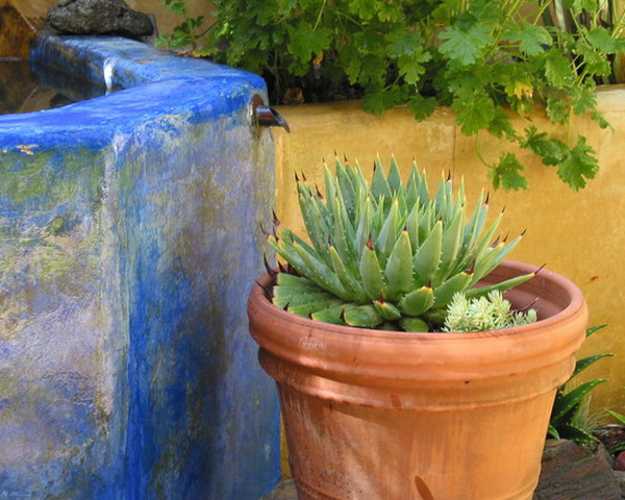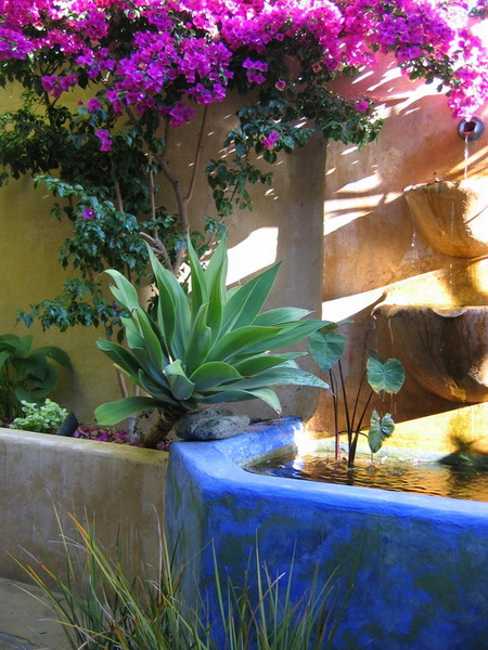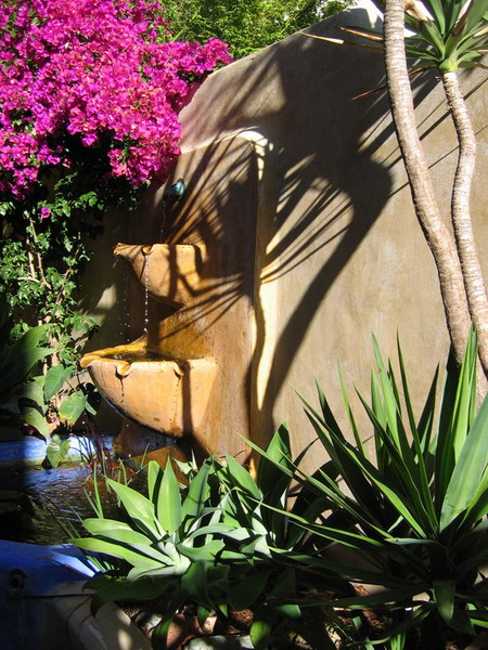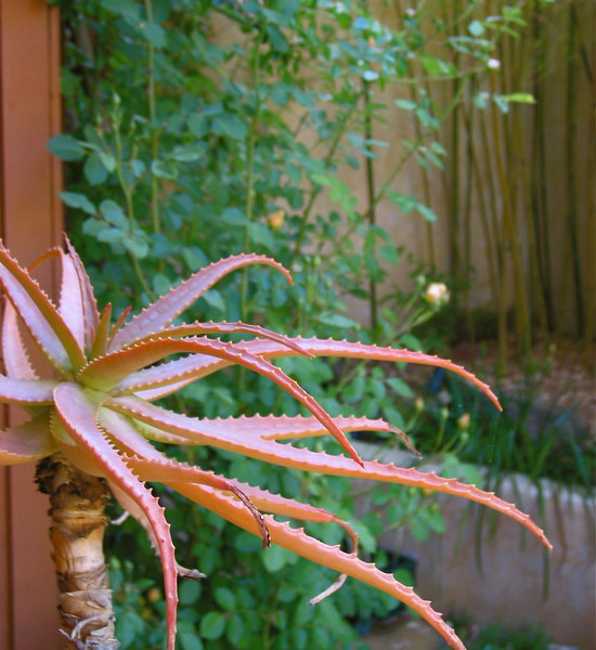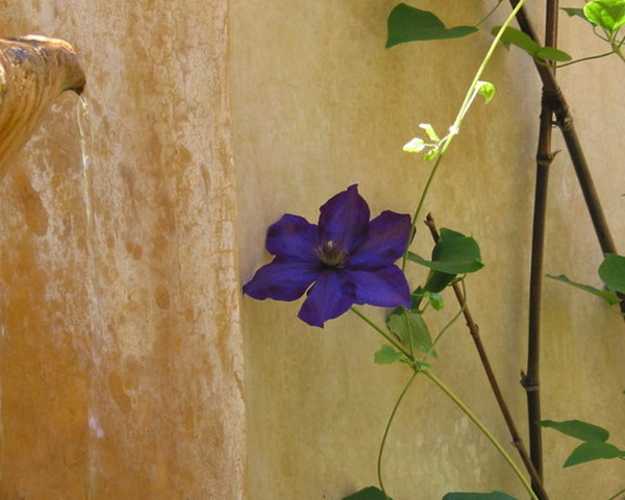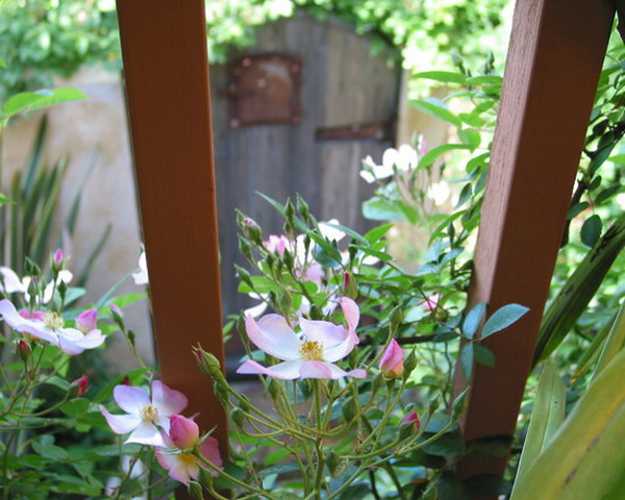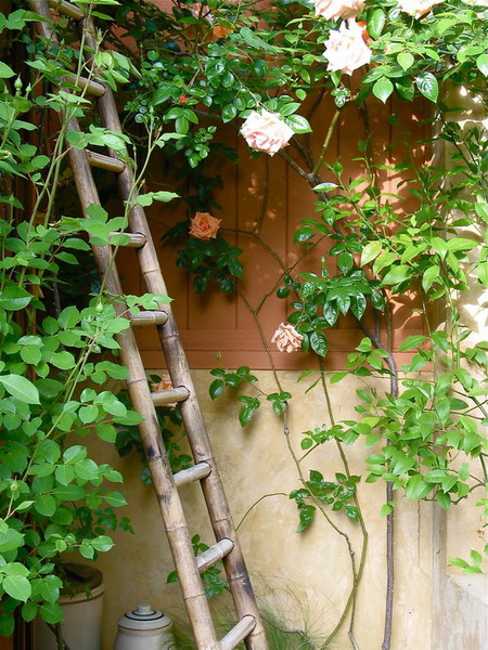 Photographs and landscaping ideas by Kathleen Shaeffer Design, Santa Cruz, California
More from landscaping ideas

Outdoor swimming pools built on the hills are spectacular. Envision swimming in the pool perched atop the perfect mountain overlooking the...
and enjoy free articles sent to your inbox