Eco Friendly Products, Energy Saving Plug and Power Bar from Ryan Jongwoo Choi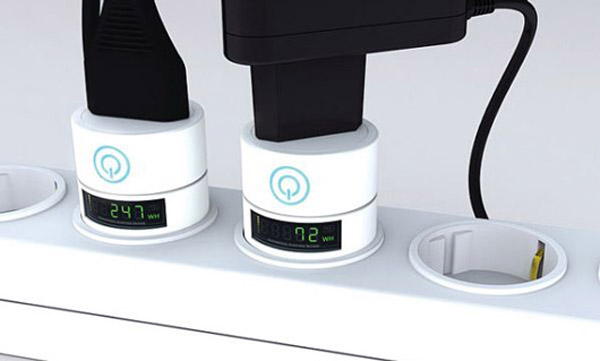 Energy saving plug and power bar, eco friendly products for reducing energy costs
Eco friendly products and reducing energy costs are hot topics. Wires and cables waste electric energy, when we do not use plugged in computers and home appliances. An energy saving plug and a power bar from designer Ryan Choi are developed to prevent wasting energy in homes and offices.
Caring for the environment means saving energy, and reducing the energy costs is especially important during the time of slow economy. An eco friendly products from a young South Korean designer offers energy saving green design and effective reducing energy costs ideas. The functional and attractive energy saving plug and power strip are designed to eliminate the common problem of loosing energy in tangled electrical wires and cables also.
The smart plug from a student at the University of Industrial Design in South Korea, Ryan Jongwoo Choi has a small size, attractive look and allows to unplug some cables from equipment, lamps and home appliances that are not used.
Smart home automation will lower electricity bills
Wire organisers or wall decoration ideas
Energy saving plug and power bar, eco friendly products for reducing energy costs
There are several effective ways of reducing energy costs and preventing the waste of electricity, collecting it for future usage.
New contemporary plug and power bar design ideas are based on similar green ideas. 26 year old designer offered a similar concept that helps to avoid unnecessary power loss by reducing the number of electric cables in a socket or a power strip.
How to build an eco friendly home on a budget
Organize cable clutter, hide cables in walls
Light, small and attractive plug and power bar are eco friendly products that help avoid passive energy consumption. The rounded shape of the plug provides convenient flexibility and prevents electric cables from tangling.
Reducing energy costs design ideas for green living
Often small houses, offices and apartments do not have enough sockets. Smart plug and power strip designs from Choi allow efficiently use available sockets without wasting electric energy.
More from contemporary design

Modern house design in Japanese style celebrates the functionality and elegance of minimalism. Airy, bright rooms look inviting and comfortable. Natural...