Kids Bedrooms Furniture, Practical, Solid Design for Kids

Decorating Ideas

Furniture Accessories

Kids Rooms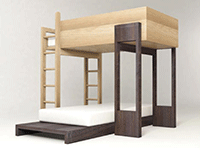 Children's bedroom set, solid wood, Inquisitive Kid, Canada
furniture for kids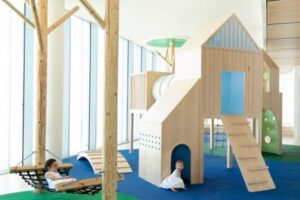 Creative architectural firm and developer of kids bedrooms furniture Inquisitive Kid sells high quality contemporary children furniture. The Canadian company makes space saving, practical and attractive kids decor items and the entire collection of kids bedrooms furniture items made of solid wood.
Stylish kids bedrooms furniture made of solid wood (www.inquisitivekid.com) is sturdy and practical for kids rooms. Wood bedroom furniture is not cheap, but functional and artistic. The company develops interesting and attractive kids bedroom furniture concepts, offering modern, space saving decorating ideas, that are great for small bedrooms.
Inquisitive Kid offers the complete kids bedroom furniture sets, including contemporary style Wave Writing Desk, made of walnut, and modern Ozone Blue storage unit, that looks interesting and functional.
Wave Desk and a chair are stylish childrens bedroom furniture pieces, a space saving design for kids and teens. Continuous wooden surfaces that flow up and over itself, forming a functional shelf, make beautiful decor items for children bedrooms or small home office designs.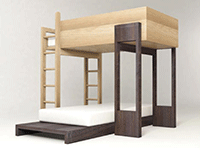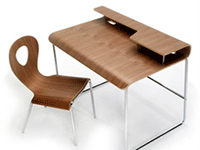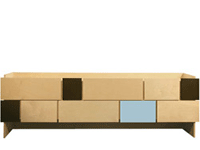 The desk and chair design was inspired by cresting ocean waves, and resolving this elegant, but technically challenging shape took more than three years.
Ozone Blue drawer can be used as a storage unit in children bedrooms and home offices, a storage cabinet in the dining room or living room. The top is easily reachable for children and can become an additional surface for a child to play. The storage unit features one bright painted drawer that adds interesting accent to childrens bedroom furniture design.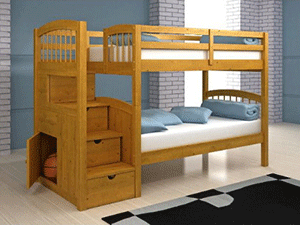 Bunk beds for kids
Bunk Bed King, Texas, is a family owned and operated company that offers functional solid design for kids bedrooms.
Attractive, functional, made of solid wood bunk beds are comfortable, safe and practical.
Space saving bunk beds concept with a stable ladder and storage under the steps is perfect for small kids room design.
Modern kids room design
Kids bedroom furniture companies continuously monitor modern children preferences for developing fresh decorating ideas for kids rooms.
Every year they offer new contemporary childrens bedroom furniture designs, like space saving loft beds or mounted on the wall beds that are designed to save space and create attractive, efficient and functional interiors in small spaces. (Teen boy room design and organizing)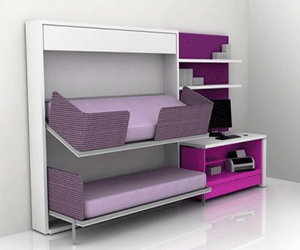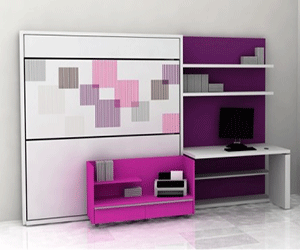 To redesign your kids bedroom, try to arrange appealing  and airy kids room design, using modern space saving furniture and organizing effective storage for clothes, toys and books. (Comfortable ideas and growing with kids furniture designs)
The combination of functional childrens bedroom furniture, practical storage units and comfortable closet design creates well organized, spacious and attractive kids rooms.
Modern kids room decorating ideas:
Kids room decor with playful shadows
Interior decorating from toddler room to teen quarters
Kids bedroom space-saving stylish ideas

Here are great ideas for kids toys storage and wall decoration with small cars that everyone would love. DIY organizers, like...
and enjoy free articles sent to your inbox