Interactive Framed Picture, Modern Wall Decoration from Scott Garner
---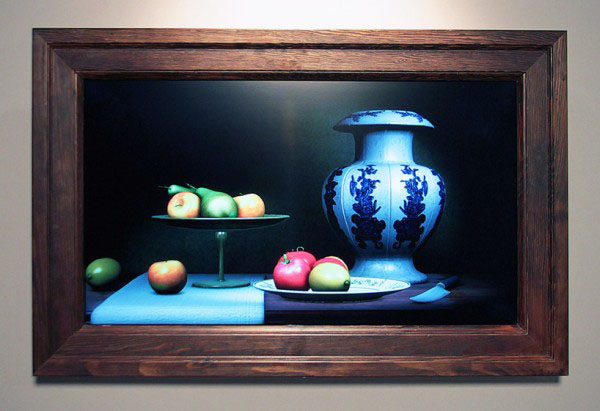 Flat screen and wooden frame for modern wall decorating, interactive still life painting
An interactive framed picture in a wooden frame is a creative and innovative contemporary design ideas for modern wall decoration. An interactive still life painting that can change its appearance in a second makes an interesting and unusual gift and offers surprising ways of modern wall decoration.
The interactive art work from Scott Garner looks like a framed still life painting of a white-blue vase and apples and pears on a metal tray and a ceramic plate.
If you slightly tilt the painting frame, images start to move down, changing the still life painting  and creating a new design with surprising object combinations.
Creative wall decoration with picture frames, bright white and red color combination
Decorating with old picture frames, money saving wall decoration ideas
Flat screen and wooden frame for modern wall decorating, interactive still life painting
Unusual interactive painting is created with a flat screen, a wooden frame and a bracket that allows the frame to rotate on the wall, creating unexpected images for whimsical wall decoration.
Few spacial sensors, attached to the back, react to the rotation angle, moving objects on the screen in accordance with the slope and creating realistic images.
Digital technology for creating unusual wall decorations
Digital wall panel and smart window designs, modern interior design ideas
 Empty picture frames, modern wall decoration ideas
Interactive wall panel that changes images
More from decorative accessories

Throw pillows in various colors, designs, and patterns are one of the easiest ways to refresh your room design and inject...