Ideas for New Years Eve, Edible Table Decorations
---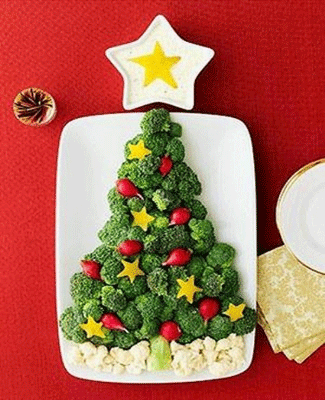 Table decorations for Green holiday, edible decorations for New Years Eve party
New Years Eve party is a wonderful holiday event that you celebrate with those you love. Simple ideas for New Years Eve do not require any special talent to make your party table stand out and give your guests an opportunity to enjoy great food, pleasant atmosphere, cheerful colors and lovely edible decorations.
Inspired by a Christmas tree, snowmen, snowballs and snowflakes images, edible decorations for New Years Eve party create unique, festive and inviting atmosphere. Winter themed New Years menu ideas add charming accents to beautiful holiday table decor and show how much you love winter holidays. (Contemporary ideas for New Years Eve and table decorations)
Edible decorations are welcoming. They make adults and kids smile. Edible decorations are an excellent choice for setting your party table in eco style and celebrating Green holiday season with joy and interesting food design ideas. (Food design and edible decorations, made of chocolate and flowers)
Stylish decorating ideas for New Years Eve party table, edible decorations
Stylish ideas for New Years Eve dinner table
Choose New Years eve party decor colors and decide what color your edible decorations will be. Gold or silver edible glitter, brown cacao or chocolate and white sugar powder are helpful for creating beautiful winter holiday table decorations. Try to select matching colors for your dining room decor, table cloth, napkins, plates and edible centerpieces. (Edible rose decoration for gourmet recipes)
Plan to offset your table cloth with plates, Christmas decorations, candles, colorful fruites and edible decorations to create stunning  New Years Eve party table setting. Black, brown, green, red, gold, silver and white table decorations, including party hats, balloons and small Christmas decorations look great with interesting food design ideas and create unique dining atmosphere to celebrate New Years Eve in style. (Organic flowers for dinner table decoration)
Table decorations for Green holiday, edible decorations for winter holiday party
Edible New Years Eve party table decorations
Inspired by a Christmas tree or a snowflake, table decorations, sandwiches, cookies or appetizers, are easy to make. You need fresh vegetables, like broccoli, radish or cherry tomatoes, lemon and star fruit to create impressive New Years Eve party table decor and surprise your guests with colorful edible decorations.
Snow covered water well, edible decorations and creative ideas for New Years Eve
Snow covered water well for a traditional bottle of champagne is created with bread sticks and icing. Snowmen, made of a mix of boiled eggs, mayonnaise, shredded cheese, rice and decorated with carrot pieces, are beautiful edible decorations that all your guests, adults and kids, will be glad to taste.
Edible snowmen, table decorations, holiday party food design ideas
Ideas for edible table decorations:
Edible decorations for Christmas
Edible flower cuisine, gorgeous food design ideas
Edible flowers, blooming table decoration
by Ena Russ
last updated: 13.10.2016