Floating Houses, Contemporary Home AquaVilla in Stockholm
---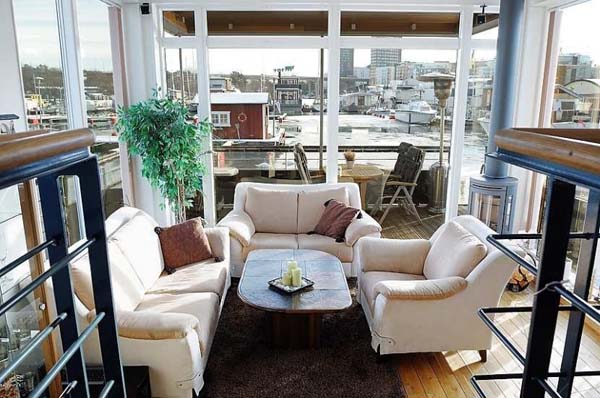 Living room with large windows and sliding glass door to the deck
Floating houses are romantic and attractive. Floating houses offer contemporary level of comfort and beautiful views. This floating house is located in the Pampas Marina, just a few minutes away from the center of Stockholm, the capital of Sweden.
AquaVilla design features several decks and terraces, offering perfect spots for sunny days. Large windows and terraces, equipped with wooden outdoor furniture and a hot tub, provide a unique opportunity to relax and enjoy beautiful scenery that Stockholm has to offer.
Light furnishings and spacious home staging are good choices for this unusual residence presentation for sale. Built in 2006, this floating house is back on the market, offered at just over $1 million.
Floating platform Recreational Island, floating houses of the future
Floating house in Sweden, residence AquaVilla
Cozy living room with glass walls and sliding door to the terrace, modern kitchen design with black wall tiles and stainless steel appliances, relaxing bedrooms and functional bathroom design with glass shower in the corner are just few attractive points of this floating house design.
Floating houses
Floating houses, modern floating house design by Robert Harvey Oshatz
Modern floating houses, amphibious house that rises to survive flood
Living room with large windows and sliding glass door to the deck
Floating house design details
by Ena Russ
last updated: 29.03.2012