Modern Floating Houses, Amphibious House that Rises to Survive Flood

Green Design Ideas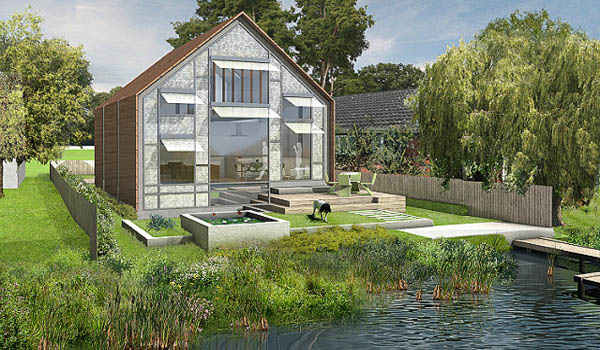 Modern house design on a pontoon under the ground foloor, floating houses that will survive the flood
architectural designs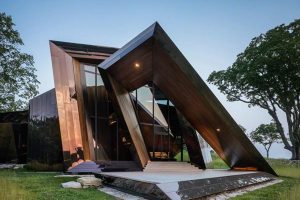 Floating house design that helps survive the flood is developed in UK. Amphibious house design will enable residents to adapt to the challenges of climate change.  The modern house rises to flooding challenge and floats, providing a safe place to live in after a terrible disaster.
The new floating house design features a pontoon beneath the ground floor, that allows the building to float, offering an excellent solution to building a home on a plot next to a flood prone river. The amphibious house design was granted the permission for construction on an island in Marlow, a small town in the River Themes 35 miles west of London.
The house will rise if the surrounding area floods, turning the building into a floating house on a pontoon. The upper part of the house is constructed from lightweight timber, according to its creators Baca Architects, while a concrete basement level sits inside a wet dock consisting of a base slab and four retaining walls.
Floating house designs, houseboats
Romantic floating house for two, modern house designs for getaways
Modern house design on a pontoon under the ground floor, floating houses that will survive the flood
If the flood happens this floating house will rise, and vertical guideposts running up the house exterior will prevent the house from drifting off downstream.
A terraced garden will also surround the property encouraging incremental flooding while also helping manage run-off when water levels start to subside.
Modern house design that rises and floats during the flood
Richard Coutts, director of Baca Architects said in a statement: 'From the outset, we sought the expert advice of the UK Environment Agency to determine the most appropriate construction model to mitigate flood risk on the site and provide a safe dwelling, sympathetic to its setting and fit for the challenges of the 21st century.'
Floating house design that helps survive flood, providing safe home for residents
'Amphibious house design is one of a host of solutions that can enable residents to live safely and to adapt to the challenges of climate change,' he added.
Urban sustainable architecture, floating Arcology concepts
Houseboat concept by Tom Pearce, floating houses of the future
Modern houses in the flood prone area in England
Photographs courtesy of Baca Architects

Bright home interiors and amazing views of the ocean make this beach house a dream place. Large windows, light, neutral room...
and enjoy free articles sent to your inbox