Crescasa Houseboat Concept by Tom Pearce, Floating Houses of the Future

Green Design Ideas

Outdoor Living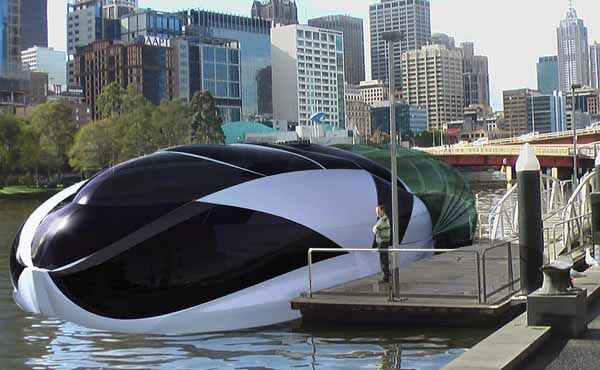 Futuristic concept of floating house, sustainable houseboat design
eco homes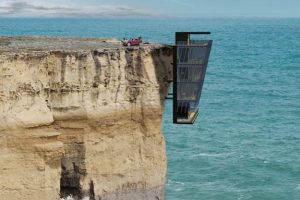 Crescasa Houseboat is a contemporary design concept of comfortable and eco friendly floating houses in the future. Gloating houses are a green alternative to the metropolis, offering a moving home that provides a modern home and transportation.
Houseboating is getting popular for living and vacationing on the water. There are big communities of people in London and Amsterdam, living on the water and having the ability to move from place to place. Americans and Canadians like houseboating also, choosing to buy or rent a floating house for the summer.
Crescasa Houseboat from designer Top Pearce is a floating house of the future. According to his vision, in 2040 people would like to combine their home and transport into a single organic living space. The blend of contemporary architectural and automobile design ideas would create floating houses that are convenient, eco friendly and comfortable.
Urban sustainable architecture, floating Arcology concept
Futuristic floating house design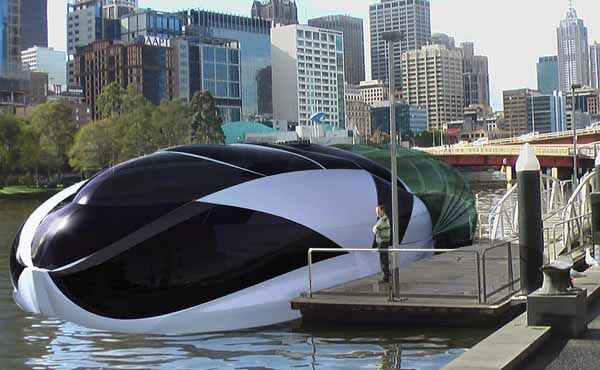 Multifunctional design ideas are a modern trend with the great potential. Houseboats symbolize an organic blend of transportation and home design, ideal for vacationing on lakes and rivers or living in cities with waterways and canals.
Designer Tom Pierce believes that every year more and more people will move from traditional homes and apartments to floating houses on the water. Green living ideas and eco friendly house designs, that allow to move from place to place look very appealing and interesting. He created the floating house Crescasa Houseboat for the future nomads who appreciate the freedom and clean air.
Futuristic floating house in the city
Living on the waterways is a great idea. Stress free lifestyle, the connection with the nature, no transport headaches and the ability to move make houseboating so popular. Eco friendly design and comfortable interiors with picturesque views are excellent for all who likes relaxing lifestyle.
Romantic floating house for two, modern house designs for green living
Inflatable Crescasa Houseboat is a small floating house with an engine. Built from bamboo hemp composite material the floating house design is sustainable and eco friendly. Such houseboats would have aerocultural farms and aeroponic gardens on board for growing organic food on vertical frames. Waste can be converted into biofuel to run the engine and provide electricity to the floating house.
Floating home interior, futuristic houseboat design concept
The floating house comprises of an expandable design that allows to extend the living space at the rear end of this futuristic houseboat and comfortably accommodate more people. It can be used to create pleasant outdoor rooms also.
Floating platform Recreational Island, floating houses of the future
Floating modern homes, Fiorella Yacht, space saving design ideas
This small floating house has two bedrooms, kitchen and bathroom. According to the idea of the designer, a new generation of aquatic nomads can create their own community for cooperating and coordinating their actions.

What time is it? It's singing bird o'clock! This unique timepiece is bringing the fresh vibe into spring decorating, making elegant...
and enjoy free articles sent to your inbox