Floating Platform Recreational Island, Floating Houses of the Future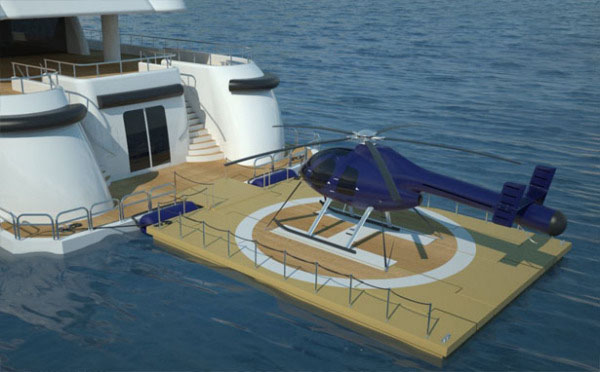 Yacht with floating helipad
DECORATING SMALL APARTMENTS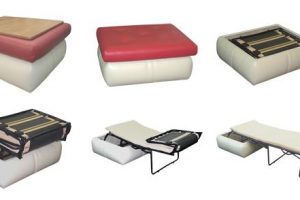 Floating platform design project Recreational Island developed a unique concept of anchored folding platforms that can become hotel rooms or summer houses in the future. A floating house will make it possible to enjoy your own small island that includes indoor and outdoor living spaces with a pool, a small boat and a water sport station.
The impressive and functional anchored platform Recreational Island from designer Henry Ward, www.recreationalisland.com/ is an interesting design concept of an innovative large yacht accessory that shows great potential. The idea can be used for designing a getaway hotel rooms and cottages that can be folded up and transformed into a container-like shape for transportation and winter storage.
Designed as a beautiful addition to the yacht, anchored floating platform idea can be developed into a small floating house, hotel suit or cottage in the future with functional interior design and pleasant outdoor rooms.
Urban sustainable architecture, floating Arcology concepts
Recreational Island design concept
Recreational Island floating platform can be located anywhere, offering a unique opportunity to enjoy a private space, a pool, a water sports platform, a small boat and a diving board.
Floating platform Recreational Island
The Recreational Island has been designed to optimise available space, whether it is opened out on the water, or tucked away in the garage of your super yacht. It is deployed using two standard overhead cranes and once in the water it is towed using a second tender to a preferred location.
Once there, a pressurised hydraulic system opens the Island out, complete with all the fittings. Four anchors hold it in place while you enjoy your time on and around your Island.
Floating platform design idea, stationary platform that can be used for recreational, business and military purposes
Recreation Island floating platform offers a nice deck and a pool that can be used for a party, a romantic dinner, short getaways or unforgettable one day trips.
Romantic floating house for two, modern house designs for green living
Empty container house, cheap and durable modern house designs
The floating platform can be folded and transported to the port for winter storage.
Transformer floating platform design that can be folded for transportation
The anchored platform can be used as a convenient yacht accessory, a helipad, designed for helicopter takeoff and landing.
Yacht with floating helipad, anchored platform
Recreational Island is a stationary folding platform design idea that can have many applications, including private vacations, business and military purposes. And maybe in the future floating folding platforms can be used as small floating houses for romantic getaways or as hotel rooms, providing more privacy.
Recreational Island folded for storage, innovative yacht accessory, anchored platform
Hotel rooms and floating houses in the future
Recreational Island platform is not large, 8 m x 10 m (23 ft x 33 ft), providing enough space for adding a small summer cabin with space saving interior design, comfortable furnishings, a deck, gazebo, pool and outdoor furniture. It looks that creating a shipping container-like floating house that can be easily transported to a container terminal will be possible in the future.
Anchored platform Recreational Island

Snowflakes are perfect Christmas decorations and eco gifts that you can make in an infinite variety of sizes and designs. White...