Easter Crafts and Figurines for Home Decorating, 15 Fun Easter Decor Ideas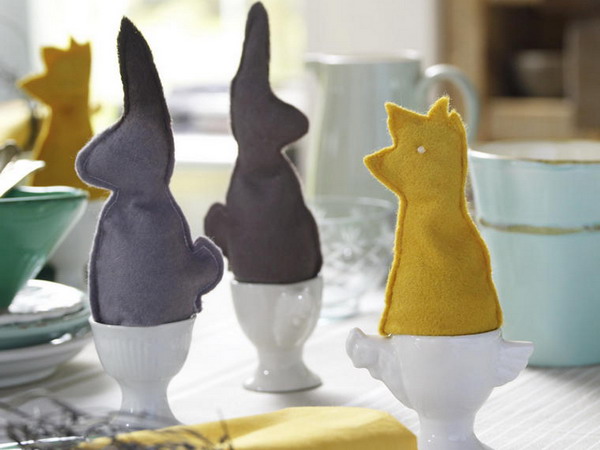 Easter crafts and handmade decorations, Easter bunny for spring holiday table decorating
Easter crafts and figurines are wonderful home decorating ideas that add warm and playful accents to spring holiday decor and create festive and relaxing atmosphere. Making Easter decorations is a nice activity for kids and adults.
Creating beautiful window decoration and table centerpieces with Easter crafts and figurines, fresh flowers and colorful eggs is a way to unleash your imagination and show your sense of style and beauty.
While there are many Easter decor ideas and shopping opportunities, there are no better Easter decorations that handmade Easter crafts and figurines in retro style that feel familiar and add traditional charm to spring holiday decor, connecting generations.
Easter egg decorations and table centerpieces, 15 creative Easter ideas
14 colorful Easter ideas for spring holiday tal decoration
Easter crafts and decorations
Easter crafts and handmade decorations, Easter bunny and chicken decorations made of felt for creating unique spring holiday decor
The internet is a good source of Easter ideas and inspirations. You can find thousands of unique Easter crafts, fun figurines and Easter decorations for thic wonderful spring holiday.
Checking out your local Easter decor shops is a good choice also. You may find a great deal or Easter crafts, figurines and decorations that are truly unique.
Easter decor ideas, hen figurines made of paper for spring holiday table decoration
Handmade Easter decorations and crafts are inexpensive and charming. Handmade Easter decorations, figurines and traditional Easter crafts are wonderful for eco friendly, inexpensive and personal spring holiday decorating.
Egg shell and flower table centerpiece ideas for eco friendly Easter decorating
Egg sells, creative crafts and Easter decor ideas
Simple handmade Easter decorations are great for families with kids. There are millions of delightful and fun Easter crafts and decorations you can make at home with your family, adding very special items to your window decoration or table centerpieces.
Simple Easter crafts for spring holiday decor, hanging chicken and egg decorations made of paper
Handmade Easter decorations and figurines, from simple to artistic and challenging, will make your Easter decor ideas impressive, welcoming and unique, bringing festive mood and meaningful images into your spring holiday decor.
Easter floral arrangements, color symbolism, Easter decor ideas
Egg decorating ideas, egg shell carving, amazing handmade Easter decorations and eco gifts
Handmade Easter decorations and traditional figurines are a nice way to add your favorite colors and the warmth of skilled hands to your Easter decorating.
Easter bunny figurines and eggs for traditional Easter decorating
Delightful Easter decorating ideas
More from make decorations

Festive staircase designs make a huge impact and add fun to Christmas decorating. If you like to decorate for the winter...