Contemporary Paint Brushes from CuldeSac for Creative Painting Ideas
---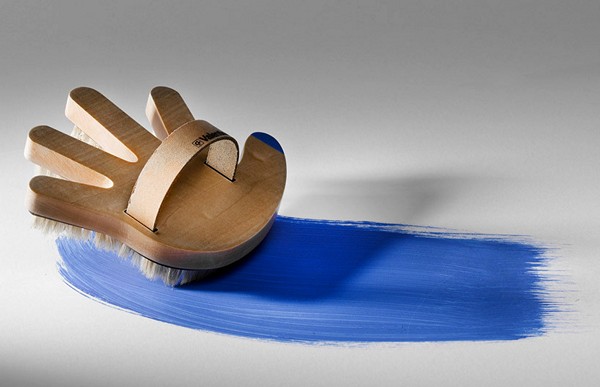 Unique paint brush design ideas from Spanish art studio CuldeSac
Creative painting ideas are a way to add personality to interior decorating and design very personal and interesting walls and furniture. Contemporary paint brushes collection The Paint Evolution from Spanish art studio CuldeSac are unusual and innovative, perfect for unique decorative designs.
The contemporary set of brushes, created for Valentine, the Spanish paint manufacturer, offer convenient tools for interior painting, each of which can bring charaster and unique decorating theme into modern interior design.
The amazing collection of paint brushes and rollers from CuldeSuc www.culdesac.es/ allow to design beautiful and unusual ceiling, furniture and walls, adding creative and unusual patterns and color accents in stylish and artistic ways.
Hand painted wall tiles, simple ways to decorate old bathroom and kitchen tiles
Paint Evalution collection of innovative brushes for modern interior painting and artful designs
The Paint Evolution collection includes two dozen creative paint brushes and rollers, each of which plays an individual role in interior painting.
Inspired by various objects, paint brushes come in different shapes and sizes, making painting more comfortable and enjoyable.
Unique brush design ideas from Spanish art studio CuldeSac
One of the brushes is designed for the ceiling painting and made as a helium ball. Another paint brush for delicate finishing work looks like knuckles made of wood. Unusual,playful and surprising the brushes collection symbolizes the evolution of interior painting.
Wall mural painting ideas for stylish interior decorating
Staging redesign and furniture painting
A palm-shaped or a wrist-shaped brushes are comfortable and innovative. A fork-shaped brush is a great tool for painting stripes. A spatula-shaped paint brush is excellent for detailed painting work.
Unique paint brushes for creative painting ideas and graphic designs
Contemporary and innovative brushes with thin and sharped edges work well for painting corners, and rollers give more opportunities to create painting that looks like contemporary graphic art.
by Ena Russ
last updated: 30.01.2012