Contemporary Lantern LampeH by Mathieu Azema, Modern Lighting Design Idea
---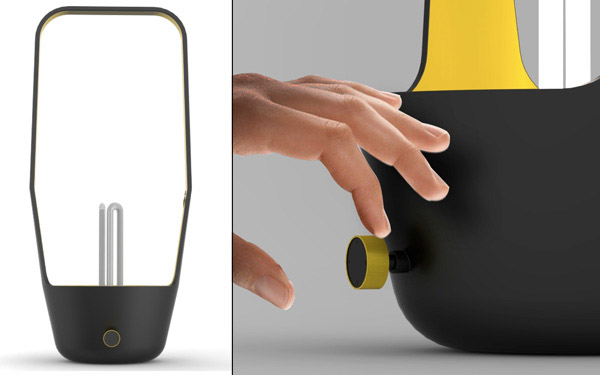 Contemporary portable light in black and yellow colors
The contemporary lantern designed by Mathieu Azema reminds of traditional lanterns or kerosene lamps that people have been using for centuries. Lampe H is a contemporary lighting design that is fnctional, easy to use and simple.
This contemporary lantern looks light and easy to use, but an open bulb requires more protection while using the lamp and changing a bulb. This creative and artistic lighting design is an interesting idea for developing more practical portable lamps.
Elegant contemporary lighting design, inspired by traditional lanterns has a retro style flavor, that make the lighting design feel familiar, but fresh, connecting generations and blending old and new forms.
Moroccan home decorating ideas, unique Moroccan lamps
Coffee can lanterns, charming DIY project to recycle cans for outdoor lights
Contemporary lantern, modern lighting design idea
Black and yellow, green or pink color combinations look exciting and stylish, balancing simple lighting design.
A simple knob activates  the on/off  button, which increase the functionality of this modern lighting design idea.
Contemporary portable light in black and yellow colors
Unique lighting Lampe H is lightweight and comfrtable ro carry anywhere with its thin long handle. This modern lighting design idea is interesting and creative, offering modern lighting design that can be used as a ceiling light for a covered deck or a hanging lamp in a gazebo.
Japanese lantern with butterfly, romantic table lamp design idea
Paper lanterns, Sacura flower lamps
Modern lighting design inspired by traditional lanterns in various colors

Decorating with glass elements add chic and style to modern house designs. Gorgeous homes with large windows provide attractive and functional...