Attic Apartment Ideas, Loft Style Interior Design with Scarlet Red Accents

Red Color Accent

Room Colors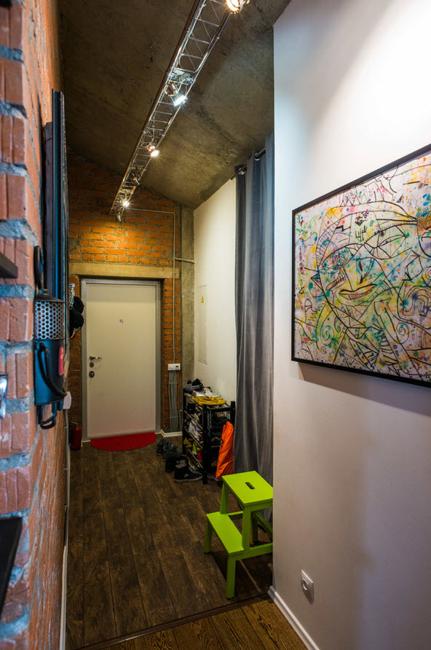 Loft-style entryway ideas, exposed brick walls, industrial lighting design, wall art
decorating small apartments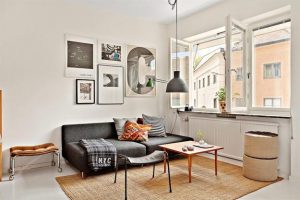 Attic apartment ideas can inspire to create additional space or transform useless areas into a lovely home. Loft style is one of the interior trends that work well with attic apartment ideas. Blending attic design with loft-style elements gives small spaces a unique look. Inspired by warehouses or factory workshops, loft-style interior design is perfect for attics. Bringing industrial aesthetics to a dwelling under the roof is easy and practical.
The loft-style is a creative mix of industrial and modern ideas that brings coziness into spaces with concrete or brick walls. Here are contemporary attic interiors that blend warmth and coziness with a unique loft-style appeal and functional comfort. Concrete ceiling designs, exposed brick walls, and industrial lighting fixtures mix with wood floors, colorful accents, and mirrored furniture, creating an artistic atmosphere of a unique loft-style home.
Interior design ideas turning attics into modern interiors
Attic bedroom designs maximizing small spaces
Attic apartment ideas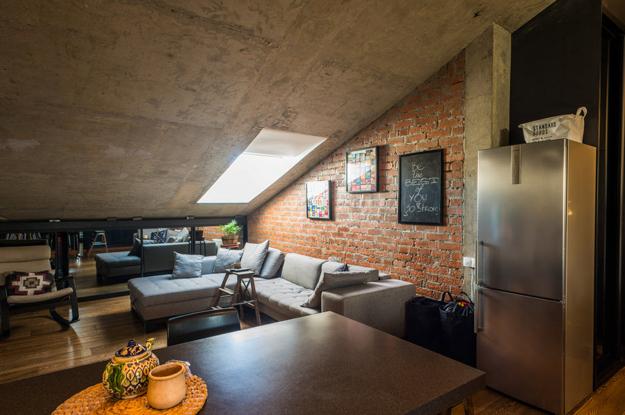 Concrete and exposed brick surfaces
Brickwork and concrete surfaces are the key elements of attic design in loft style. Wall art and collectibles look spectacular and bright on brick wall backgrounds. Thanks to the skylight, there is enough natural light in the living room and seating, offering a comfortable place for reading. Unfinished concrete surfaces are modern features of the attic interior design, enhancing the apartment ideas in industrial style.
Contemporary furniture for loft-style decorating
Loft-style floating home interiors
Space-saving bedroom designs, ideas for small spaces
Wood floors and houseplants
Wood boards give a touch of natural warmth to the living room design, and houseplants contribute to creating a fresh and inviting atmosphere in this home and look attractive against the background of concrete ceiling and brick walls.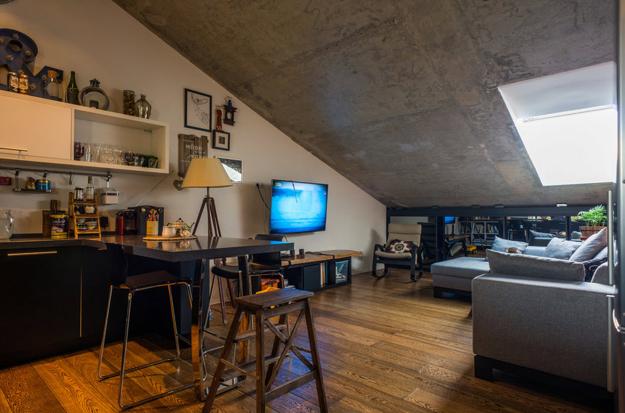 Space-saving kitchen design
A corner kitchen layout with a peninsula on one side and a bar counter on the other side shows a space-saving interior design. Unique lighting fixtures and ceramic tiles used for kitchen backsplash make beautiful accents and offer practical apartment ideas perfect for any interior design.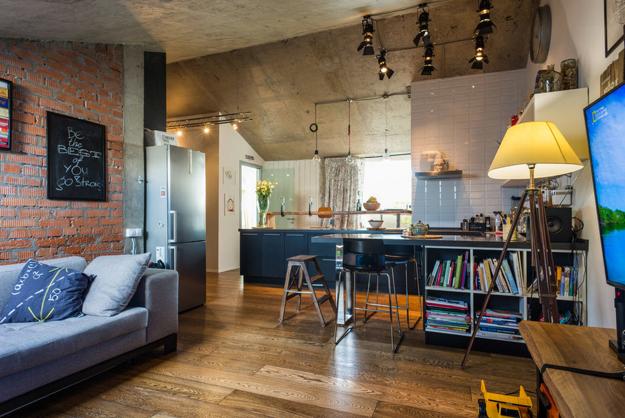 The open plan enhances the feeling of freedom and spaciousness, allowing adjusting functional zones that make the interior design comfortable. A narrow bar counter, attached to the back of the lower kitchen cabinets, is a simple element of the interior design, consisting of two boards. A bar table is a lovely place for breakfasts and snacks, work, or entertaining.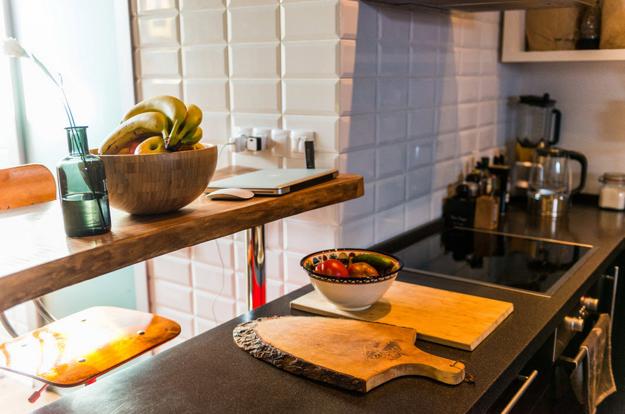 Bathroom design
An accent wall in the bathroom brings vibrant red color shade into the interior design and brightens apartment ideas in loft style. Ceramic tiles, imitating concrete surfaces, and the glossy wall tile designs in scarlet red add a bold touch to bathroom design and decorating. There is a shower design created with tiles and mirrored surfaces that make beautiful contrasts with concrete textures.
Red accents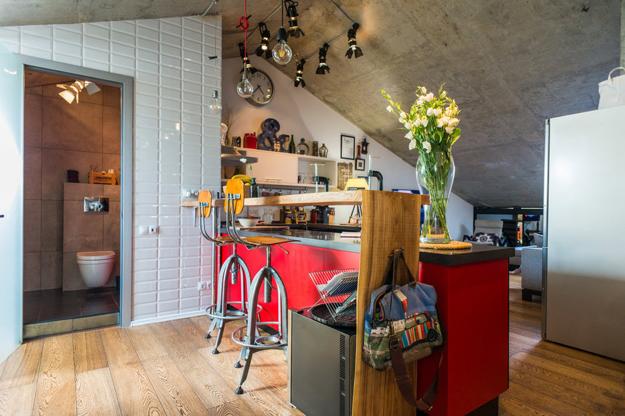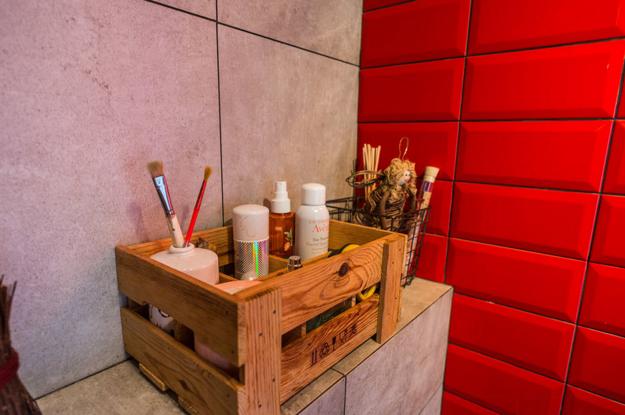 Bedroom design
The bedroom is a separate space with a sloped ceiling and a skylight. A light color palette helps beautifully decorate the sleeping area with only one window; integrating white decorating ideas, white top, walls, and bedding fabrics are the best small apartment ideas. Wood flooring, houseplants, and wicker baskets add natural warmth to the ambiance that loft-style apartment ideas create in the attic. The bedroom design that blends a variety of textures and colors feels relaxing and inviting.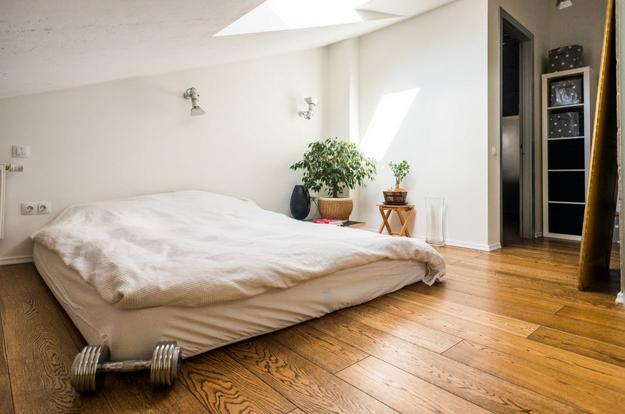 Attic interior design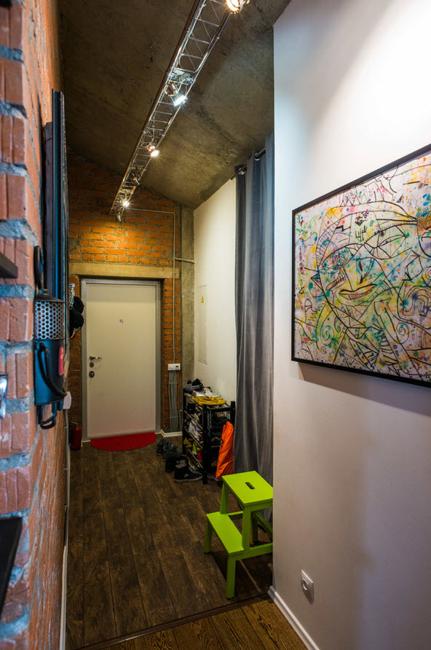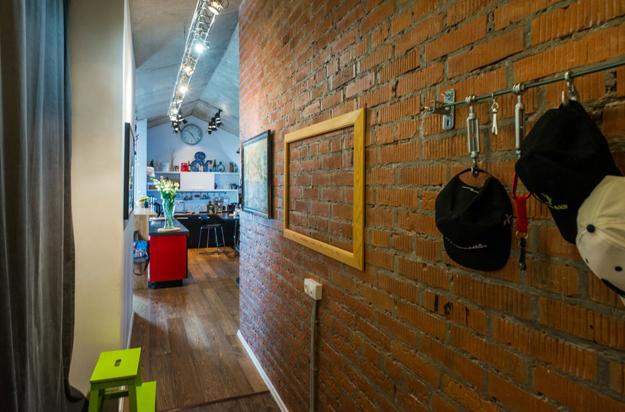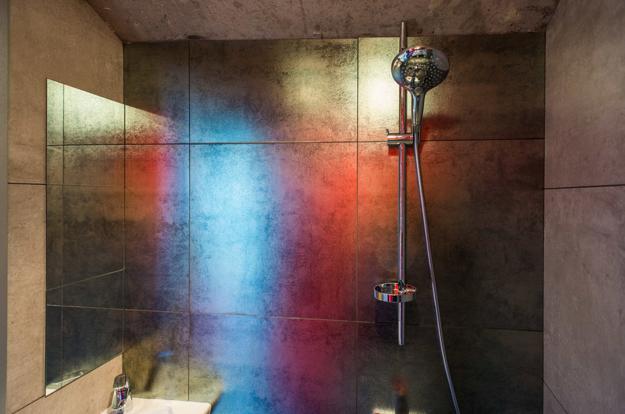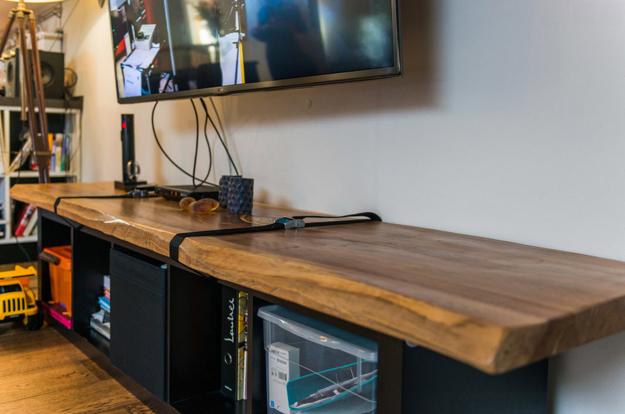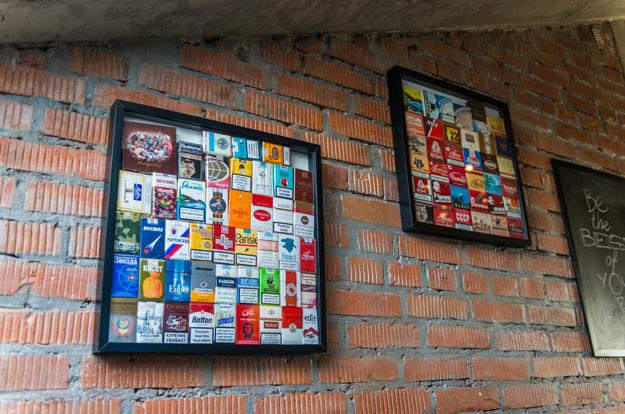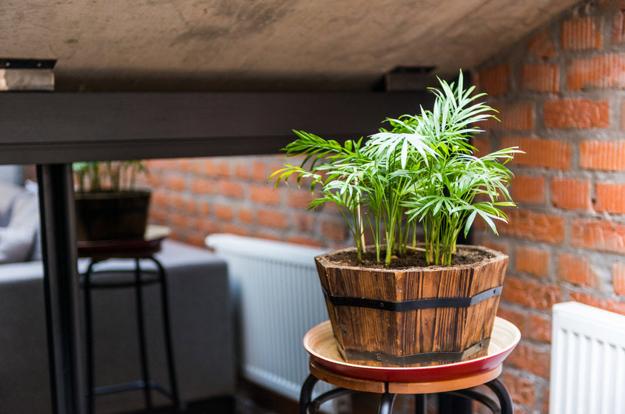 It is possible to find enough space for a small bedroom even in a tiny apartment or home. Here are smart...
and enjoy free articles sent to your inbox