22 Ideas to Add Poppy Flower Designs to Home Decorating

Decorating Ideas

Red Color Accent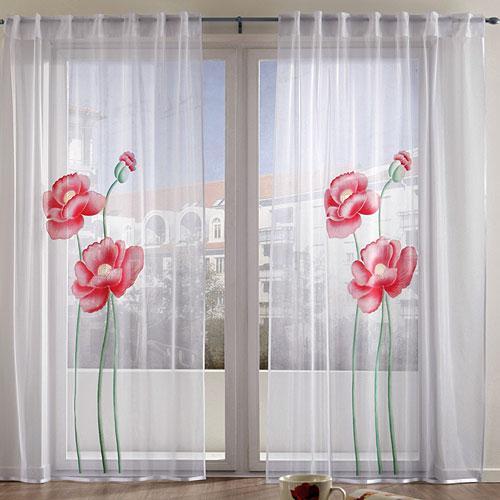 floral designs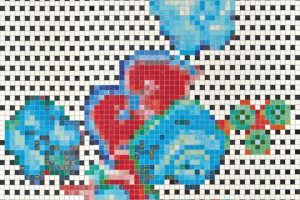 Fresh poppy flowers are very tender and do not last long, but they give great inspirations for home decorating with their gorgeous images and bright yellow, orange and red colors. Green and red color combinations evoke a strong physiological reaction. Inspired by poppy flowers, room colors feel exciting and beautiful, romantic and passionate.
Poppy flowers bring spectacular floral designs, add fabulous accents to interior decorating and spruce up room colors. Attractive, energetic, rich and modern color design is a very important component in the alchemy of any visual composition and home decorating. Whether it is office or home, bright color design has a direct impact on virtually every aspect of our lives.
Red poppy flower designs are charming. They add a touch of European design to interior decorating and bring an exotic Asian vibe into modern homes. Decor ideas from all over the world bring different cultures front and center., enhancing modern interior decorating in many ways. Asian, Indian, South American, Australian and European influences enrich and beautify North American decorating ideas, creating fabulous blends of old and new, and blending traditional into contemporary.
Modern floral trends in home decorating, red poppies on walls
Wall decorating with pink and purple poppy flower designs
Poppy flower symbolism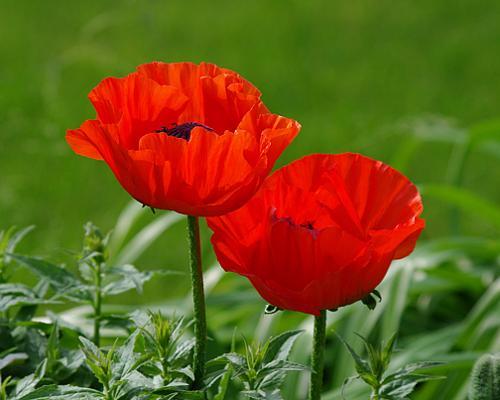 There is a beautiful tradition in Canada, USA, UK, Australia and New Zealand to wear artificial white and red poppies on Remembrance Day to pay respect to all who died during wars of 20s and 21s centuries. Artificial white and red poppies make beautiful table centerpieces, adding their symbolic meaning to Remembrance Day lunch.
According to ancient Chinese philosophy of Feng Shui, red poppies are a symbol of the sun. These bright home decorations attract abundance and happiness, and help Feng Shui a home for wealth.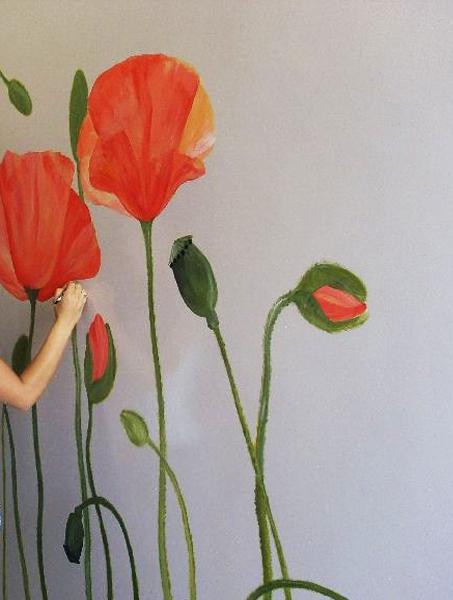 Modern interior decorating with red poppy flowers
Red poppy painting with crystals
10 ways to add red poppy flowers to dining room decorating
Yellow, orange and red poppies are very beautiful flowers. They combine the splendor of green color shades and warmth of bright yellow, orange and red colors. A touch of black adds elegance to poppy flowers and completes the color combinations that are dramatic, mesmerizing and powerful.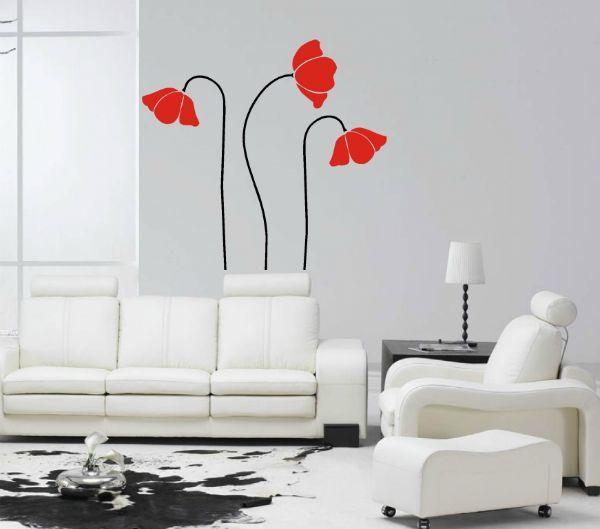 Red colors are one of gorgeous color trends in home decorating. Red colors are excellent for unique and spectacular accents. Wall decorations and small decor accessories in bright hues, including warm yellow, orange and red colors, add lots of interest to interior decorating and dramatically transform modern design.
Wheat heads and red poppy flower centerpieces, Remembrance Day table decoration with red flowers
Showy dinnerware and kitchenware with red poppy flower designs
When choosing home fabrics, curtains and decorative pillows, furniture upholstery fabrics or vases, blankets and flower pots, yellow, orange and red colors, inspired by poppy flowers, are wonderful color design choices for modern interior decorating.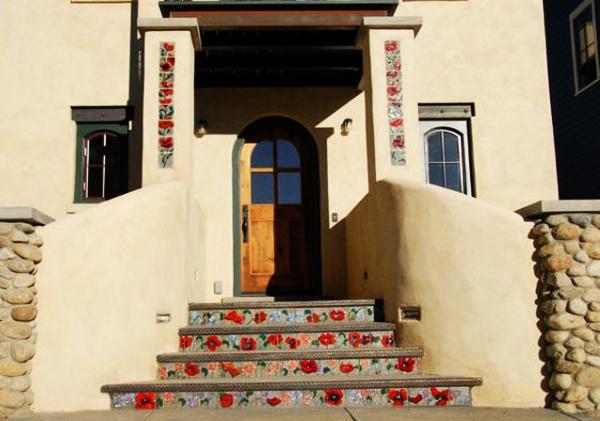 Bright, vibrant room colors, that enrich modern home decorating ideas with oriental or European vibe, turn home interiors into unique, stylish and beautiful living spaces, especially if these room colors bring meaning into interior design.
15 gorgeous red poppy flower arrangements and Remembrance Day table decoration ideas
Red and white dinnerware with floral patterns
Golden yellow, burnt orange and poppy red colors look fabulous with all green color shades and green pastels. Blue and purple colors can be combined with these warm hues, bringing balanced into room colors. If red colors look too bright for your interior decorating, try pairing them with larger home furnishings in neutral colors or neutral wall paint, floor rugs and modern wallpaper in light neutral color, which will help tone red colors down.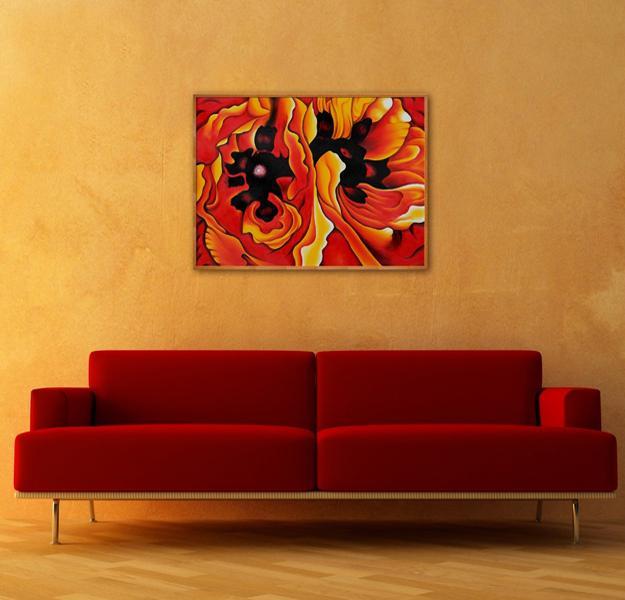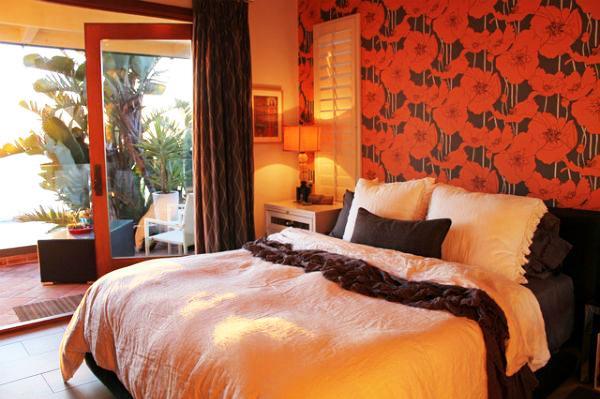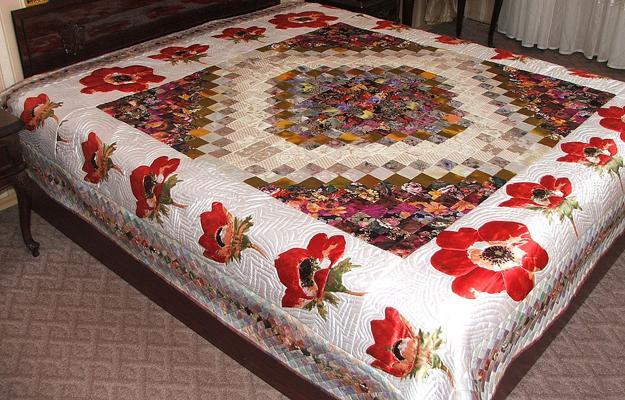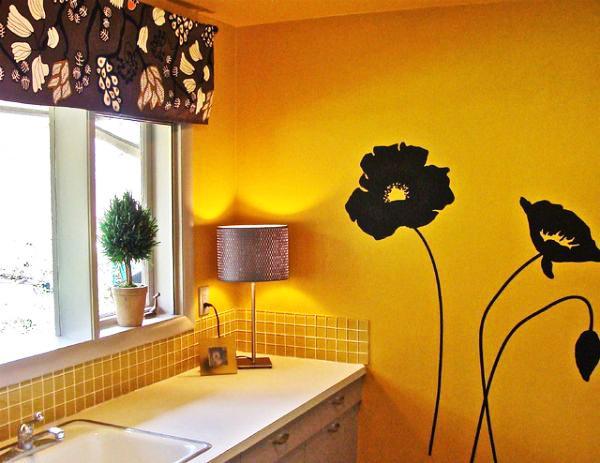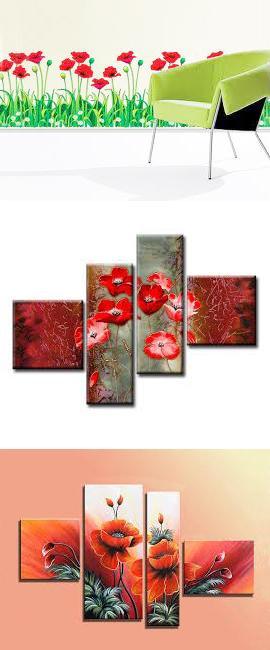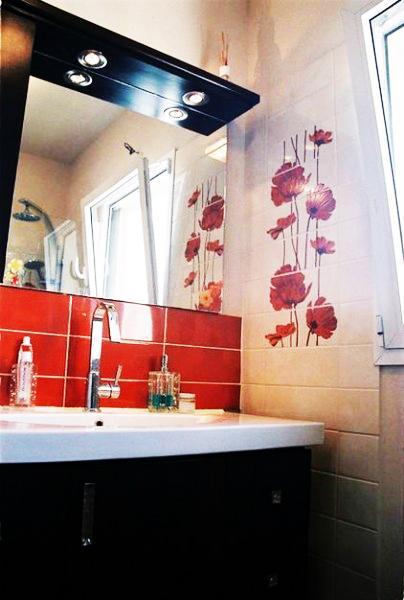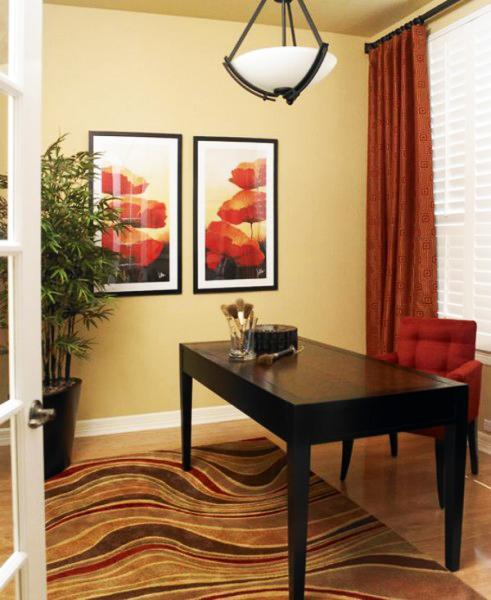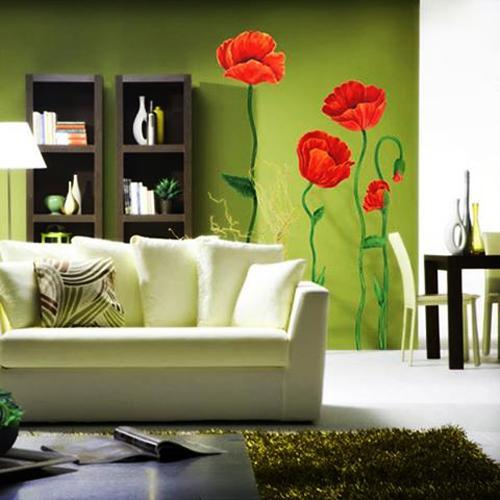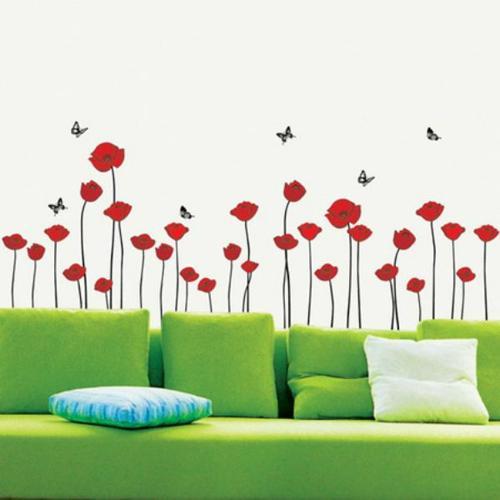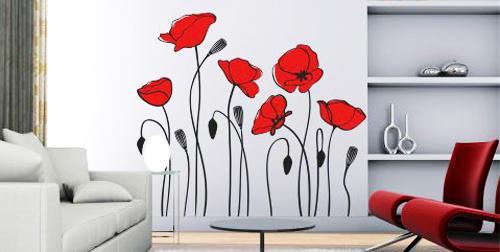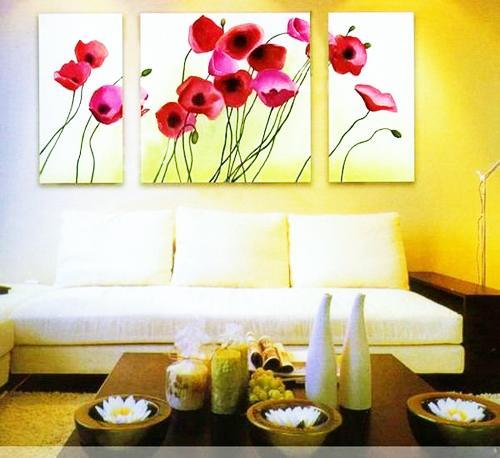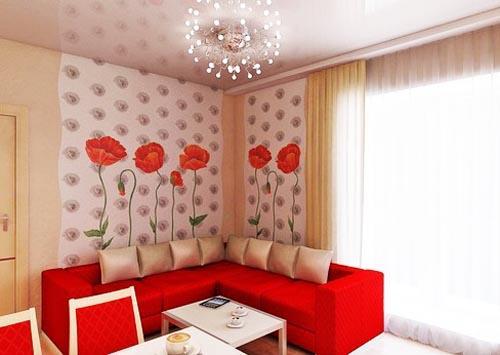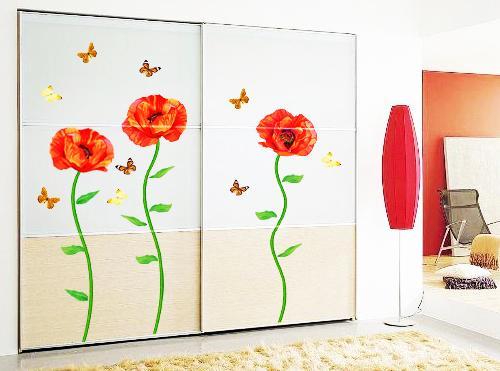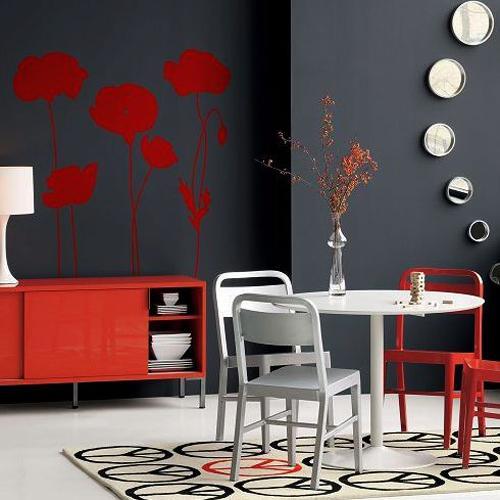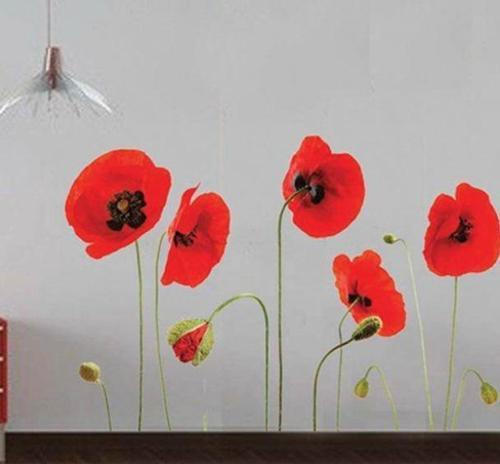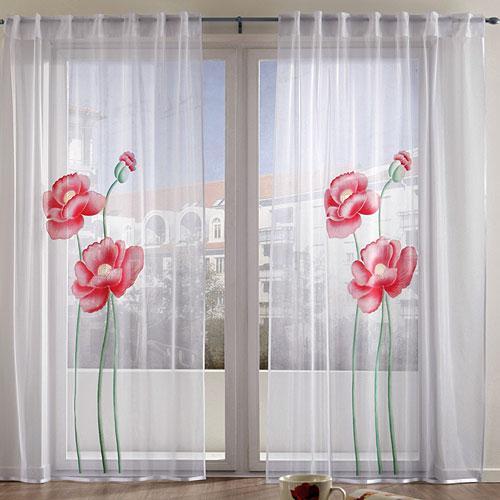 More from decorating with flowers

Fabulous designs take modern food decoration ideas to the next level blending innovative concepts with traditions and exploring new ways to...
and enjoy free articles sent to your inbox