20 Unusual Interior Decorating Ideas for Wooden Stairs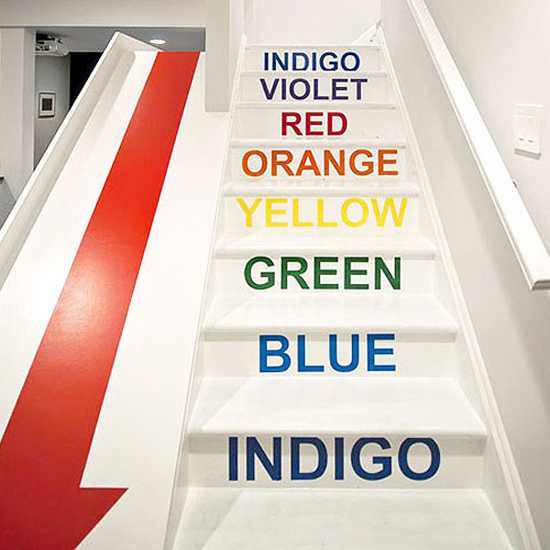 Creative staircase design, colorful painting ideas
Stairs are permanent architectural features that are not easy to change or remove. Staircase designs can be expensive, as well as adding new stairs to your home interiors is not cheap either. Creative interior decorating with paint, wallpaper, tiles or salvaged wood pieces instantly create a new staircase design that makes a statement.
Functional elements of house design, wooden stairs provide beautiful surfaces for creative painting and decorating with wallpaper and other materials. Old wooden stairs can look bold interesting adding to aesthetic appeal of interior decorating.
With some imaginative staircase design and creative decorating ideas, your staircase design can become one of the most attractive architectural features of your house. Old wooden stairs will look warm and fresh, decorated with bold painting, modern wallpaper patterns and creative designs.
Decorating wooden stairs with paint, stencils and recycled items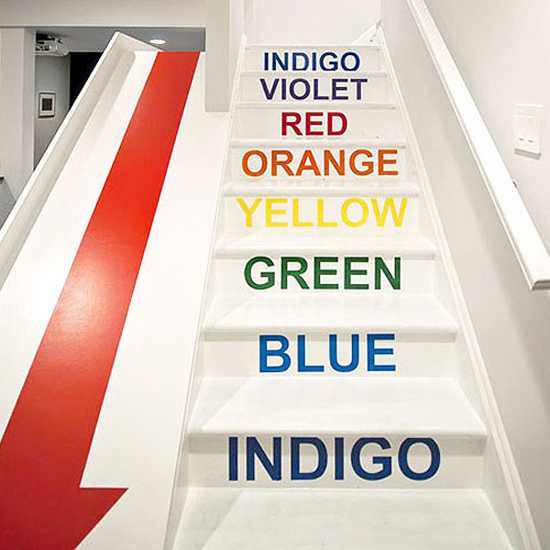 Removing old carpets and returning the wooden stairs to their former beauty with sanding and staining or painting are great ideas for creating a beautiful staircase design. Stenciling is another wonderful ideas for decorating wooden stairs and giving a personal touch to your old staircase design.
Maximizing hidden space under wooden stairs works wonders for interior decorating and decluttering. Storage boxes and shelves for books, shoes or small things help keep the house tidy.
Modern storage ideas for small spaces, staircase design with storage
Adding beautiful wallpapers to wooden stairs risers and steps for original staircase design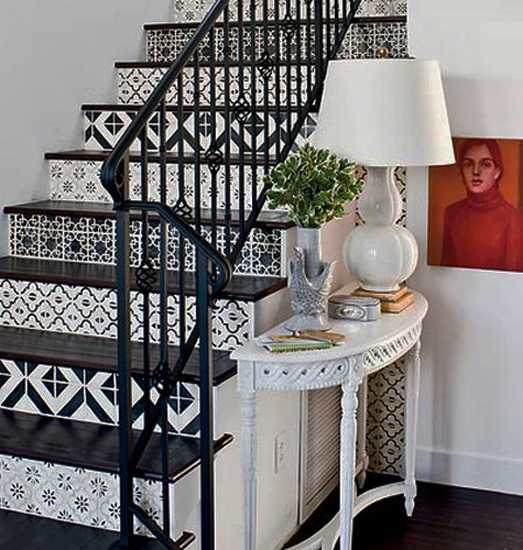 Useless items and old broken things can be attractively incorporated into unique staircase design. Broken tiles and mirror pieces are perfect materials for striking, unusual and surprising decorating design. Old keyboards and pencils, wooden rulers and small gears, salvaged wood pieces and sea shells can be used for decorating old wooden stairs risers.
Staircase painting ideas transforming boring wooden stairs with cool designs
Wooden stairs with painted stripes updating interior design in creative style
Funny and cheerful phrases and colorful decoration patterns look fantastic on wooden stairs risers, motivating and improving your mood. Here is a collection of 20 very creative, whimsical and clever ideas for decorating old wooden stairs. Check them out and get inspired for creating your own beautiful staircase design.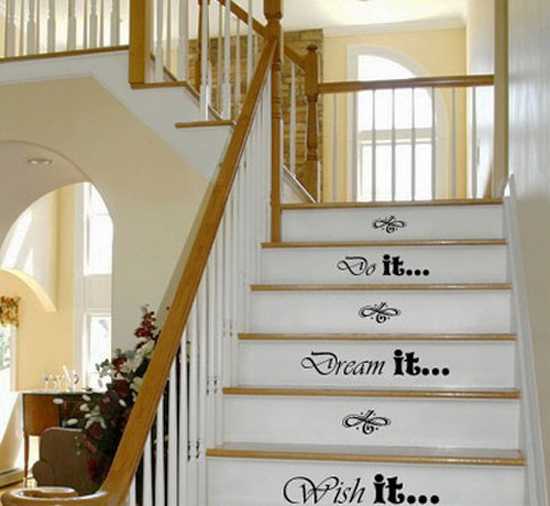 Recycling wood rulers, keyboards or broken tiles for decorating wooden stairs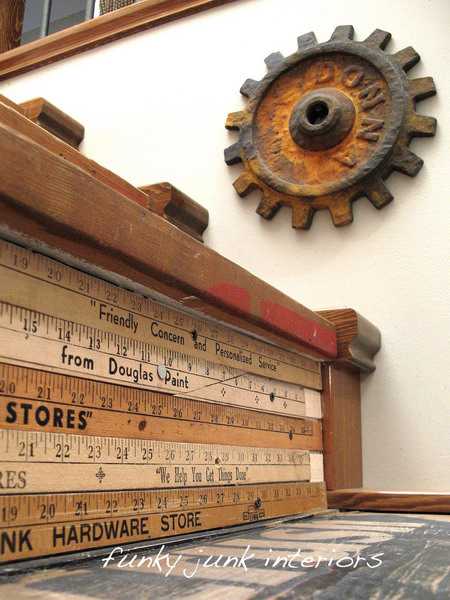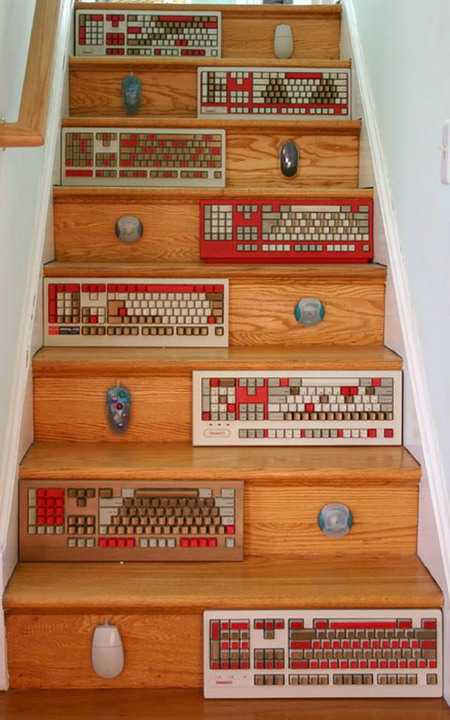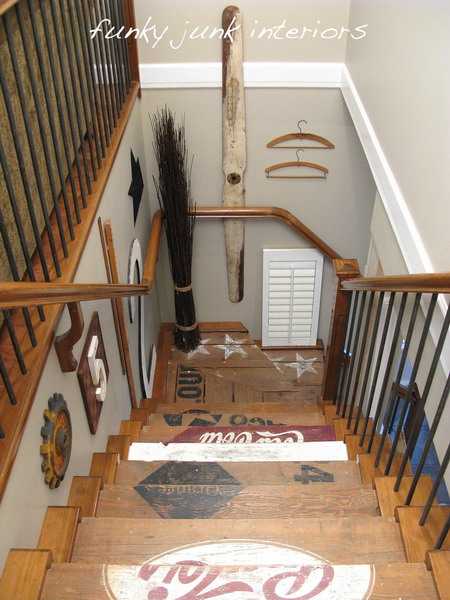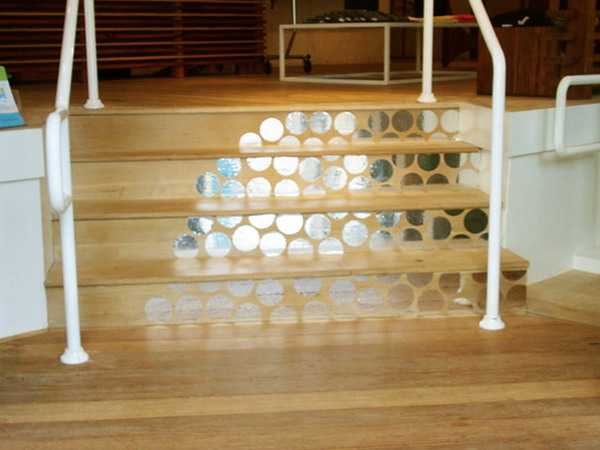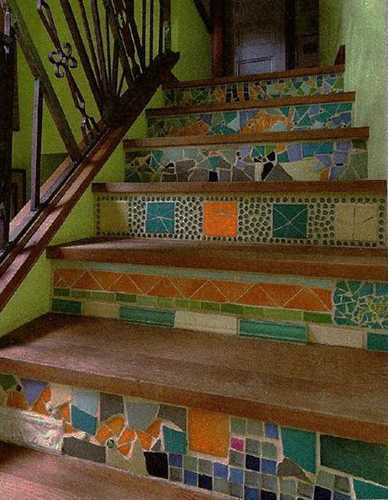 Creative staircase design with book shelves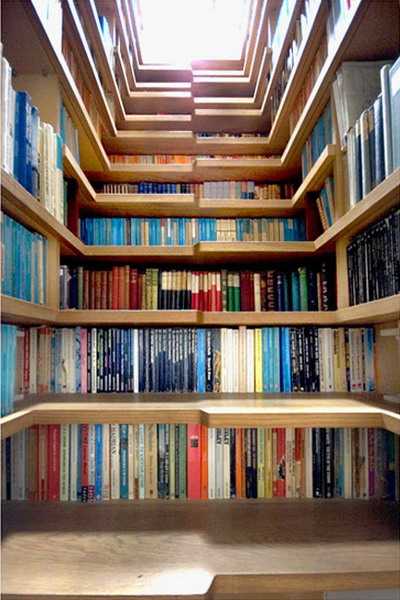 Painting ideas for decorating wooden stairs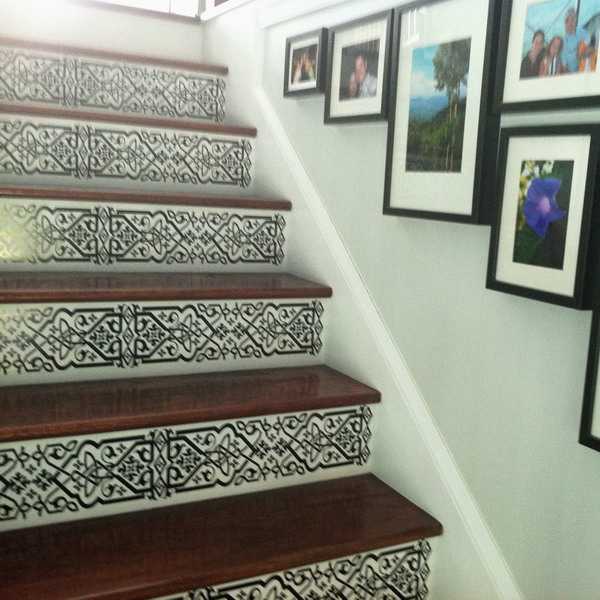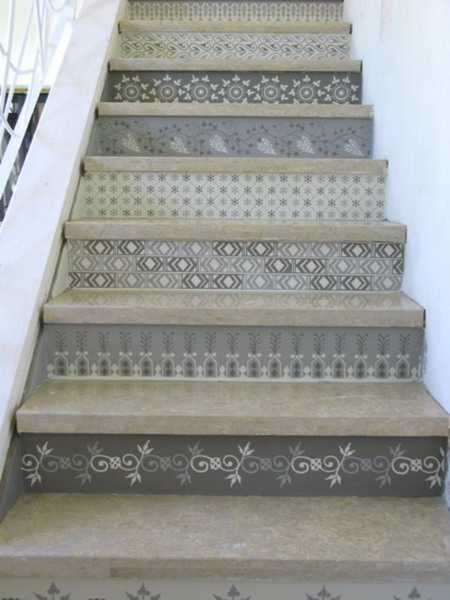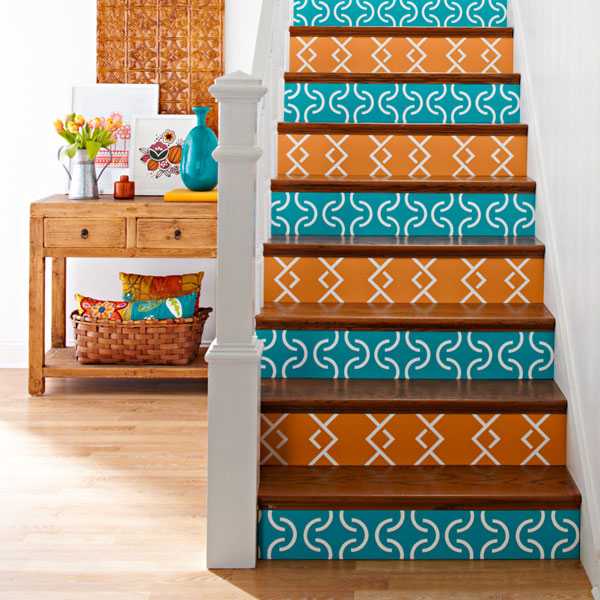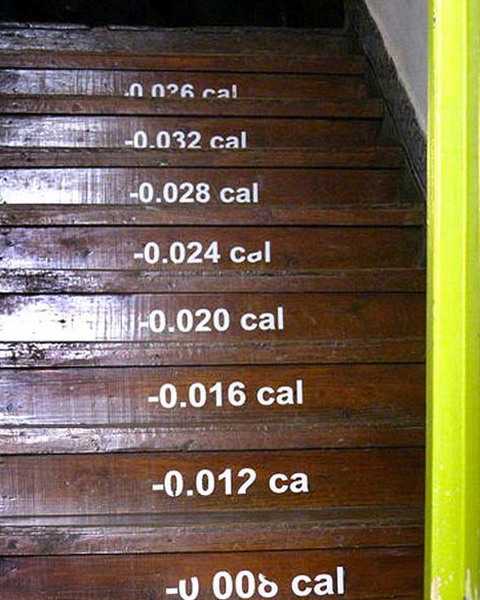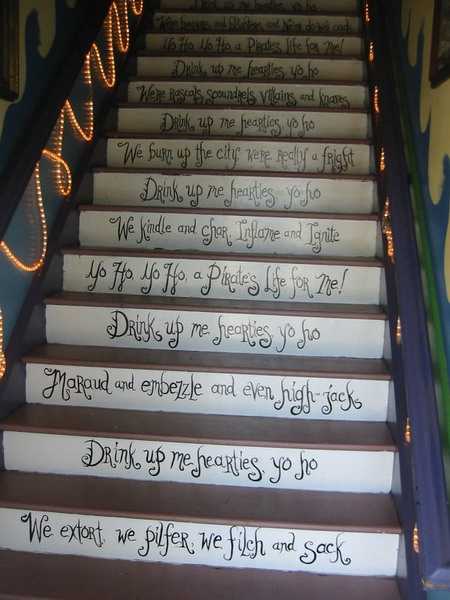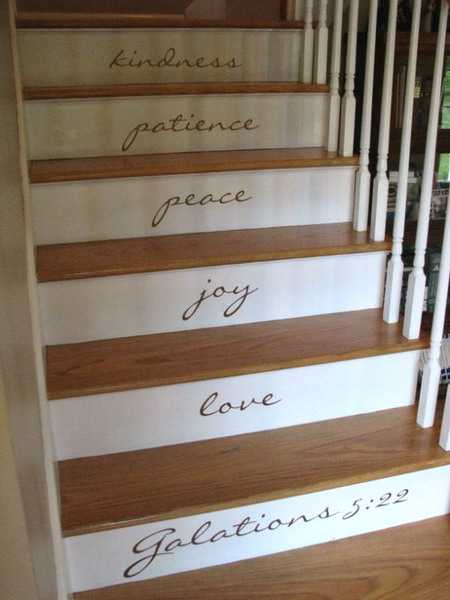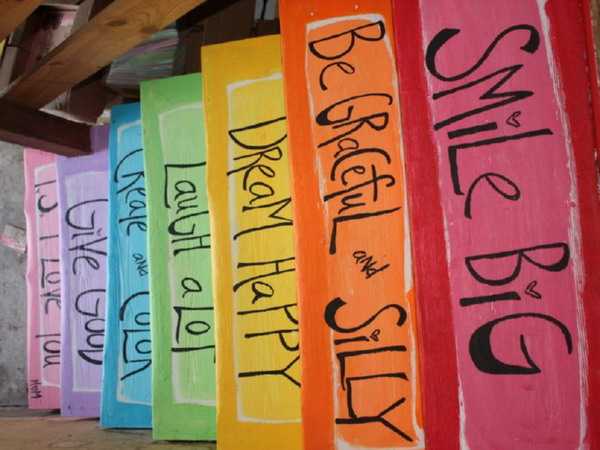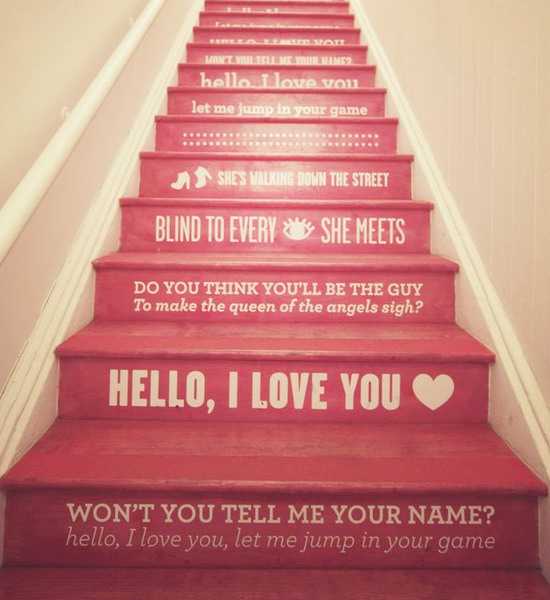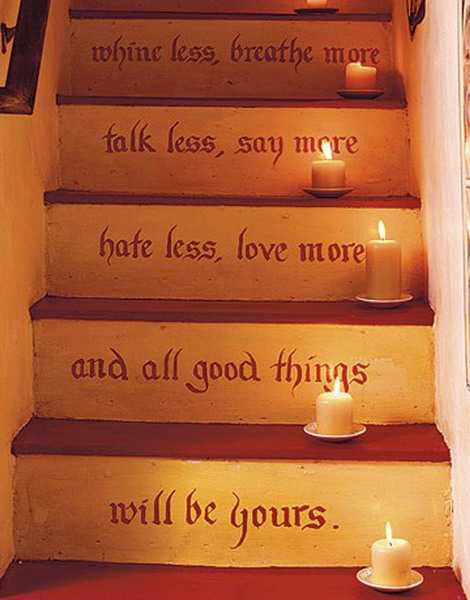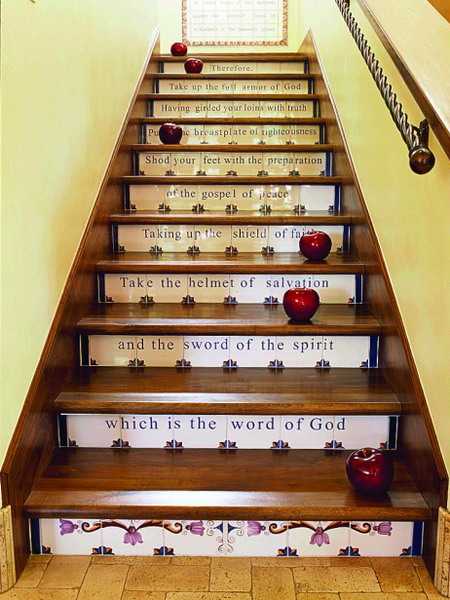 There are hundreds of reasons to recycle metal parts, old cookware, wires, tools for creating unique designs and decorating your office...