Wind Powered Lighting Idea, The Hope Of Breeze, Green Backyard Ideas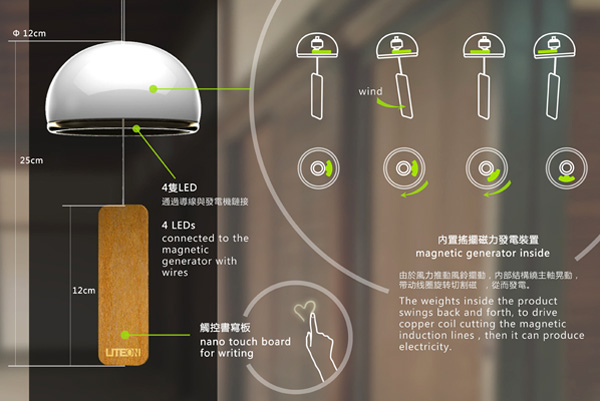 Hanging lamp for porch and backyard decorating, science and technology for modern eco homes
eco friendly products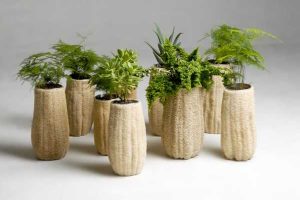 Wind powered lighting idea came from a team of designers, inspired by traditional Japanese wind chimes and the subtle music they play. The Hope Of Breeze hanging lamps are beautiful home decorations and sources of soft light, powered by the wind energy.
The hanging lamp produces the romantic glow instead of wind chime music that soothes the soul and driving away negative emotions. The unusual and creative lighting fixtures, inspired by traditional Japanese wind chimes, are attractive and eco friendly products that bring the green technology into modern life.
The hanging lamp is a beautiful garden decoration and a functional item. Attractive outdoor lights are an example of new eco friendly products for modern homes and public places that save energy and protect the environment.
Sponge lighting design idea from Pott, contemporary lighting fixtures
Japanese lantern with butterfly, romantic table lamp design idea
Wind powered lighting fixture design
Outdoor light inspired by wind chimes, green technology and eco friendly products for backyard decorating
The Hope Of Breeze is wind powered hanging lamp, that transforms the energy collected from the flow of wind to power LED lamp instead of producing traditional wind chime sounds. The interesting concept was developed by a group of designers that insludes Chen Yan Zhuang, Zhou Li, Peng Qixuan, Liu Huan-jung, Ke Qi Ling & Zhong Zhida.
The Hope of Breeze's LED board on the bottom works as a wishing board with touch technology, enabling one to pen down wishes and blessings by moving a finger across the board.
Hanging lamp for porch and backyard decorating, science and technology for modern eco homes
This hanging light is perfect for romantic backyard decorating with a peaceful spot to enjoy a night breeze. Traditional wind chimes, combined with an eco friendly glowing lighting fixture, will keep negativity away and increase the good vibrations around the house.
Garden fork table, 6 creative backyard ideas and diy project inspirations
LED light bulbs from LED LEDO Technologies, green technology and eco friendly products
The light wind movement powers the meaningful and pretty lamp. The moving lamp cuts magnetic induction lines and create electricity for the LED bulb, creating soft light in a tranquil and romantic style.
More from lighting design

Modern bathroom design trends bring beautiful tub forms, colorful sinks, and beautiful, fine materials that reflect advanced technologies. Colorful bathroom sinks,...
and enjoy free articles sent to your inbox