White Decorating, Stunning Balham House Interior Design Ideas
---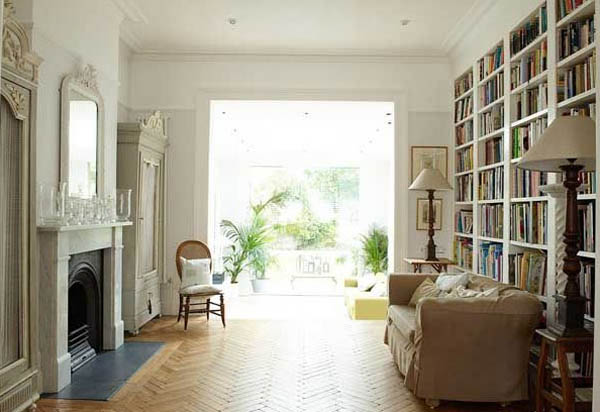 White decorating ideas are a way to create fresh and spacious, light and airy interior design. Fantastic Balham house interior design ideas include the white color, offering great inspirations for modern interior decorating or home staging for sale.
The white color is neutral and bright, classy and always stylish, perfect for interior decorating or staging home interior for sale. White decorating ideas are create universal appeal and increase spaces visually, making them look more inviting and pleasant.
White decorating creates a wonderful background for adding brighter accents. White color is the color that many people like. It is a neutral color which looks bright and suitable for any home or interior decorating, creating an attractive contrasts with other colors.
White home decorating ideas, modern house on Stromboli island
White decorating ideas, white picture frames for bright wall decor
White home decorating, living room with fireplace and large mirror, white paint and home furnishings
Fantastic Balham house interior design is breezy and elegant. White colors are the most important choice for its interior decorating and home staging for sale. White colors make the house design, interior design and decorating or home staging impressive.
White decorating ideas and light interior design of Balham House look fantastic and comfortable, sophisticated and expensive. Located in London, the house features an amazing interior design.
White kitchen cabinets, modern kitchen design with folding glass wall
White home decorating ideas include white paint for walls and ceiling, white furniture and home furnishings. From the house exterior design to interior design white decorating brightens up this home.
Black-n-white room design ideas, neutral interior color schemes
Scandinavian style apartment ideas, white decorating
White walls and home furnishings, white furniture and lighting fixtures, white decorating ideas for bathroom, bedroom, kitchen, living room and dining room create the elegant simplicity of color and pleasant illusion of lots of space.
By using a white interior paint for ceiling, walls, architectural features, room furniture and decor accessories the mixture of classic and modern home furnishings create harmonious and calming, classy and modern interior design. White decorating ideas are great for designing clean and relaxing, yet stylish look.
Glass wall house design and eco decor, modern houses
Green house design and white decorating ideas, modern houses
White decorating ideas for the floor includes white and off-white carpeting and beautiful combinations of off-white colors with natural wood, adding more warmth to modern interior design ad decorating.
Folding glass door, white decorating ideas for house exterior and interior design
The house design features large windows and folding glass wall in the kitchen, high ceiling and attractive fireplaces with contemporary flavor. Modern interior design, bright home staging and white decorating ideas create a comfortable and stunning modern house in London.
More from modern interior design

Unusual interior design is exciting and inspiring. We can wonder how people get their ideas for creating an original interior design,...