Warm Lakeside Cabin with Breathtaking Fjord Views of Norwegian Landscapes

Interior Design Ideas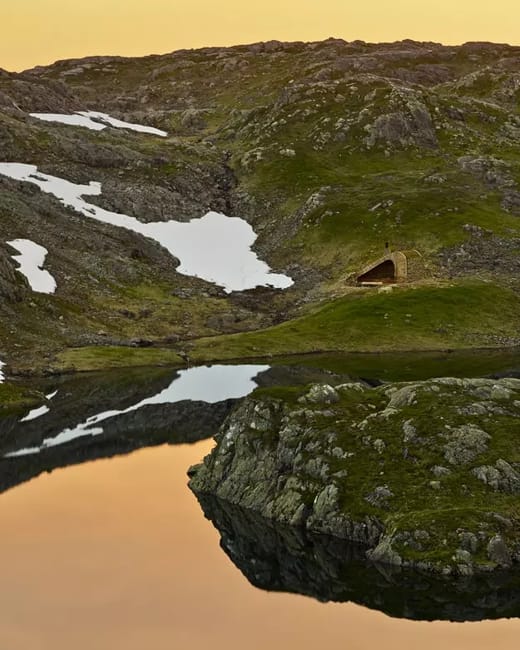 fireplaces and heaters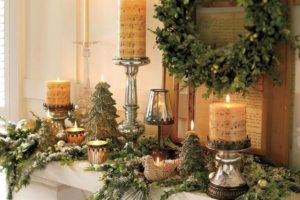 This modern cabin serves as a hunting lodge on the edge of the Akrafjorden, the fjord in western Norway. Designed by creative architects from Snohetta studio, the inviting and modern house offers spectacular views, warmth, and tranquility away from civilization. The main idea of ​​the cabin design was the full integration of the hunting lodge into the local environment, a gorgeous landscape with distinct rock ledges and grass areas.
The modern house built with metal ad wood organically merges with nature. The house design combines a traditional Norwegian hunting lodge structure and modern ideas into functional and comfortable architectural designs. Two curved metal beams with wooden floor beams create the basic structure. The curved roof resembles a ledge on the surface of a geological rock and shows the triangular shape of traditional Norwegian mountain huts.
Hunting Lodge interior design and decor with a boyhood atmosphere
Cottage decor ideas in neutral colors
Beautiful wood cabins and small house designs
Scandinavian cabin design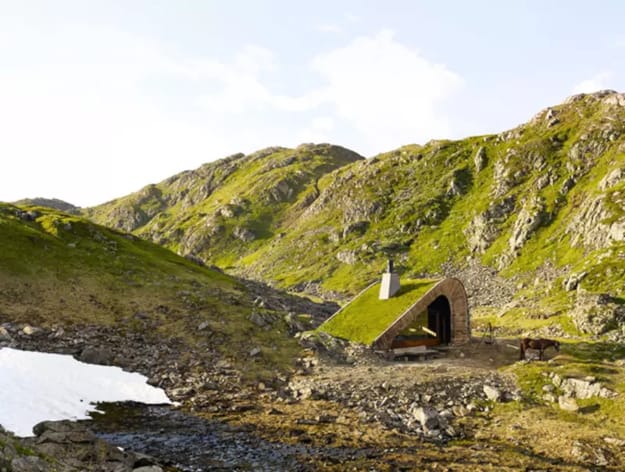 The roof seems to grow out of the landscape. Its gentle slope features a Green rooftop with grass and small plants that blend the modern hut with the natural landscape. Local stone elements merge the house design with the beautiful rocky area. Stunning views enhance the appeal of the cabin interior.
Exciting tree-house design ideas
Unique cabin design and decor, salvaged wood ideas
Steel cabin design, original modern houses
Beautiful views
The house's facade faces the lake and provides breathtaking views, while large windows fill the living space with natural light and sun warmth.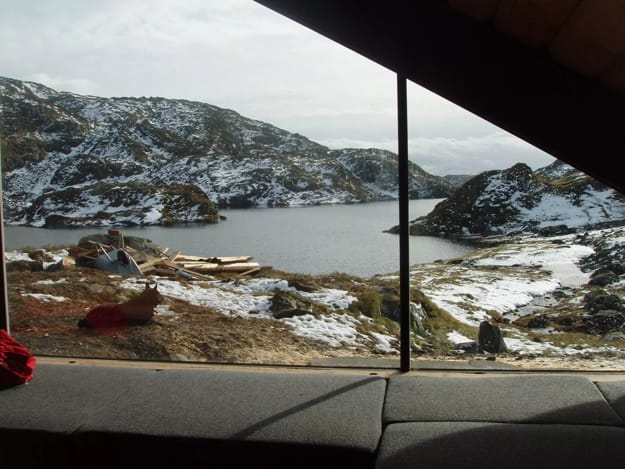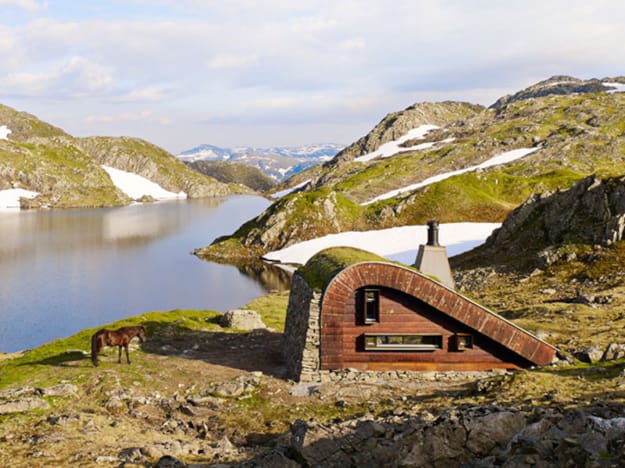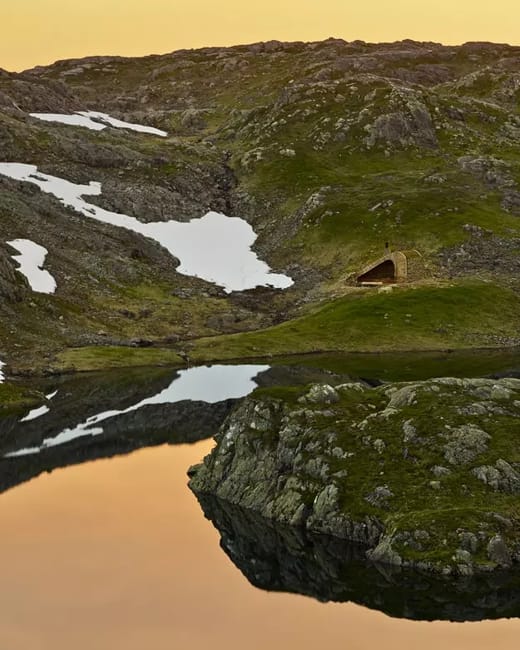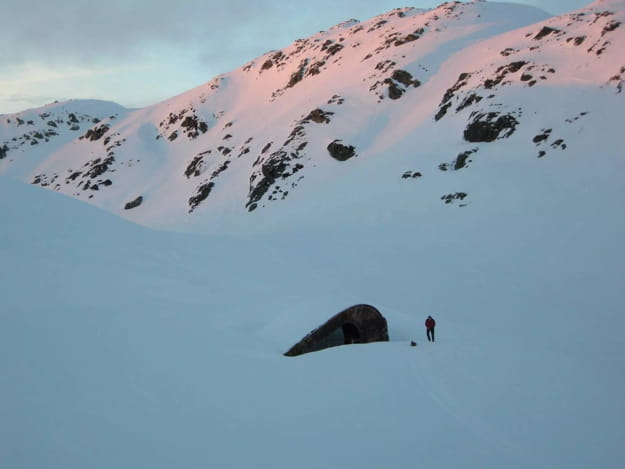 Space-saving interior design
The central fireplace is the focal point of the interior design. There are soft sofa benches that serve as folding beds. A post leads to an additional sleeping space in the loft.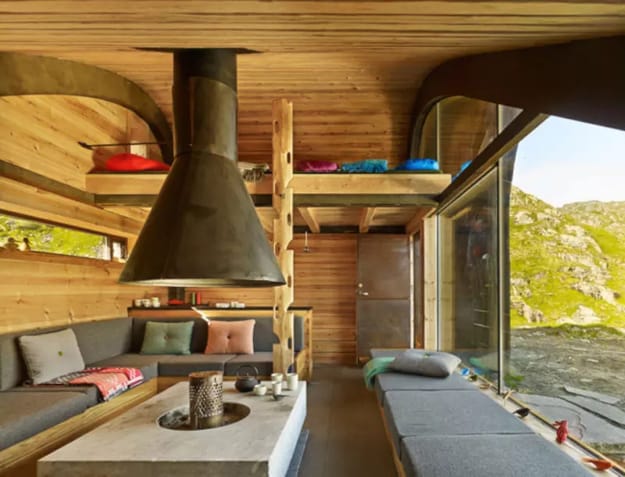 The layout accommodates a large group of people, and space-saving ideas improve the functionality of the interior design with small areas for storing food and cooking.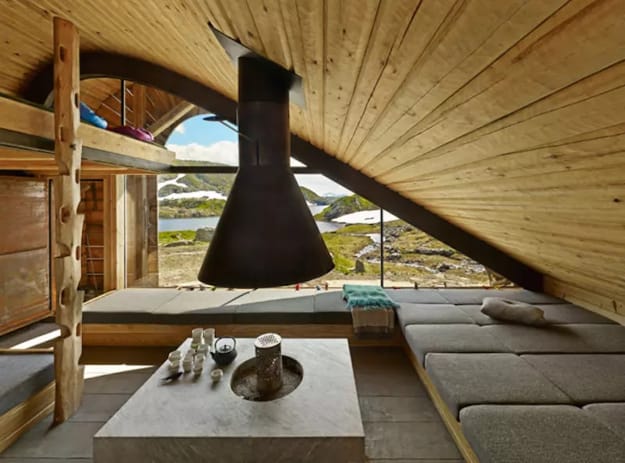 Modern house design in Japanese style celebrates the functionality and elegance of minimalism. Airy, bright rooms look inviting and comfortable. Natural...
and enjoy free articles sent to your inbox