Transformer Wall Adds Functionality and Fun to Apartment Interior Design

Interior Design Ideas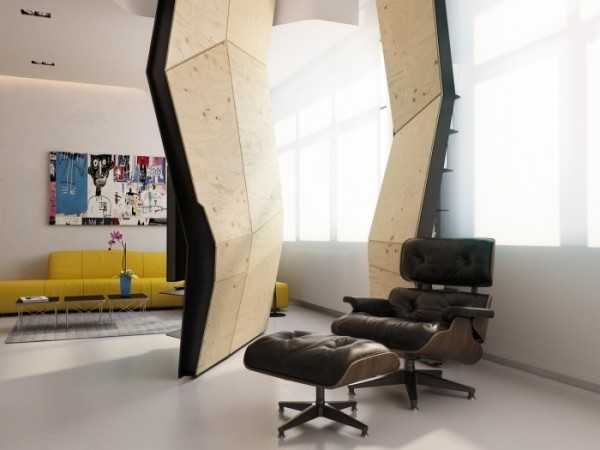 Rotating partition wall design elements
decorating small apartments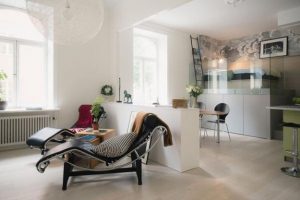 Conceptual apartment ideas that incorporate a transformer wall design into small rooms add innovative architectural elements to modern interior design and create a spacious and conveniently transforming for various activities living spaces. Light and space saving contemporary apartment ideas feature these rotating partition wall design elements that not just improve functionality, but add style and a contemporary flare to modern apartment design.
Here is a collection of realistic 3d renderings and ideas for designing 60 sq m apartment with a unique partition wall, featuring few elements and separating the bedroom. These original Transformer Apartment ideas are developed by Russian designer Vlad Mishin, www.coroflot.com/Dracul/Transformer-apt.
The interior design is attractive, inspiring and innovative, created to represents an attempt to turn convertible small spaces into stylish, interesting and comfortable. The apartment is divided lengthwise by sculptural structure. The partition wall design includes few transforming the living space elements, made from black metal framework and plywood.
Contemporary interior design with rotating partition wall elements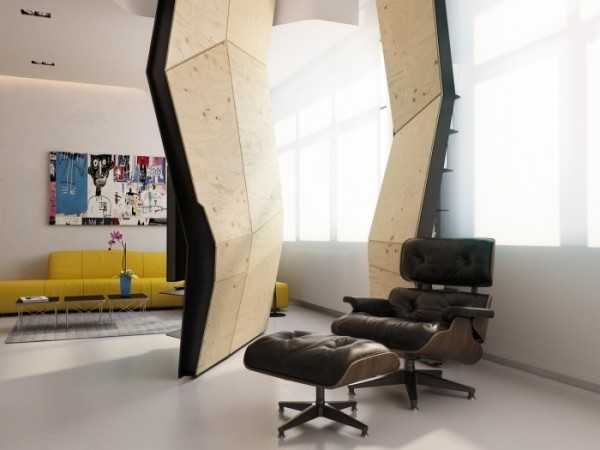 Various placement of the transforming elements defines function and purpose of small rooms, adding flexibility to creating convenient and contemporary small spaces.  The main part of transforming blocks creates an open living room with kitchen and dining areas and three three rotating blocks.
One of these rotating elements features a TV panel. It rotates on its axis allowing to watch the TV from different places in the living room or bedroom. Two other blocks are folding, creating eye catching architectural accents and a large door to the bedroom.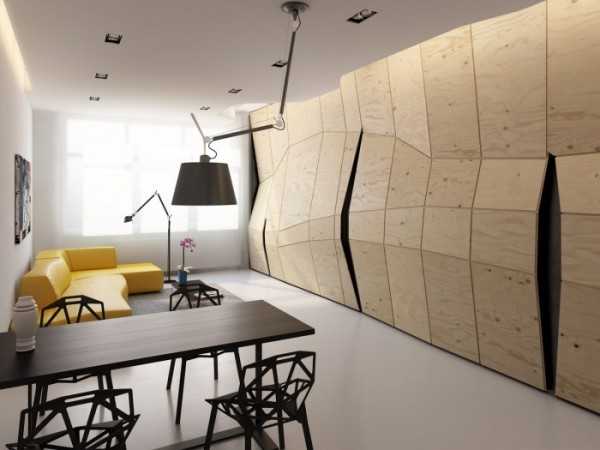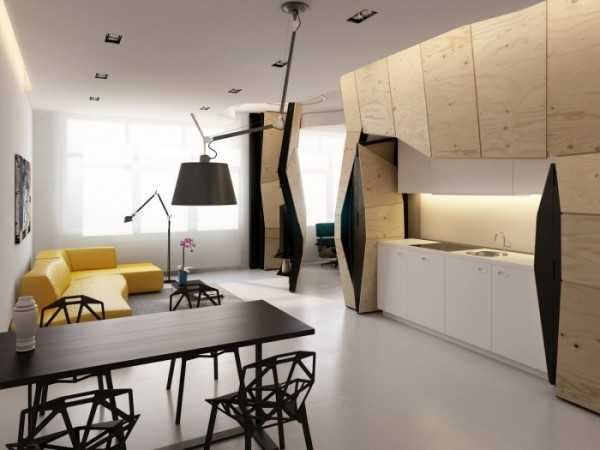 Kitchen appliances are hidden in unusually designed niches behind a hinged partition wall. The bathroom door completes the wall. Curvy and angled elements add a futuristic feel to space saving apartment ideas.
Decorating small spaces blending colorful home accessories with white apartment ideas
Space saving apartment ideas creating flexible small rooms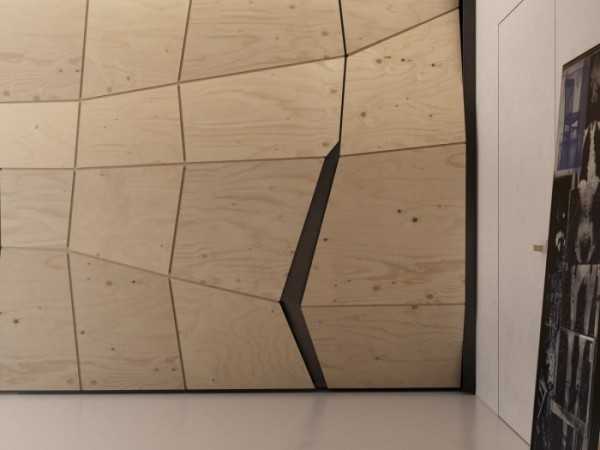 Natural materials and neutral color scheme fill small spaces with a peaceful atmosphere. Light and interesting furniture design and bold yellow color accents, the wall art and living room sofa, make the small apartment decorating look youthful and energizing.
6 space saving furniture design ideas for small rooms
Contemporary kitchen design, innovative storage furniture from Neuland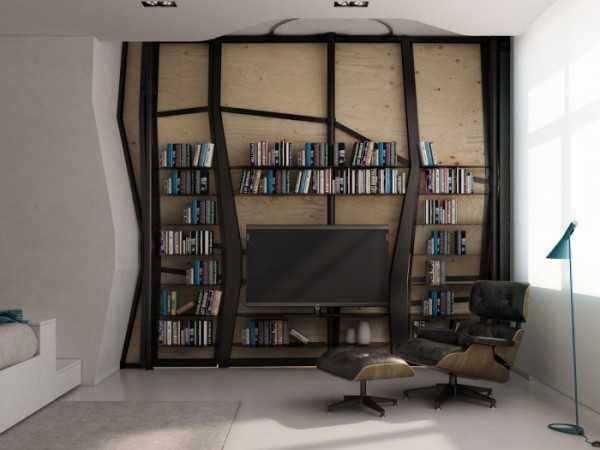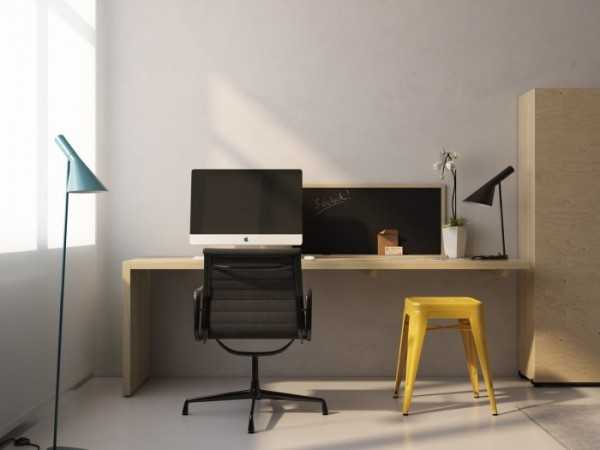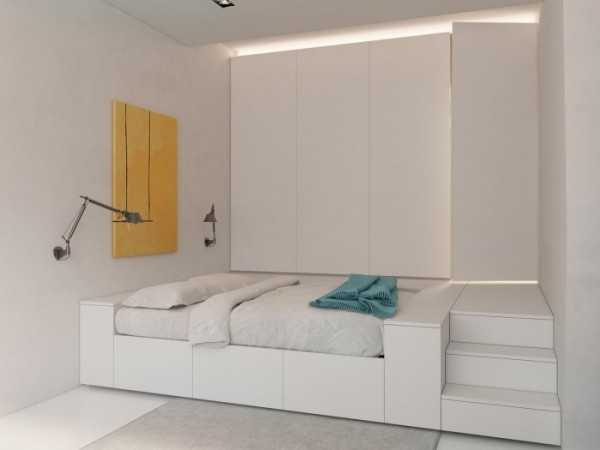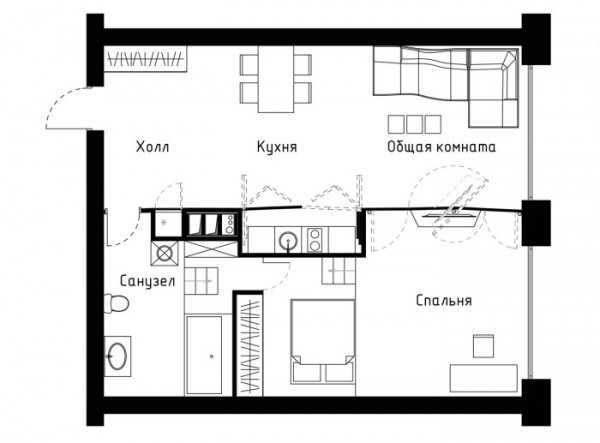 From traditional ceramic tile designs to trendy wood-like, shiny metal, and mesmerizing glass, there is seemingly unlimited ways to brighten up...
and enjoy free articles sent to your inbox