---
---
Stunning Home Office Interior Designed by Bercy Chen Studio
Impressive contemporary home office interior design adds to luxury and aesthetic appeal of a beautiful lake house, designed by Bercy Chen Studio. Inclined wooden wall  panels create a gorgeous space for work, adding a unique architectural details to home office interior design.
The contemporary home office interior features built-in work surfaces, modern lighting and dramatic red color that make the room look unique, stylish and impressive. The dark wood and built-in lights create an unusual, but cozy atmosphere that is jazzed up with bold red accents.
The home office interior feels relaxing, adding a retreat to a luxurious house, perfect for creative and productive work.
Stunning office design with red accents, exotic wood wall and furniture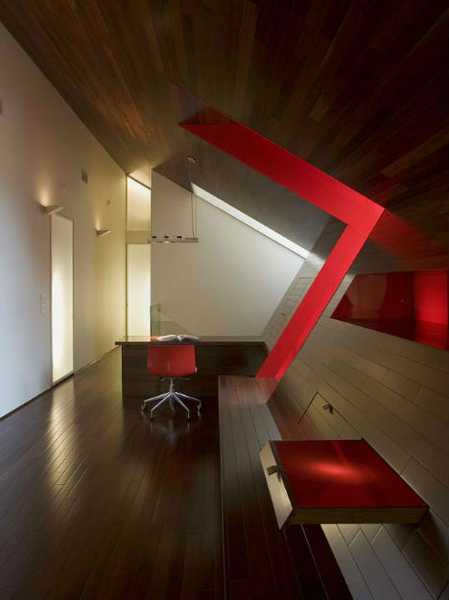 The office interior is lined in Massaranduba Brazilian hardwood in noble dark brown color. Wooded floor, built-in office desk and inclined wall panels are the most striking architectural features that make this interior design feel exclusive and rich.
The inclined wall with a window, emphasizes by red color seems to extend the home office out into the yard, connecting modern interior design with the nature by a skylight with a sliding window cover.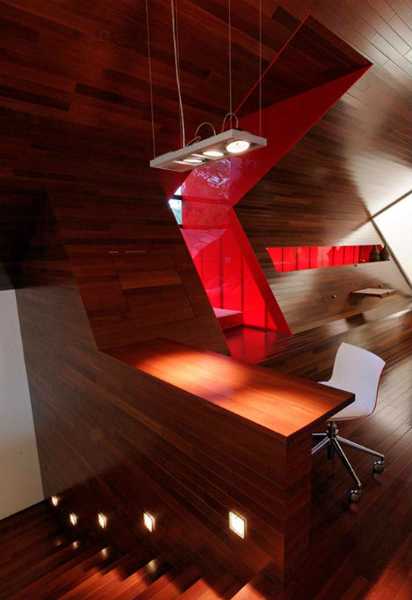 This fabulous house, designed by an Austin-based Bercy Chen Studio, www.bcarc.com/, is located on a peninsula on the lake. Tranquil and peaceful surroundings add even more charm to beautiful, bright and stylish contemporary house design.
Amazing wood furniture and office interior design with Rustic vibe
Bespoke desk and office storage unit in amazing private home office interior
Small home office design with a room divider recycling an old bus cabin
The house features a unique outdoor swimming pool that is adjacent to the living room, creating a pleasant sense of openness. Glass wall design on the ground level, an inviting roofed terrace on the second floor, and a solarium with a louvered screen create a wonderful modern house where water and sky meet creating bright and airy interior design.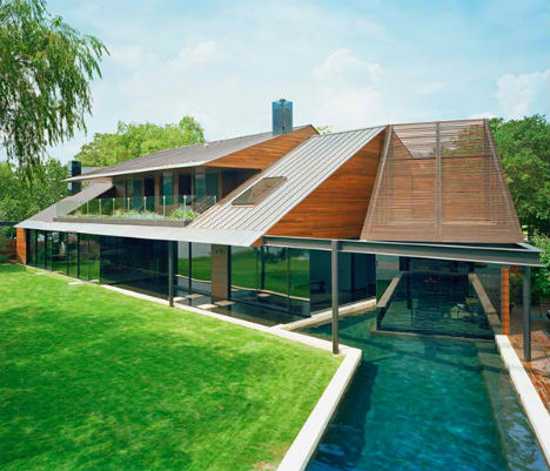 by Ena Russ
last updated: 12.01.2013
and enjoy free articles sent to your inbox