Small Penthouse in Manhattan, Classy Interior Design Ideas and Vintage Furniture
---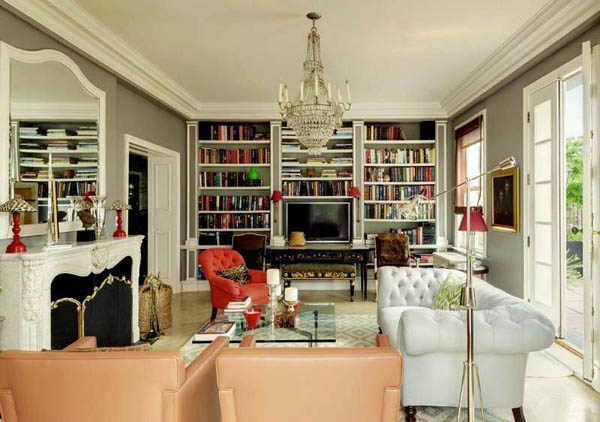 Penthouse in New York is the symbol of luxury and style, the combination of modern interior design and comfort that successful people enjoy and appreciate. The modern interior design and decorating ideas can give great inspirations for your home renovation, interior redesign, decorating or home staging projects.
Spacious living room with elegant red chair and cozy leather furniture in white and peach colors feel classy, offering pleasant and functional living space for a family. The white fireplace and large mirror, accompanied by a glass top coffee table and bright decorative accessories and lighting fixtures make the living room feel light and welcoming.
Built-in the wall bookshelves organize the living room design, giving it unique personality. All furniture pieces are strategically located, creating multifunctional, friendly and airy living room design. Large window and doors to the terrace are other interior design ideas that bring more light into the living room and create a breezy atmosphere.
Small home decorating with vintage furniture
Modern interior design ideas, vintage furniture and decor, living room design withglass doors to the terrace
A large mirror reflects even more light inside. Combined with white paint, crystal chandelier and a set of decorative and task lighting fixtures, it makes living room design bright, light and attractive.
Geometric and floral designs, artwork and unique wall decor accessories adorn the small apartment, adding more interest and flavor to modern interior design ideas. Paintings and wall clocks, combined with modern wall decorating give nice final touch to interior decorating.
Dining room decorating with vintage furniture and paintings
Bedroom decorating ideas are about comfort and relaxing atmosphere. Luxurious and soft decorative fabrics, calming color palette and beautiful bedroom furniture pieces create simple and elegant rooms for sleeping and rejuvenation.
Parisian penthouse apartment ideas, modern penthouses
Modern interior design and decorating with light, Little Venice House design
Bedroom decor is reminiscent of old England, rather than dynamic New York City. Light, neutral and soothing interior decorating colors and classy interior design ideas make you forget about busy life and all troubles.
Comfortable small bedroom decor ideas, vintage furniture, luxurious fabrics that match bedding, mirrored wall design and light interior decorating colors
Small kitchen design blends classic and modern materials and retro decor. Windows, light interior decorating colors, functional and simple interior design ideas make small bathroom and small kitchen design look brighter and more spacious visually.
Loft living space, modern interior design and trends in decorating
Sliding book shelves for living room makeover, space saving interior design ideas
The small penthouse design features a large terrace with a stunning views of the central part of New York City.
Terrace with outdoor furniture and decor accessories
Decorated with green plants and flowers in attractive containers and urns, the terrace is a true retreat with outdoor dining furniture set, inviting benches, chairs and retro decor accessories.
Small penthouse design and decorating details
by Ena Russ
last updated: 09.06.2012