Modern Walk In Closet Design Ideas, Stylish Home Organization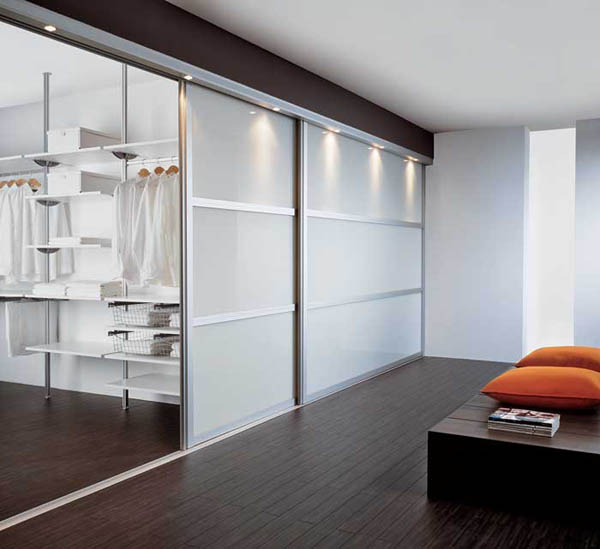 Walk-in closet design with sliding doors, modern home organization ideas
wardrobes closets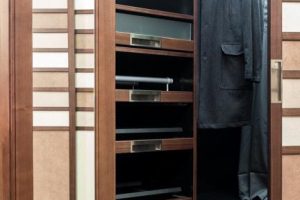 Walk-in closet design trends will help plan comfortable and functional closets in your new home and add the best closet organizers to existing closets to maximize the storage space, creating bright rooms for clothing and footwear storage in elegant style.
The problem of storage space is a familiar topic. People, living in spacious homes or renting small apartments dream of more storage space for their belongings. Well designed and organized closets increase home values. Comfortable and attractive storage spaces make life easier, adding functionality to home decorating or home staging.
Here are 15 top walk-in closet design ideas that may guide you to finding the best solution for your home organization and creating attractive storage spaces in contemporary style.
Modern wardrobe and walk-in closet design trends
Closet storage organization for home staging
Modern walk-in closet design ideas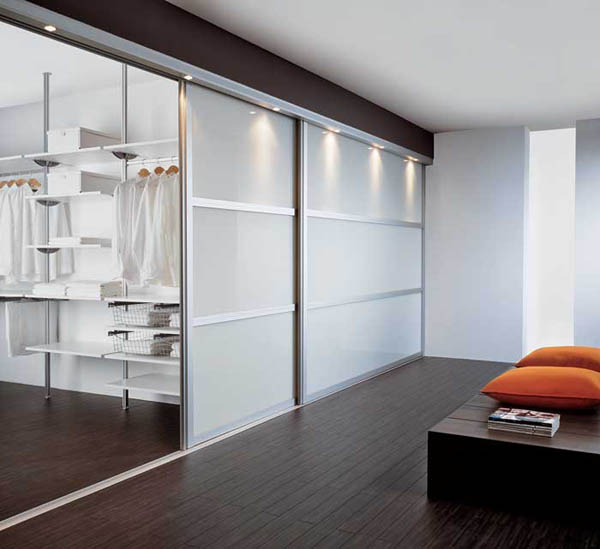 1. Good walk-in closet designs allow easy access to all items. L-shape and U-shapes storage spaces are the most convenient and space saving closet designs. Custom made closets are a great option also.
2. The simplicity and natural materials are modern closet design trends that help create beautiful and healthy home spaces.
3. Mirrored sliding doors inside walk in closets and stretch ceiling designs that reflect more light inside are new trends in closet design that add more comfort and beauty to small storage spaces, visually increasing their sizes.
4. Storage cabinets and shelves on rollers, small stools or poufs on rollers and non carpeted flooring make contemporary closets more comfortable, pleasant and easy to clean.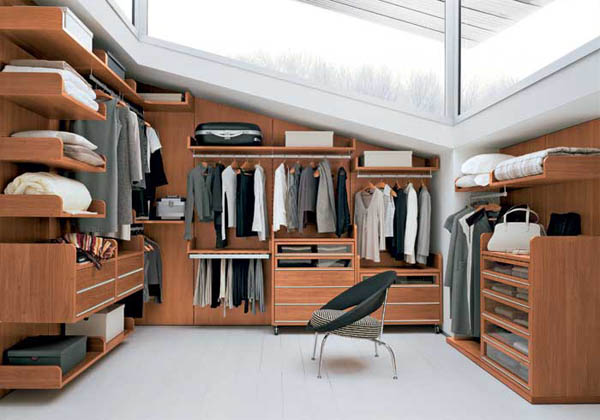 5. Large windows, skylights and efficient lighting fixtures are modern closet design trends which create bright storage spaces.
6. Neutral colors and soft pastel color tones are interior decorating ideas that make small rooms for storage look bigger.
7. Large walk-in closet designs can be adorned with large crystal chandeliers and comfortable soft chairs to add chic and charm to small spaces.
The fun of decluttering and organizing closets
Clothing from closets for contemporary textile sculptures
8. Metal shelving units with open sides create airy and spacious walk-in closet designs. Decorative accessories and large mirrors beautify small rooms, creating luxurious dressing rooms in comfortable chic style.
9. Creating a walk-in closet in the bedroom, using a room divider and a traditional small closet space, is a great idea for older homes which do not have contemporary walk-in closets in master bedrooms. This design idea will work especially well for a long room, balancing the bedroom dimensions and creating more harmonious bedroom design.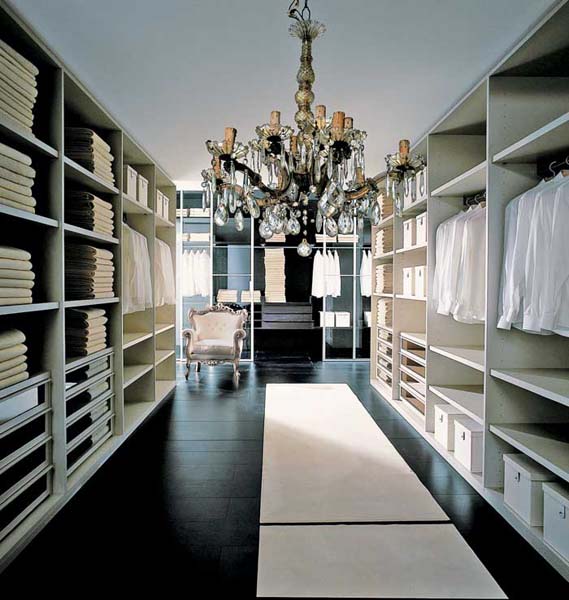 10. Another new design idea is removing closet doors and creating few niches in the walls for increasing the closet size. Adding a room divider and shelves makes a beautifully designed walk-in closet right in the bedroom.
11.  Contemporary ceiling lights, small lamps on shelves and lights inside storage cabinets drawers, lights above storage baskets and adjustable clip lamps are modern closet design ideas that add functionality and comfort to your home. The automatic on/off lighting systems are another idea that adds contemporary style and convenience to your home.
Closets that sell homes, decluttering and organizing tips
Creative storage space ideas, attractive storage solutions
12. LED lighting fixtures, halogen and fluorescent lighting make walk-in closets bright and pleasant. Halogen lamps are very bright, but they can not be placed close to items as they get too hot. Eco friendly, energy efficient and beautiful LED lighting fixtures are latest trends in modern closet design.
13. Storage organizers are another important part of modern closet designs. Folding and rolling shelves and baskets, home organizers for small items, cosmetics shelves with unfolding mirrored panels and jewelry storage boxes are latest trends in walk-in closet design and home organization that make modern storage spaces super comfortable and multifunctional.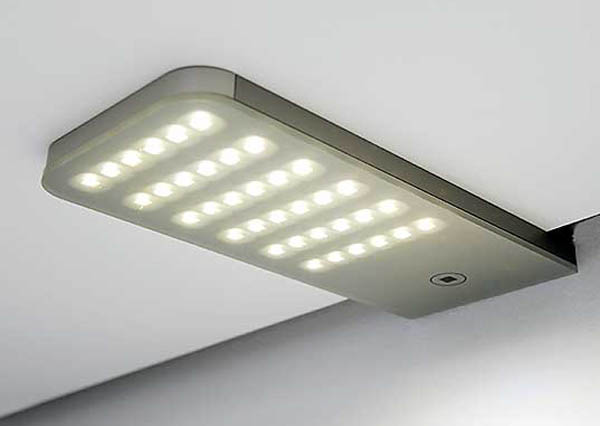 14 Rotating tall cabinets on rollers can be moved around, changing your walk-in closet design in no time. These tall cabinets can be moved closer to a window or a large mirror. They are ideal for corners also.
15. Small storage cabinets on rollers are designed for those who prefer to dress in the bedroom. Also these small storage cabinets are convenient for seasonal changes you may want to make in your closet. Glass doors are a wonderful addition for storage cabinets. Glass doors allow to see all items, while protecting them from the dust.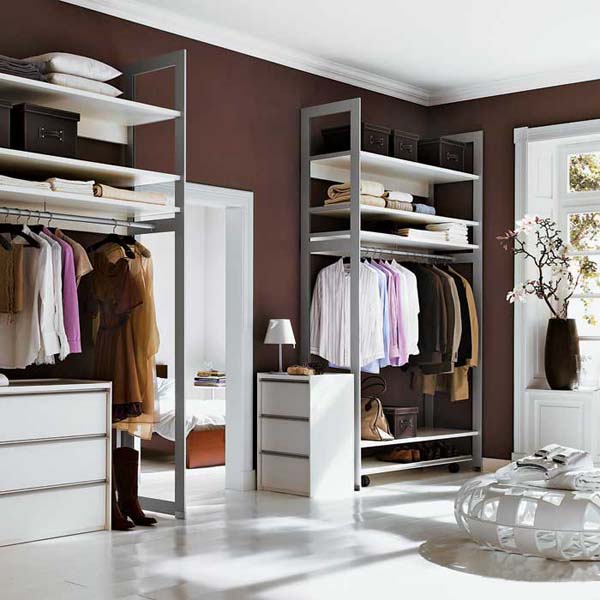 Here is a new design concept of Ibis Hotel in Sao Paulo, Brazil. The contemporary and original interior design invites everyone...
and enjoy free articles sent to your inbox