Modern Pianos for Small Rooms, Space Saving Ideas, Furniture Design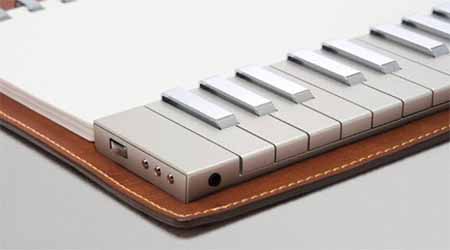 Yamaha piano, space-saving ideas, contemporary design
Modern pianos become smaller. Contemporary furniture design offers multi-functional concepts and space-saving ideas to create light and bright interior decorating and room design for music fans and composers. Small apartment decorating, small rooms, and space-saving ideas are hot topics. Modern pianos that take less space and portable piano models are solutions for small room designs.
Small apartment decorating can be a challenge if you need to bring a traditional, modern piano into the room. However, contemporary technology and contemporary digital piano designs incorporate space-saving ideas, creating smaller piano models and multi-functional furniture pieces with a built-in piano, perfect for small rooms.
Transformer design ideas, space-saving furniture for small room
Space-saving interior decorating, functional furniture for small spaces
Space-saving decorating, contemporary furniture for small spaces
Modern pianos for small rooms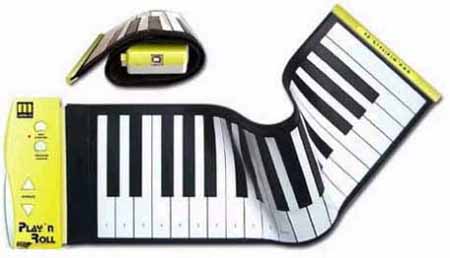 Modern pianos and piano room decorating vary, matching different lifestyles and personal preferences, but interior designers offer classic and contemporary piano designs that take less space every year. Small apartment decorating and modern interior design ideas for fast pace, practical urban lifestyle requires small piano models that help keep kids' bedroom decor, family, and living room designs airy, spacious, and light.
Space-saving furniture design ideas for small rooms
Home furniture designs for a comfortable life, as we understand it
Transformer design ideas, modern furniture for small spaces
Table-piano, multifunctional furniture design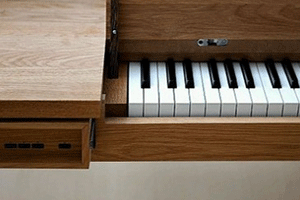 Multi-functional furniture design with built-in digital pianos is a fantastic idea for small spaces. The Piano Table from Georg Bohle, www.behance.net/ is a triumph of contemporary technology. Modern piano design and space-saving ideas get together to envision the new products for decorating homes.
The Piano Table serves as a dining table also. The wood table is perfect for room decorating. The combined designs offer practical, space-saving ideas for small living rooms. The Piano Table helps create a convenient and multi-functional interior, celebrating innovative, contemporary furniture design.
The Piano Table in a room looks like an ordinary office or dining table. However, the unique furniture can be used for dining, studying, or playing piano and entertaining. When somebody wants to play piano, the table transformation quickly turns a room into a concert scene.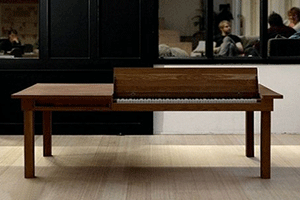 Unusual and convenient living room furniture, the Piano Table is excellent for stylish and multi-functional contemporary interior decorating design. In addition, the Piano Table is a perfect choice for small rooms in modern homes and space-saving apartment decorating.
Modern Piano Table is made of oak and not cheap but offers a creative and functional design ideal for small apartment decorating. Simple, elegant, and convenient Piano Table costs $6000 US.
Contemporary interior with a piano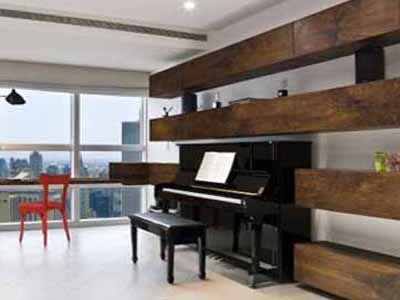 Portable piano designs for small rooms
Yamaha created a small piano that looks like a notebook for music fans, travelers, young students, and composers. A backpack is a perfect way to carry a notebook with a miniature piano anywhere you go.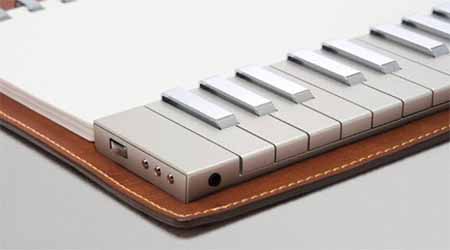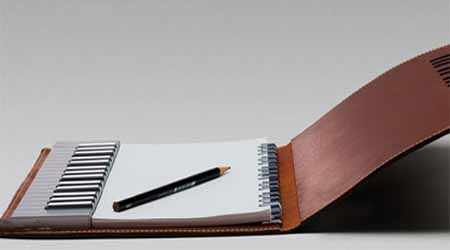 It is possible to find enough space for a small bedroom even in a tiny apartment or home. Here are smart...