Modern Interior Design Ideas, Spacious Luxurious House in Saratov from Snou Project
---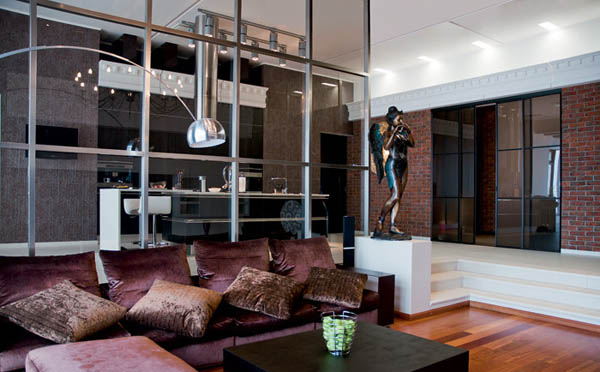 Glass room divider made of aluminum frames, modern interior design ideas
Modern interior design ideas and spacious architecture create a stylish, functional and comfortable villa in Saratov, Russia. Gorgeous interior design is inspired by beautiful surroundings and amazing beauty of the Volga, the longest river in Europe.
The villa features stained-glass windows overlooking the Volga river, bringing lots of light inside this spacious house. Hollywood decorating theme adds extravagant chic and artistic charm to modern interior design ideas, creating a unique home.
Modern interior design is spacious and impressive. Multifunctional living room is the center of the house that creates an open space with dining room and kitchen and include home theater and fireplace zones. Gorgeous living room design is perfect for relaxation and socializing. Is is ideal for a cozy conversation or watching movies.
Glass room divider made of aluminum frames, brick wall and purple living room furnishings, modern interior decorating ideas
Gorgeous contrasts and eclectic interior decorating ideas define the style of the house. The blend of traditional and extravagant interior design ideas celebrates the fusion of styles, cultures and times.
Ethnics and classic, contemporary and eclectic interior decorating create modern interiors that are functional and beautiful. Traditional materials, brick, gypsum, copper, bronze and wood are combined with contemporary polished aluminum and glass.
Snaidero kitchen design in black and white
Bedroom is decorated with contrasting monochromatic colors. Striking lighting fixtures and furniture decoration in neo-classic style add eye catching accents to modern interior design. Spacious and comfortable bedroom interior designed with strong color contrasts looks very contemporary and functional.
Brick and wood in modern houses, Brick Kiln House Design from Indian Architects
Canadian house designs, Mosewich house from DArcy Jones Design
The fusion of styles is one of modern interior design trends that allows to add the warmth of country style, chic accents of classic style and extravagant flavor of eclectic style to contemporary home interiors.
Bathroom tiles with golden design and unique ceiling design, luxurious modern house design
Hollywood inspired house in Saratov is an experiment that blends various styles, materials and colors for discovering fresh and modern interior design ideas for unique luxurious homes.
Unique house design with roof opening by Studio Velocity, modern houses in eco style
Modern interior design ideas, modern house with green wall design
Extravagant and glamorous Hallywood inspired theme, a huge chandelier made of thin metal rods, a transparent room divider, made of aluminum frames and glass, brick walls, wooden floor, beautiful bathroom tiles with golden design, sliding doors that separate a home office from the sleeping area, black and white kitchen with Snaidero design are top takeaways from this architectural and interior design project by Russian designer from Snou Project.

More from interior design

Gorgeous pastels define the color trends for 2019. Benjamin Moore Metropolitan AF-690 is their paint color of the year. Bright colors...