Modern Bedding Sets, Fabric Prints and Bedroom Decor Trends
---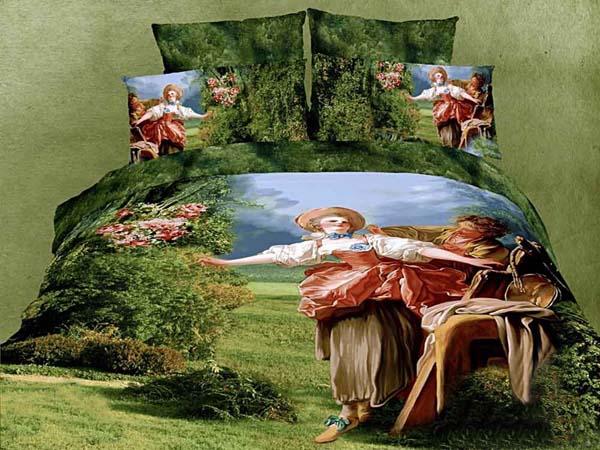 Modern bedding sets dramatically change bedroom decor, adding fresh fabric patterns, stylish colors and color combinations. One of modern bedroom decor trends is blending various geometric, abstract and floral bedding fabric patterns for creative, comfortable and intimate bedroom designs.
Modern bedroom decor trends are about beauty and comfort, bright color combinations and stylish monochromatic color schemes, embroidery and modern bedding fabric prints, that give bedding sets charming look.
Geometry and floral motifs, abstraction and retro designs, symbolic ancient and ethnic fabric patterns add interest to bedroom decorating ideas, create a pleasant atmosphere, improve mood and give a sense of chic comfort.
Modern bedding sets and bedroom decor trends
Modern bedding fabric prints are an important part of pleasant and personal bedroom decor. Bedding sets influence people's mood and health. The effect depends not only on bedding set colors, but on bedding fabric patterns, colors combinations, images sizes and sequences.
Modern bedding fabrics
Bedroom decor accessories and modern bedding fabric patterns with bright, colorful and large images create dynamic and stimulating effect. Modern bedding fabrics with small details, soft bedroom colors and monochromatic bedroom decor palette feel calming and harmonious.
Bedding sets in pale colors that remind beautiful old French tapestries are modern bedroom decorating ideas that add antique flavor to bedroom designs. Large and small tea roses on modern bedding fabrics, combined with similar prints on room decor accessories, window curtains, throws and decorative cushions look gorgeous and charming.
Ethnic patterns, Japanese, Egiptian, African motifs, Arabic ornaments, symbolic plant leaves and classic geometric prints are modern bedroom decorating themes, as well as wide and thin stripes in different colors or monochromatic color tones, which make a great decoration for modern bedroom interiors.
Comforters, bedspreads and window curtains, made ​​of patchwork fabric is another attractive trend in modern bedroom decorating. Diluted pastel bedroom colors look luxurious and elegant with charming bedding fabric patches.
Modern wall decor in patwork fabric style

Golden yellow decorations, bedding fabrics and furniture are modern bedroom decorating ideas that add warmth and luxury to modern bedroom interiors.
Yellow, orange, red and pink bedding sets
Cityscapes and landscapes, black and white bedding fabrics with newspaper prints and symbols are latest trends in modern bedding sets.
Modern bedroom sets and bedroom interior trends
Modern bedding collections and bedroom decor themes
Modern bedroom decor themes
Light bedroom decorating ideas, inspired by nature bedroom decor themes and soft bedding fabrics help to relax and rejuvenate. Interesting and unusual, colorful and white-black bedroom sets with graphic prints and images of trees, grass, leaves, flowers, clouds and animals are perfect for creating pleasant and personal bedroom decor in eco style.
Floral bedroom decorating ideas, poppy bedding sets
Modern bedroom wallpaper, one wall decoration trends
Bedroom decor with stylish stripes, combined with polka dot and check designs, feels dynamic and energetic. Modern bedding sets with bright patterns and large images are bedroom decorating ideas that are perfect for experiencing, creating exciting sensations and impressive bedroom decor.
by Ena Russ
last updated: 14.11.2011